Jaffe's arena-shooter Drawn to Death will be free for PS Plus members next month on release day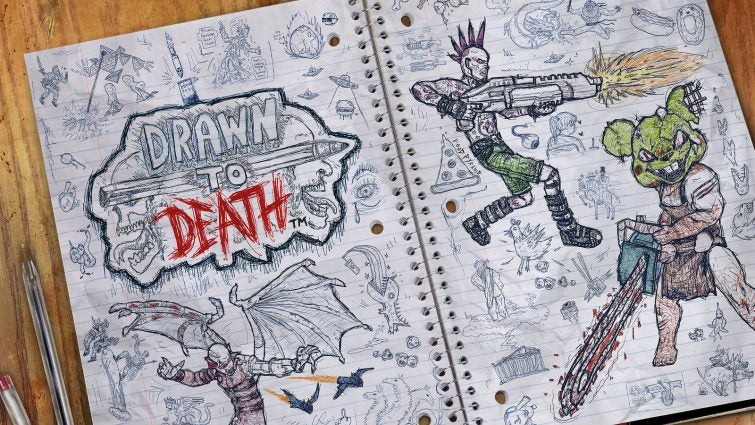 Arena shooter Drawn to Death is the first PlayStation Plus game to be announced for April.
What's more, the day it becomes available for Plus members will be Drawn to Death's release day, April 4.
Announced during Sony's PlayStation Experience in 2014, the third-person shooter brawler takes place inside the pages of a notebook. Created by a high-school student, the drawings come to life and shoot it out in competitive online action.
Since its announcement, David Jaffe and his team at The Bartlet Jones Supernatural Detective Agency have added new features to the game, which he detailed in full over on the PS Blog.
Sphinx Missions: Wake the Sphinx and solve eight battle-focused riddles. For every riddle solved, a new weapon or level will be unlocked.
Character-centric Missions: Besides leveling, players can take on 15 missions per each of the six launch characters. Earn costumes and rare Taunts working through characters. Master all character missions and the player could come "face to face with the Volcano God."
Mystery Boxes: The boxes are filled with taunts and character skins. Get a free Mystery Box by playing three matches online and then earn Mystery Boxes for every 150 kills on the battlefield.
Climb the Tower: The launch tower is based on the theme Dark Fairy Tales. Play in ranked mode and earn a chance to reach the top of the tower. A sticker will be handed out for every floor reached.
Insane Mystery Special Offer: A surprise not ready to be detailed - only the hint: "Destroy my enemies and my life… is yours!"
If you'd like a look at the game in-action, Jaffe and co. will be hosting a livestream on Twitch later today.
It kicks off at 3pm PT/6pm ET/10pm Uk.