All your Fortnite questions answered: is it cross platform, free, split screen and on Steam?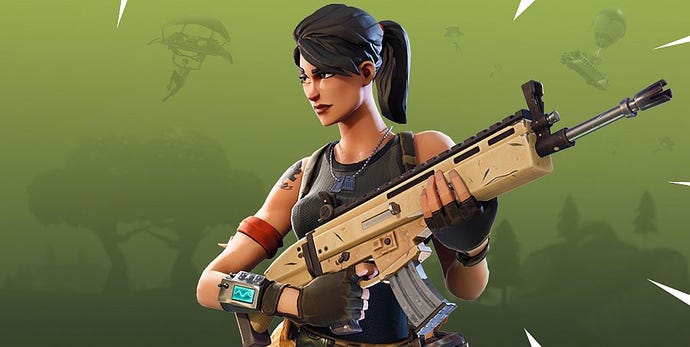 Fortnite is a totally different game from when it first hit our screens. Now it's a worldwide phenomenon - celebrities profess their addiction, soccer stars do the dances when they score, and even your grandma has heard them says its name on the news. But as more and more people play there's still some confusion as to which version of the game you play for free and which you pay for, exactly how much it costs, and what platforms can you play on, with whom.

We're going to clear all that up for you right now, right here.
Is Fortnite free?
The Battle Royale mode of Fortnite is free to download and play on Xbox One, PS4, PC and iOS devices like the Apple iPhone and iPad. It features one mode and one map, and has more than 3.4 million concurrent players and 125 million total. That's the version of Fortnite that everyone is playing and talking about. You should get involved.
But there are few other things you need to know about Fortnite Battle Royale, with a few differences that may influence which format you to intend to play on. One of those is that Fortnite for PC is not available on Steam, so you'll have to download it directly from Epic Games.
Is Fortnite Cross Platform? And can you play Split Screen?
Fortnite Battle Royale is not a split screen game, but after months of back-and-forth, it is crossplatform. Sony was dragging its heels and not letting PS4 players team up and face off against people from other consoles. However, in the face of Fortnite's immense popularity, they buckled.
This means that PS4 players can play Fortnite with people on Xbox One, PC, Mac, Nintendo Switch, iOS, and Android.
Sign up for the mobile iOS version of Fortnite Battle Royale began back in March, and is now available to anyone with a compatible device.
There is cross-progression between PC, console, and mobile accounts if you link them via Epic Games' site, but be warned you will lose progress when you first do so. There's also no cross-progress between Fornite Battle Royale and the regular Fortnite game, not even cosmetically. For all intents and purposes they are two separate games.
Although Fortnite Battle Royale is free to download, if you're playing on Xbox One you will have to pay for Xbox Live Gold to play online. However, if you're playing on PlayStation 4 you don't need to pay for PS Plus in order to play, so you really can play for free.
If you want to spend money in Fortnite Battle Royale you can buy the Battle Pass. This gives you new outfits, gliders, a pick axe, emotes and other items, all of which are cosmetic and will not affect gameplay in any way. The Battle Pass currently costs 950 V-Bucks, which is $9.50 or £7.99 in real money. Although if you complete the overtime challenges in Fortnite Season 7, you get the Season 8 Battle Pass for free.
That's everything you need to know about Fortnite Battle Royale. But to clear up any confusion, think as Fortnite as two games.
Because Fortnite: Save The World itself is not free. It's a paid game but not nearly as popular as it's Battle Royale spin-off. It's currently quite expensive, and in our view, not worth buying at this point. Our advice is to download and play Fortnite Battle Royale for free now, and wait for the free release of Fortnite: Save The World at some point if you're interested.
What is Fortnite?
Fortnite Battle Royale is a 100-player game in which you play solo or as teams, and parachute onto an island to fight other players until only one of you is left standing. To make it harder, the area in which you play is shrinking and you must remain in that area to survive, setting traps, scavenging weapons and building defenses. As the map shrinks, it pushes players together as time goes on, forcing confrontation.
Although there is only one map it's a biggie and is constantly being tweaked. Developer Epic has just updated the map to add more locations, including a new city and mines and showing more love to the Western portion of the map in general. There are also Weekly Challenges for those that own the Battle Pass, rewarding constant play with unlocks such as items, emotes and more.
The Battle Royale part of Fortnite runs in seasons, with Season 8 scheduled to start soon. These usually last for around 10 weeks, and include tons of themed events based on the summer, winter, autumn, and spring, as well as holidays like Halloween and Easter.
Fortnite: Save The World is a co-op survival game using all the same gear and guns as you'll find in Fortnite Battle Royale, and charges the player with building defenses before facing down an onslaught of AI controlled zombies. Survive the night and you earn rewards such as new weapons, gear, traps and building materials to do it all again.
Fortnite Battle Royale also includes a more recently introduced mode: Fortnite Creative. This lets you build your own maps from the bits and pieces used to create Fortnite. You can then share your work, or play other people's. There are some incredible maps on offer in Fortnite Creative, so give them a try.
As Fortnite and Fortnite Battle Royale are still in development, Epic Games has promised but not committed to a series of improvements, from small technical tweaks to massive gameplay additions.
They include; improving weapon feel and accuracy, private matchmaking and the possibility of a new map. However, there are no solid plans yet for vehicles or a first person mode.
So that's everything you need to know before getting stuck into Fortnite and Fortnite Battle Royale. We'll see you in the trenches.