Interview: Dead Space 2's Steve Papoutsis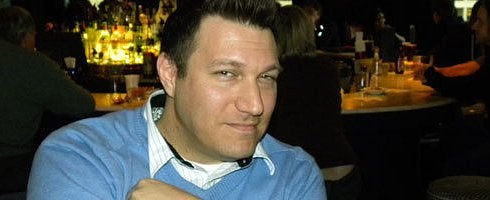 Visceral Games' Steve Papoutsis was in London this week, showing the press the progress the team's made on Dead Space 2.
VG247 sent Joe Anderson over to have a look at it, armed with a Pulse Rifle, and had him corner the executive producer and ask him loads of questions regarding the sequel for you.
Happily, Papoutsis obliged, and revealed to Joe all sorts of lovely things.
We've posted the interview in its entirety below the break for you.
Interview by Joe Anderson.
VG247: A lot of people have been worried about the atmosphere of the first game being lost in the sequel. What can you say to reassure them that's not going to happen?
Steve Papoutsis: Our goal with Dead Space 2 is for it to be a true sequel to the first game. One of the things people enjoyed with the first one, was the atmosphere and the tension created in our environments, and we plan to deliver the same level of quality in Dead Space 2.
As far as setting, it is a space city, so you're going to see different types of environments throughout the game, but the tension is going to be there and hopefully people will appreciate it when they get to see more of it.
VG247: It must be tough to balance the game after receiving feedback. Others want more atmosphere, others want more action. So, what have you done to please both sets of fans?
Steve Papoutsis: That's a good question. One of the focuses of the development team is to listen to the various types of feedback. We do different sets of focus testing, we're always checking out our Facebook page to see what the community is saying, and we have to balance all that feedback, as you said, to make sure that the game comes out as the players want it.
One of our goals with the game, is to make sure that when we release it, is making sure that it surpasses what we did with the previous game. That's important to us. Also, another thing that's important to us, is for the people that have supported us this long, that have been into the franchise, are happy with what we deliver.
So, we're paying a lot of attention, we're going back and forth as far as a lot of different tweaks and things that we're going to do to the game to make sure it's a game that people want.
Ultimately, the development team and I need to make sure that we're making the right calls and validate that, again, through focus testing and showing the game to people like yourself - you know, listen to their feedback and incorporating it as it makes sense.
How do feel about games like Resident Evil that compare in atmosphere to Dead Space? Do you think you've done things that are better?
Steve Papoutsis: I think that Resident Evil has some really amazing visuals. It's quite an interesting game, it's fun, it's got the co-op,but it's a different type of game than Dead Space 2. I think, obviously, with the setting being science fiction, it's quite different, but I think there's really good things about that game and I think it's very different - but I think Dead Space 2 is something that the team and I are focused on making it as good as we possibly can.
So, to answer your question, I think that other game is very good.
What people seemed to like about the first game was just how scary it was, you know, you turn the light off and you just go hide in the corner. I think I read somewhere that someone in your company said that you wanted players to come out of the corner so they could follow the story a bit more. Could you explain what that means?
Steve Papoutsis: Well, if I understand your question correctly, our goal with the story is to move the player along and have it be an experience they're excited to get through, an onto the next story beat so to speak.
We're not going to be pushing the player through it. As I said during the demonstration, we really want to reward the players who take the time to creep around, and explore, and look for the various things in the environment.
We're still gonna have the text, video, and audio logs for those that really like the fiction, and that's very important to us as a development team. Those are the people that have supported us to date, and we want to make sure that Dead Space 2 has all those things that they enjoyed from the previous game.
Do you feel that adding faster action to the game will help set the pace of the game for the player?
Steve Papoutsis: Action's been a question that a lot of people have been asking about. It's funny, because a lot of people say that the first game was a horror-action shooter, and when we've spoken about action this time around, I think some people are taking that out of context. As I demonstrated today with the decompression and the impalement elements, those are different mechanics that you can use to defeat the enemies, but also change the pacing of the game.
Obviously, when you shoot out one of those windows and decompression happens, it takes it to a different level and there is more action in that sequence - but its' clearly Dead Space, it's dealing with space, you're defeating the Necromorphs. So I think when players start to see that, I think they'll understand what we meant.
What I really want to be extremely clear about with everybody, is that Dead Space 2 is a not a run-and-gun game, we're not turning it into that. You're gonna have to conserve ammo, you're gonna have to be cautious, you're going to have to look and listen in the environment in order to succeed, but there are moments where the pace will change and that's important for any horror game. You can't just maintain tension all the way throughout the game, because what happens is people get desensitized and then they're not scared. So you have to change the pace of the game to really set people up for scares and that's what we're really focused on doing.
So, anybody that thinks Dead Space 2 is going to turn in to some run-and-gun space marine game where the hero is busting off one-liners is totally wrong and should not be worried about that. We are focused on making Dead Space 2 a kick-ass sequel to first game.
How has Isaac evolved from the first game?
Steve Papoutsis: So there's a lot of things we're trying to do in terms of Isaac. First off, we're giving him a voice, you know, our thoughts in the first game were, well, he went through some gnarly shit and he never said anything, so, we thought it's be silly if he never said a word in Dead Space 2. I mean, he's gotta have something to say about what happened. The way that the story unfolds when players get to dig into that, they'll understand why we're giving him a voice and what we're doing there.
As I said in the previous question, just to clarify, he's not gonna be busting off a bunch of corny one-liners or anything like that. If you think of the original game and Isaac's speaking being the amount of zero, in Dead Space 2 it's gonna be around a two and a half, three tops. We're not making him a "Chatty Cathy", it's just that we're giving him a voice so he can make some observations and speak to people from time to time.
Other things we're doing to evolve Isaac, include having the face of the helmet retract so you actually get to see his face from time to time and it's our hope people can connect with him a little bit more by seeing what he looks like.
Also, the enhancements to the controls are something we're really focused on. In the previous game, when we did extensive focus testing, believe it or not, before we shipped the game, people were telling us we really needed to speed up the controls. They felt they were too sluggish and not responsive enough. So, we listened to that feedback, and we're like,' okay, let's try to fix it and make it better'. So, before we shipped the game, we actually went in there and enhanced the speed of movement and aiming, and what we shipped was the result of listening to focus testing from people who tried and played the game.
With Dead Space 2, we're doing the same thing. We're making sure that the controls are extremely responsive, that the aiming feels more fluid, that the player - if they think they want to be able to do something - we don't want the controls to limit that. We want to make sure they're able to do the things that they want with the controller.
Our philosophy, is that the controls should never inhibit the fun. Instead, they should enhance it and allow players to feel in control of the game. We want people to be able to pick up the controls easily, and within a few moments understand what does what, how to move around, and for them to feel responsive. We've also enhanced the speed of kinesis and now you can actually use that mid-combat. The previous game, you could pick things up and use them during combat, but it was kind of clunky. Now you can pick them up much more quickly and fire them of at enemies to greater effect.
We're also trying to enhance the overall enemy design so that they're a little bit more difficult and a bit more cagey. So, those are just a few things we're trying to do as it connects to Isaac.
What about multiplayer, are you going to have that at all?
Steve Papoutsis: Yeah, we're going to have multiplayer and while I can't say a lot about it, I can say that you'll be able to strategically dismember your friends.
What about DLC post release?
Steve Papoutsis: Right now, we're just focused on making the game the best it can be, so it may happen, but right now we just gotta keep our eyes on what we are doing, which is trying to make the best sequel to Dead Space as possible.
Will the game be compatible with Move or Natal in any way?
Steve Papoutsis: That's something that, again, we're just gonna have to wait and see on.
Is the game actually due for release in 2010?
Steve Papoutsis: We're just focused on making the game the best it can be, and when it's of the highest quality possible, that's when we're gonna put it out.
Any competitors that you may be worried about?
Steve Papoutsis: Well, no, you know, as game developers we play a lot of games and we pay attention to the websites and things like that. But what we really have to worry about, is making sure that we're making a game that is a worthy sequel to Dead Space that the people who have paid money to play the first one are happy to play it.
Without those people who have supported us, there wouldn't be a Dead Space 2, so that's what we're worried about. I mean, there's gonna be a lot of other great games, and I'm excited to play a lot of 'em, but that's not gonna impact how hard we've worked to try and make Dead Space great.
What about Metacritic scores? Does that matter to you, I mean once you release the game and it's out there and players are buying it - does that sort of thing matter to you at all?
Steve Papoutsis: Yeah, I think it does. That was one of the cool things about the first game - we got a lot of critical acclaim and that made us feel really good. It made us feel proud of what we did.
I think that anytime there's a metric that people measure you by or your work by, you obviously want to do well. It's just like school. You want to get a good grade, and when it comes to something like software where it's a complete team effort requiring a ton of people to do it, it's amazing when you can get a very high score.
So, it's something that we look at and are conscious of, but again, we want to surpass what we did last time, and you know, that's gonna be hard. We just gotta make sure we do our best and at the end of the day, that's the big thing for us. Making sure that, again, the people who spent their hard-earned money and supported us are happy with what we do, and hopefully, that coincides with a high Metacritic.
Dead Space 2 releases next year for PS3, 360 and PC.
[image]