Infinity Ward drops March 30 date for MW2 DLC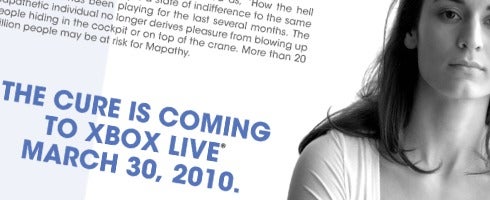 You've just lost your two main bosses, but you've also got probably the most antcipated DLC of all time.
So what do you do? Show off a cryptic website and reveal the date for it.
Infinity Ward's Rob Bowling just tweeted this:
http://www.mapathy.com - Feeling the effects of Mapathy? It's okay, the cure is hitting #Xboxlive in just 3 short weeks. #MW2
The site then reveals a March 30 date for the first Modern Warfare 2 map pack on Xbox Live, with the following below from the site.
Mapathy (n.) [map-uh-thee] (often expressed as, "How the hell did you know I was there?!") is a state of indifference to the same old maps one has been playing for the last several months. The Mapathetic individual no longer derives pleasure from blowing up people hiding in the cockpit or on top of the crane. More than 20 million people may be at risk for Mapathy.
Amazing stuff. The DLC is set to hit PSN and PC at least a month later, with the exclusivity period for the map pack set to last 30 days.
The first shots were leaked last week.