inFamous soundtrack hitting the PlayStation Store in May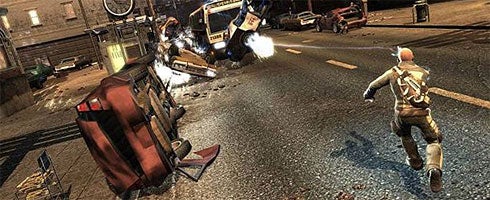 The inFamous soundtrack will be available for download via the PlayStation Store on May 21 for $9.99.
The score was created by electronic musician Amon Tobin, composers James Dooley and Mel Wesson, and electric cellist Martin Tillman.
The April issue of Qore will feature a look into the game's music.
Read on for the press release.
FOSTER CITY, Calif., April 1, 2009 – Sony Computer Entertainment America announced today that inFAMOUS, the highly-anticipated, modern day superhero adventure exclusively for the PLAYSTATION® (PS3™) computer entertainment system, will feature an innovative musical score created by popular underground electronic musician Amon Tobin, world-renowned composers James Dooley and Mel Wesson and electric cellist Martin Tillman. Developed by Sucker Punch, creators of the critically-acclaimed Sly Cooper® series, inFAMOUS launches in June, immersing players in the troubled world of Cole McGrath, a regular guy turned superhero who survives a massive blast within Empire City and learns to master his newfound powers.
Varying from dark intensity to haunting melancholy, collaborative efforts for the score were led by SCEA Music Manager Jonathan Mayer, veteran of the God of War® II and Uncharted: Drake's Fortune™ soundtracks. To encapsulate the gritty and decimated nature of Empire City, Mayer and the contributing musicians threw out all conventional standards of traditional music production, turning instead to real-life objects and materials found in urban environments. Objects such as trashcan lids, water jugs and broken glass were combined with traditional music instruments played in non-traditional ways -- bungie cords were stretched across a concert bass drum and strummed, wire brushes were beat on a suspended tuba and shakers were constructed of broken glass. Recorded and produced at SCEA's newly built Foster City recording studio, the end result is a hybrid electronica orchestral score that enhances the chaotic and menacing nature of the city.
"PS3 has unleashed a new set of possibilities for in-game music to interact directly with the gameplay, allowing us to really capture the right mood and pace of games," said Chuck Doud, Director of Music, SCEA. "For inFAMOUS, we wanted a soundtrack that would encapsulate the unique artistic style of the game while immersing players in a city that is both poignant and beautiful. The team that Jonathan put together and led creatively captured that emotional pendulum perfectly with each musician bringing their own musical style to the score."
inFAMOUS's unique score will be available as a complete soundtrack starting May 21 for $9.99 (MSRP). To find out more about the creative process behind the music of inFAMOUS, PlayStation users can catch an in-depth feature on the April episode of Qore™ that will be available on the PlayStation®Network.
inFAMOUS is the first open-world, superhero action-adventure exclusively for the PS3 system. The game follows the journey of Cole McGrath, the lone survivor of an explosion that levels six square blocks of Empire City. As Cole discovers the source of his newfound, electrifying powers, players are given the choice to exact revenge, protect the innocent or do a little of both. These choices are presented in a richly interactive and organic living city, a place where actions create broader reactions in the citizens and landscapes around them. Experience the role of a modern day superhero tasked with making the choice between fame and infamy.
The independent Entertainment Software Rating Board (ESRB) has rated inFAMOUS "T" for "Teen". For more information about the ESRB, visit www.esrb.org.