In Stardew Valley, Even Small-Town Life Has its Troubles and Scandals
ConcernedApe's hit farming game reminds us that people have big problems, even if they live in little towns.

This article first appeared on USgamer, a partner publication of VG247. Some content, such as this article, has been migrated to VG247 for posterity after USgamer's closure - but it has not been edited or further vetted by the VG247 team.
When you're city-born and raised, you inevitably come across people your age who live in tiny towns because their parents fear drugs, wild sex, and other temptations that supposedly run through the city streets like herds of buffalo made out of used hypodermic needles.
I spent a significant chunk of time with a passel of country-raised kids in summer of '94. I quickly learned these small-town kids passed a typical Friday night with smoking, excessive drinking, and drugs. My comparatively tame pastimes, like hanging out at a mall or a movie theatre, simply weren't options in their one-road hamlet where the only notable retail outlet was a small general store that closed at six.
In other words, I discovered in record time that small-town life is not as idyllic and innocent as pop culture had me believe up until that point.
That's one major reason I appreciate Eric "ConcernedApe" Barone's hit farming sim, Stardew Valley. Bob already went into detail about why the game works so well on a technical level (and his words all ring true), but the characters' relationships with the player and each other are worth highlighting, too.
[Beware of minor story-related spoilers below, young farmer!]
Stardew Valley is an uplifting game overall, but that doesn't mean there's never trouble in paradise. The valley's citizens all occupy a small space, so some friction is to be expected. But there's more going on here than neighborly arguments over too-high fences and flagpoles that don't adhere to standards set by the homeowners' association.
Some of the characters' quirks and flaws are relatively predictable. Resident goth Sebastian, for example, is moody and introverted. He likes rain, dark clouds, coding, and being alone.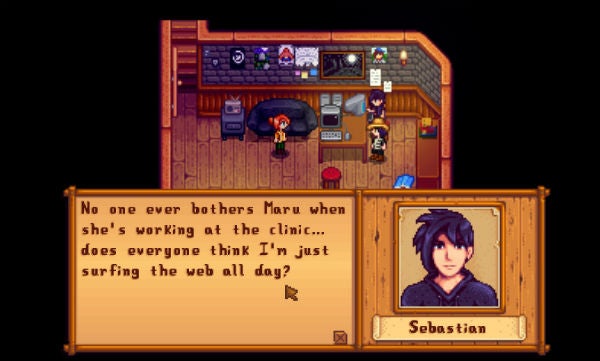 He's easy enough to dismiss as an over-dramatic millennial, but when you get closer to him, he opens up about how his mother and particularly his step-father, Demetrius, lavish all their attention on his half-sister, Maru.
The thing is, he's not exaggerating. Demetrius talks endlessly about how Maru is a prodigy, but he never once talks to you about Sebastian.
The story isn't quite one-sided, though. If you become friends with Maru, she confides that she wants a brother, but Sebastian never acts like one. Sebastian, meanwhile, believes Maru hates him.
It's enough to make you want to shake down Barone on Twitter and ask him for a patch that lets the two siblings reconcile. Unfortunately, real-life family drama has no patches or fixes.
Sometimes the drama in Stardew Valley skews towards soap opera territory, albeit in good fun. The town's mayor, Lewis, is so dedicated to his job that he believes it'd be a conflict of interest to go public about his relationship with the town's rancher, Marnie. However, you can find his "shorts" (the game itself adds the quotation marks) in Marnie's room. Scandalous!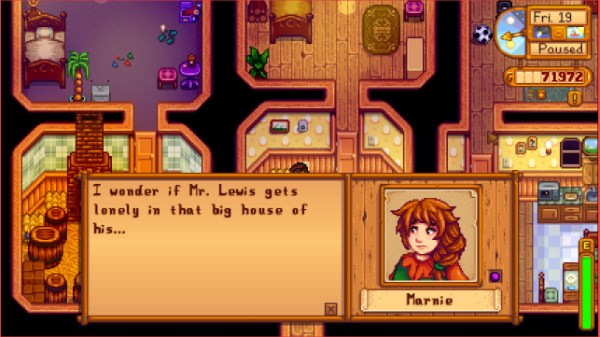 Also, if you make friends with the eccentric wizard Rasmodious who lives in the wilds outside of town, he reveals that one of the town's women is his illegitimate daughter. He doesn't specify; it's just something for you to chew on. Of course, the real mystery here is who decided to sleep with the crazy forest-wizard when the valley is full of capable, available men.
The character-related drama in Stardew Valley isn't all about missing purple shorts and half-wizard love children, though. There's more serious stuff afoot, too. If you grow close to one eligible bachelor, Alex, he admits he had a rough childhood growing up with an abusive alcoholic father. In the same vein, another townsperson, Pam, lives in a trailer and has a strong taste for the drink. She relies on her daughter, the introverted Penny, to take care of her.
And then there's Shane, a heavy-drinking perpetually scruffy stockboy for JojaMart. JojaCorp is Stardew Valley's quintessential Evil Conglomerate™ -- it's Google, Wal-Mart, and AOL rolled into one sterile, soulless corporation. There's a JojaMart at the edge of Stardew Valley that threatens to run the smaller merchants out of business, but townspeople like Shane have no choice but to work there. It may be part of the reason why he's sour-tempered, uninterested in taking care of himself, and generally suffering from depression.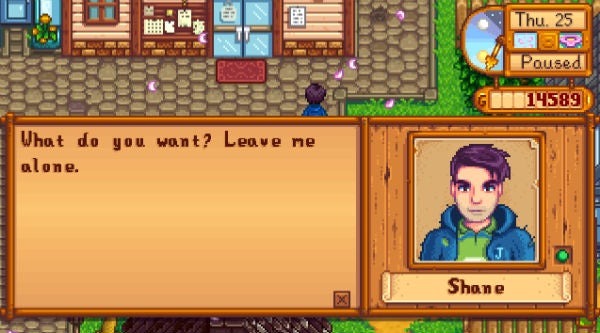 But even Shane's troubles aren't the bottom of Stardew Valley's small-town troubles. In your second year of farming life, you meet Kent, a soldier returning from a combat zone. Kent is a bit of a heartbreaking figure: He's the father of Sam (yet another bachelor), but admits he's been at war for so long, he has to get to know Sam all over again. He's also suffering from severe post-traumatic stress disorder, possibly as a result of spending time in a prison camp (which you can accidentally trigger by gifting him with particular kinds of food. Super!).
Kent's daily routine is also aimless compared to the other characters'. Mind, everyone in Stardew Valley kind of meanders in true Harvest Moon fashion, but there's ultimately purpose to their travels. Lewis talks to townspeople and collects taxes. Willy the fisherman sells fishing supplies, and fishes on his downtime. Robin the carpenter runs her shop when she's not upgrading buildings on your property. Penny tutors two of the town's children, Vincent and Jas.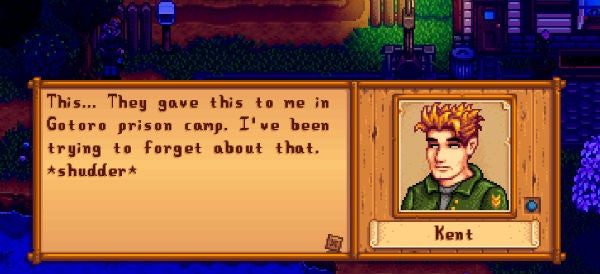 But Kent wanders and spends long hours just standing outside, doing nothing in particular. Sometimes he gets restless and enters his house, only to leave it again. He stays outside until midnight, then wakes up in the morning and does it all over again. He's damaged, maybe irreparably so, and not even the peace of the valley can soothe him.
It's not surprising, really: Kent's dialogue indicates there's a pretty brutal war going on overseas, and Barone confirmed as much on his Twitter account. Demetrius occasionally remarks how Stardew Valley is insulated from the rest of the world, but as Kent's return indicates, it's not untouchable.
Your character moves to Stardew Valley because they're sick of the big city and the corporate rat race. Sure enough, life on the farm brings with it a massive sense of accomplishment, but there's more to your neighbors than welcoming committees and friendly correspondence. Good on Barone and Stardew Valley for reminding us that people can complex, troubled, and unpleasant regardless of whether they live in a city of millions or a town of dozens.