Humble Sierra Bundle is back, so you have another chance to grab classic RPG Arcanum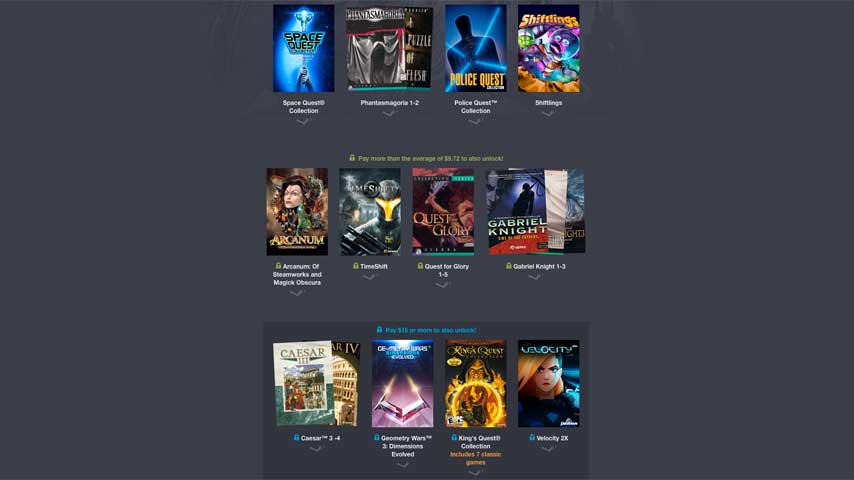 Arcanum: Of Steamworks and Magick Obscura is all the excuse you need, but there's loads of good stuff in this Humble Bundle.
This week's Humble Bundle is an encore of Sierra's offering earlier this year, so if you missed out on this pretty great collection here's another chance.
Pay what you want over $1 for Space Quest Collection, Phantasmagoria 1 and 2, Police Quest Collection, and Shiftlings.
Beat the average ($9.72 at time of writing) and you'll also score Arcanum: Of Steamworks and Magick Obscura, TimeShift, Quest for Glory 1 through 5, and Gabriel Knight 1 through 3.
Cough up $15 or more to also receive Caesar 3 and 4, Geometry Wars 3: Dimensions Evolved, King's Quest Collection and Velocity 2X.
Finally, $20 or higher nets you all that plus King's Quest: The Complete Collection.
There's some really classic adventuring in this bundle, so if you like point and clicks but somehow have never tried any of the Quest or Gabriel Knight games, I can't recommend it highly enough.
That said, my personal pick is Arcanum: Of Steamworks and Magick Obscura. It came to us from Troika, better known for Vampire: The Masquerade – Bloodlines, and thus from the same ancestral line as Fallout. It could be considered a kind of cousin to games like Planescape: Torment, Baldur's Gate and the extended Infinity Engine family, so if you like Pillars of Eternity, Wasteland 2 and Tyranny just get right on it, hey.
Anyway. All the games in this bundle are for PC and redeemed through Steam - no other platforms or DRM alternatives available. Funds are divided between Activision (Sierra's overlord) and the Call of Duty Endowment via the Tides Foundation, and organisers. No option to choose your own charity this time, but as ever you can choose how the money is split between the three streams.
Well? Take advantage.