How to Find All the Collectibles and Activities in Need for Speed Heat
Need for Speed Heat is full of collectibles and secrets. We'll show you how to find them here.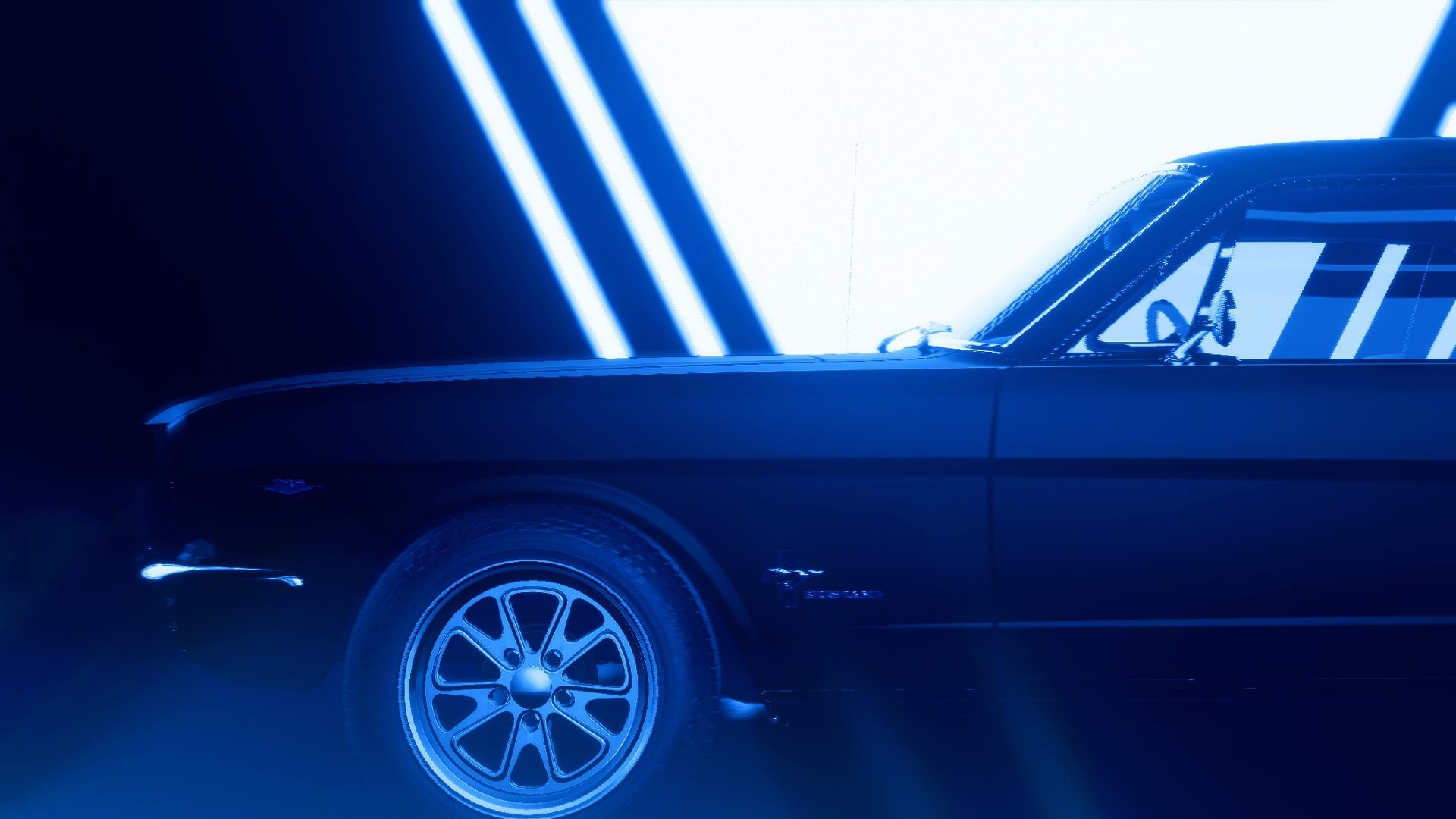 Need for Speed Heat has four hundred and thirty-five separate collectibles and activities spread across the map, ranging from simple sightseeing opportunities to exciting acts of vandalism. And with each one offering a substantial reward, we're going to take you through what they are, what it'll take to find them, and what you'll get for such impressive efforts.
Collectibles and Rewards
Outnumbering pretty much anything else in the whole game (probably including cars), collectibles come in three types, each one offering its own reward, and have to be found by exploring the world in every corner. Each one will be marked on your map permanently when you get close enough for it to register on the in-HUD minimap, meaning that you don't really have to hunt for them. Just keep exploring the wider world and you'll eventually find them all. Collect every single one, and you'll be rewarded with a gold smoke effect for your cars.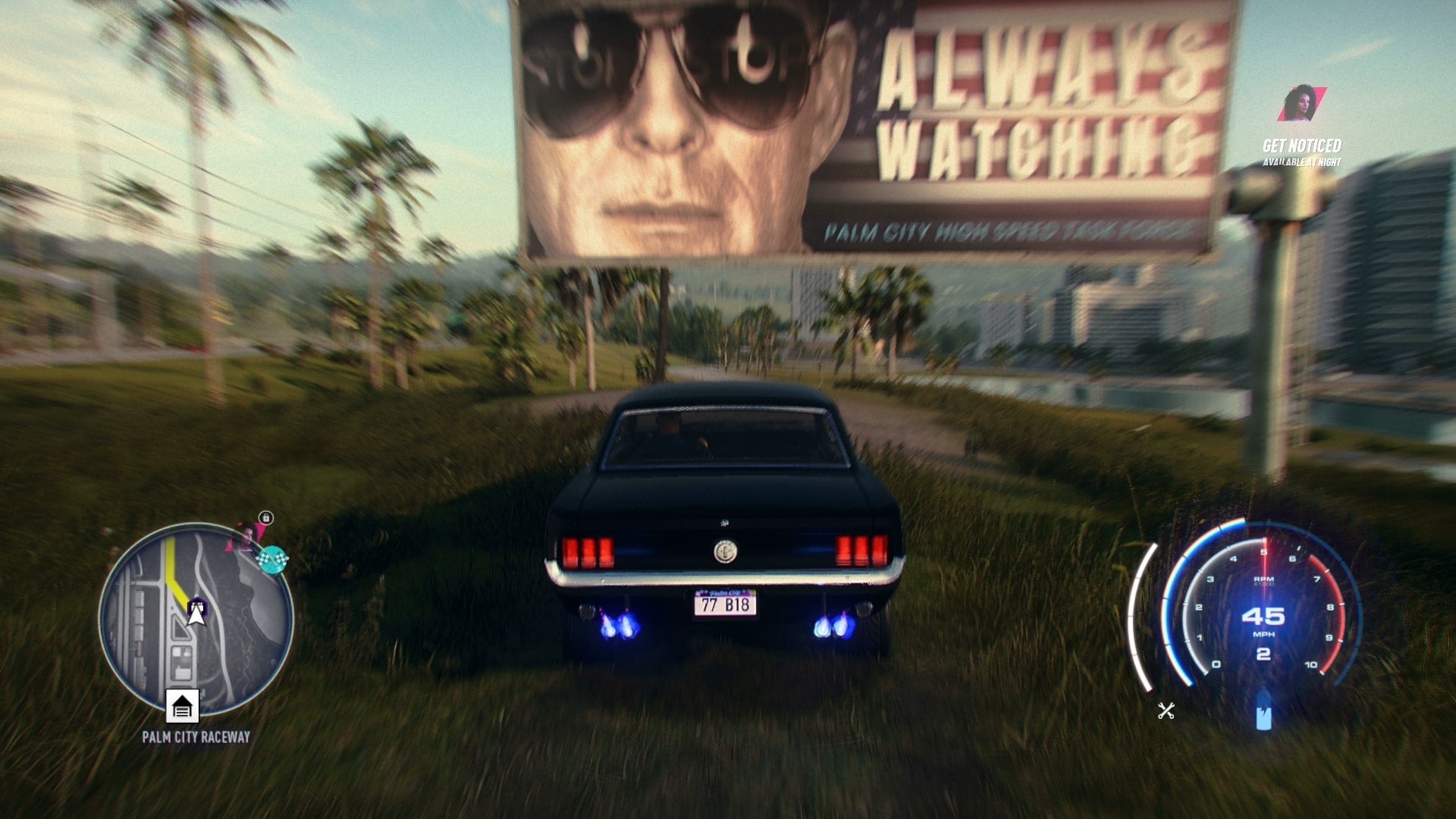 Billboards
Total: 85
Rewards: Nissan GT-R Nismo + Cyan Tire Smoke + Billboard Decals Set
Fight the law by smashing 85 separate police propaganda billboards spread out across the map. Though they're nearly always above ground level, you'll be sure to find a ramp or raised road for you to drive off and crash through it. If you're going out with the express intent of breaking billboards, you'll want to bring your fastest, lightest car, not to mention a healthy dose of nitrous to get that all-important air.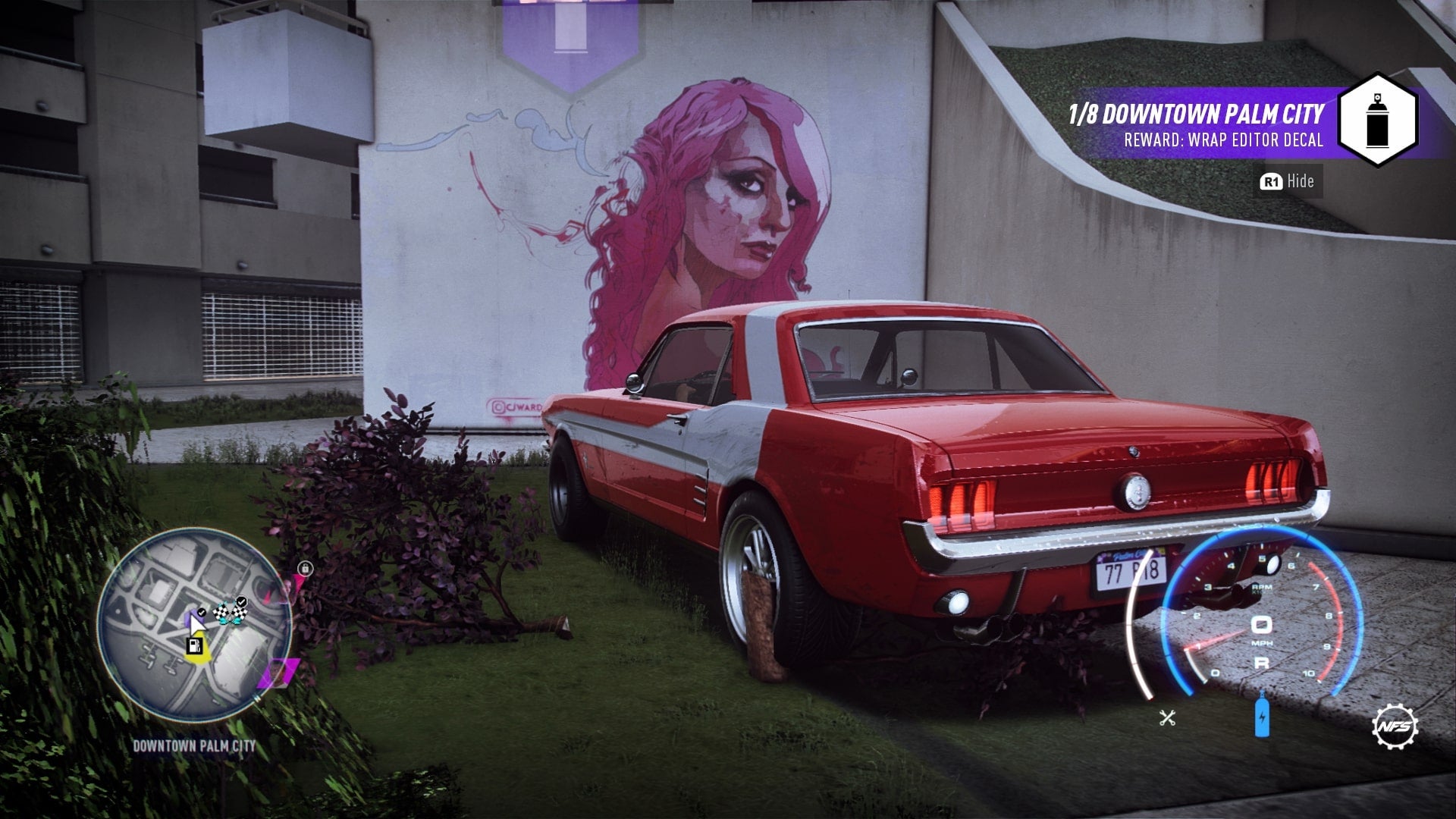 Street Art
Total: 130
Rewards: Nissan 370Z Nismo + Sticker Bomb Pattern Decal
The most numerous collectible in the game is Street Art, in-game murals and paintings spread across the world. Though most commonly found in city and urban areas, they can exist anywhere there's a wall to put them on, so keep an eye on your HUD for when they show up. Once one appears, drive right up to it and press R1 to… Er, appreciate art? Well, considering enough art appreciation will net you a free car, we won't question the specifics.
Activities and Rewards
Like collectibles, simply getting close enough to an activity will mark it permanently on your map for you to visit and come back to whenever you like. However, while collectibles are things you find (and sometimes break), activities are less common and involve some sort of mini-challenge that can be done even during other missions, races or police chases. They're also tiered, with the possibility of earning one, two or three stars depending on how well you beat them. Beating them nets you a small, immediate reward besides the long-term goal, so if you see one up ahead, it might be worth going for it if you think you can.
Activities are pretty easy to spot, represented by large glowing blue rings that arch over the road at certain places on the map. Beat all of them and you'll get a steel blue smoke effect for your cars.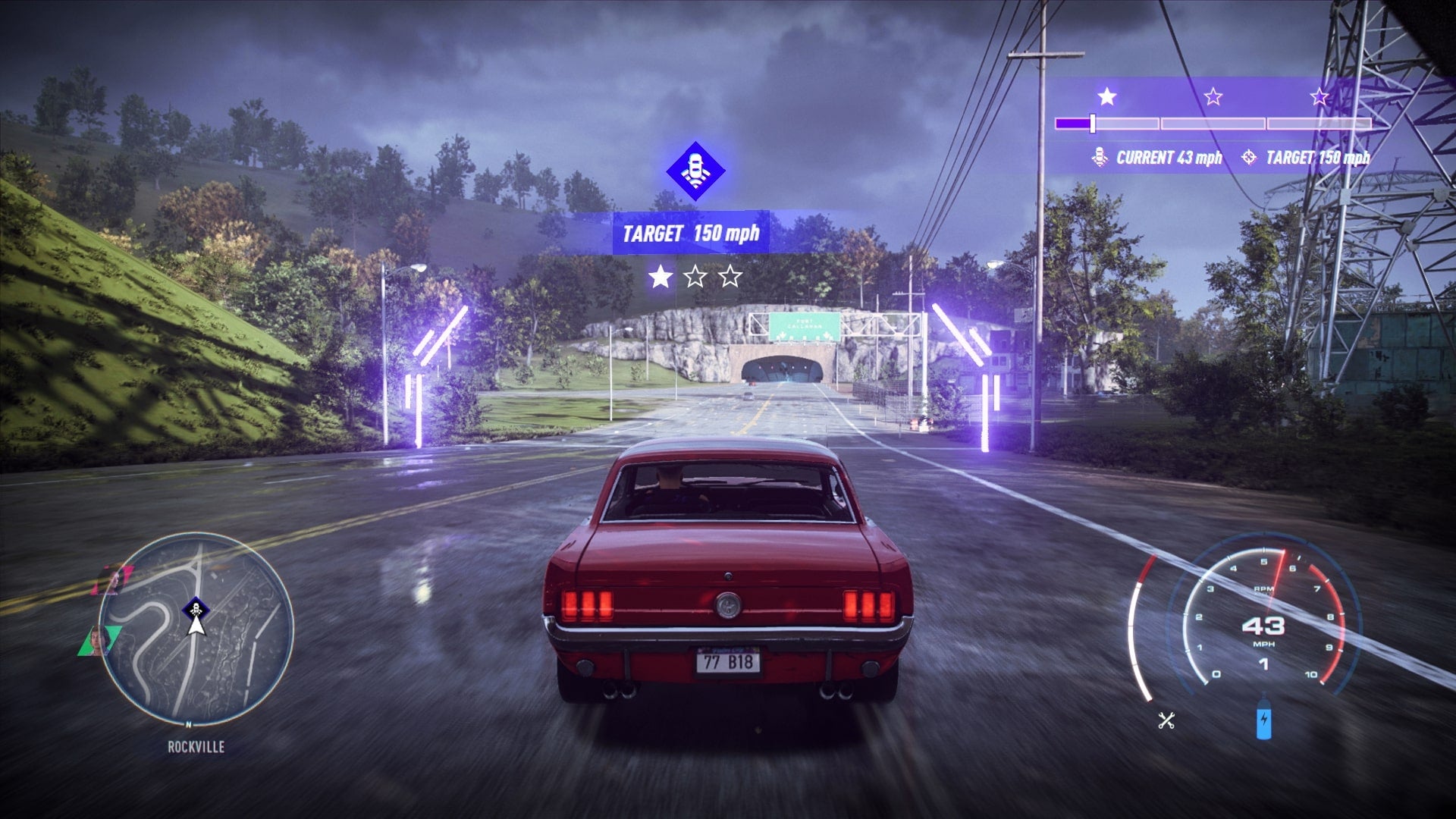 Speed Traps
Total: 45
Rewards: McLaren 600LT + Speed Trap Decals Set
If not the easiest, it's certainly the simplest activity: drive through the ring at a certain speed, one that varies depending on which speed trap you're trying to beat. The faster you go, the more stars you'll earn, so if you're out to beat some speed traps, bring your fastest car and some tires suited for tarmac, as most speed traps are found on freeways and long roads so as to give you a good run-up.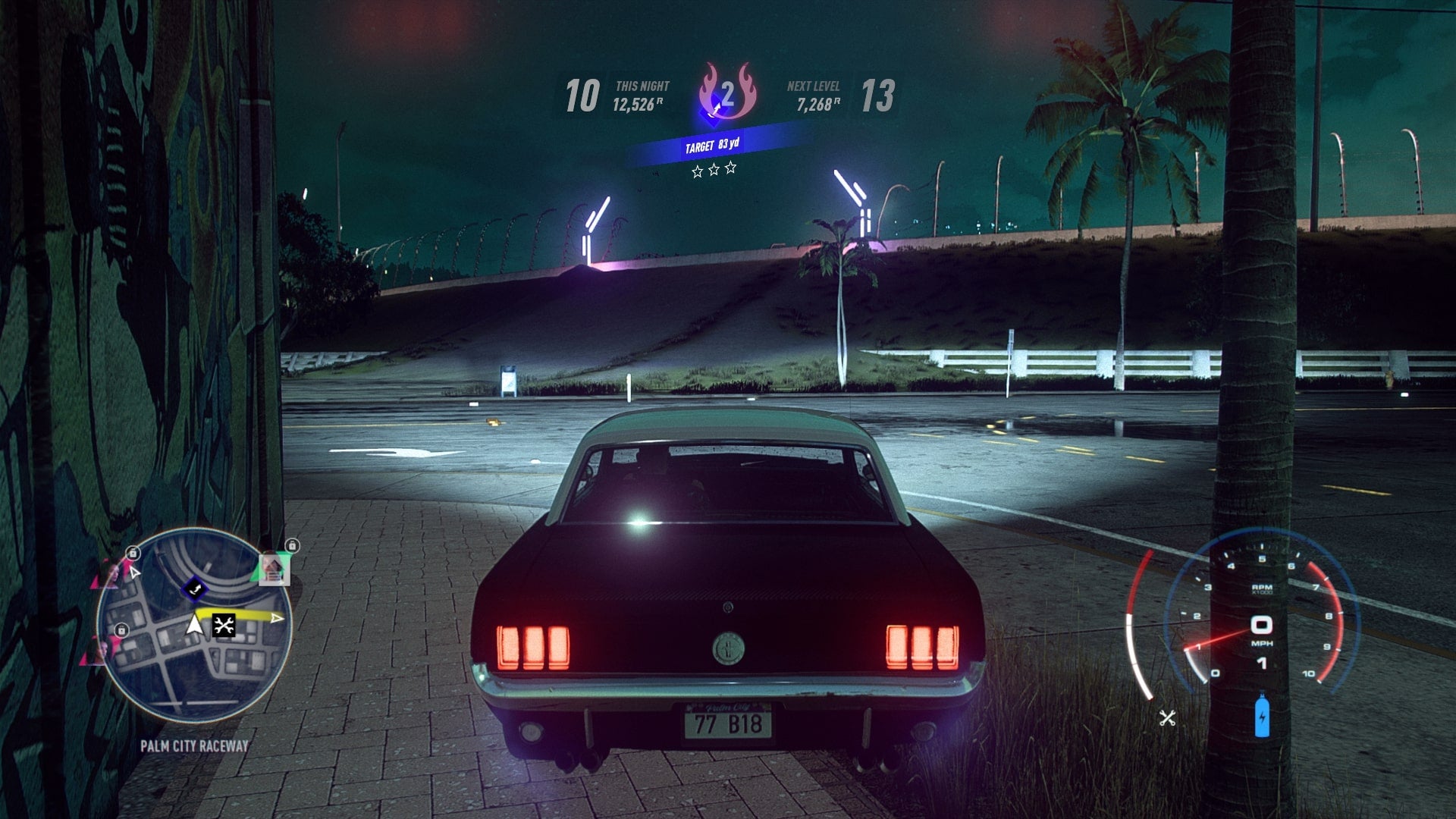 Long Jumps
Total: 40
Rewards: Lamborghini Huracan Performante Spyder + Long Jump Pattern Decal
Again, the objective here is pretty self-explanatory. Each long jump ring will be set onto a ramp or raised platform from which your car will be able to launch itself, and in order to get those stars you want to go as far as possible. Like the speed traps and billboards, focus on a fast, light car to complete these objectives, and keep an eye out for long jump markers if you're ever being chased by cops, as leaping over a canal is a good way to shake the law.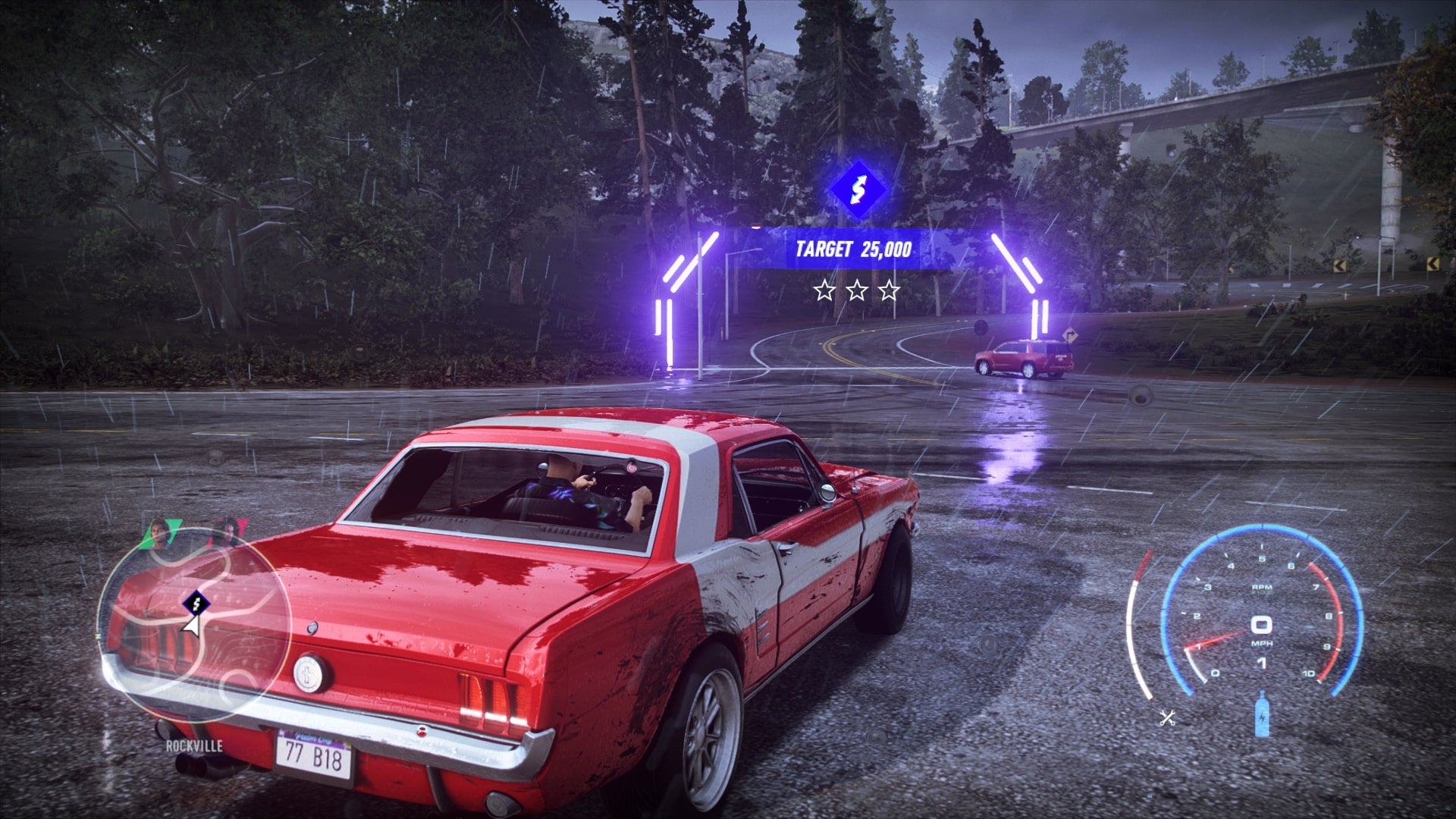 Drift Zones
Total: 35
Rewards: BMW M4 GTS + Skids Pattern Decal
These don't appear until after your tutorial in drifting, but once they do you'll see that they're all placed just before U-turns or sharp corners. The goal here is to drift for as long as possible, racking up your score, trying to get as close to obstacles as you can while never actually touching them. These are probably the hardest of the three activities, but the garage can actually show you how to build a car specifically for drifting, meaning that it's perfectly easy to do just that and take a lot of the strain off.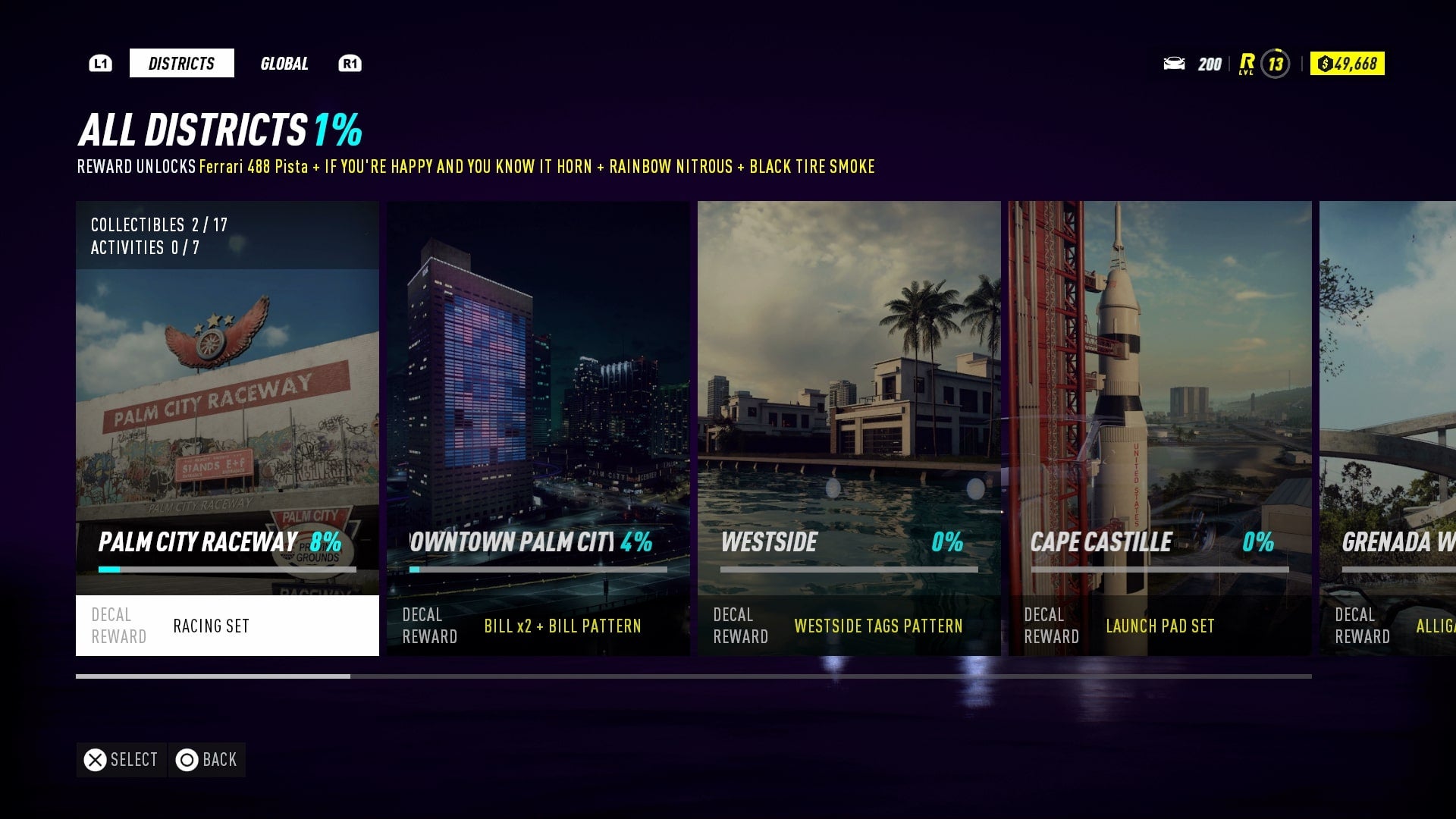 As well as the collectibles listed above there are also Flamingos to find. They are a little trickier, as you'll unlock them later on in the game. For more info, head here.
Total Completion and District Rewards
While finding all of a certain kind of collectible or activity will get you a car, there's also certain decals available for those who can 100% any of Palm City's 18 districts, and a final set of big rewards for those who can complete all of them: a Ferrari 488 Pista, a horn that honks to the tune of "If You're Happy and You Know It," rainbow-coloured nitrous and jet-black tire smoke.
It's a hell of a gain, so if you're thinking about taking on this challenge, you can keep track of your progress by going to the options menu and going to the tab marked "Progression."
Now that you're on your way to getting all the collectibles, why not check out our guide on making quick, easy money? Or if you're already feeling flush, we've found the five fastest cars in the game, so you know immediately what to spend on.