How to create a Japanese PSN account to get Japan-exclusive PS4 demos, themes and other freebies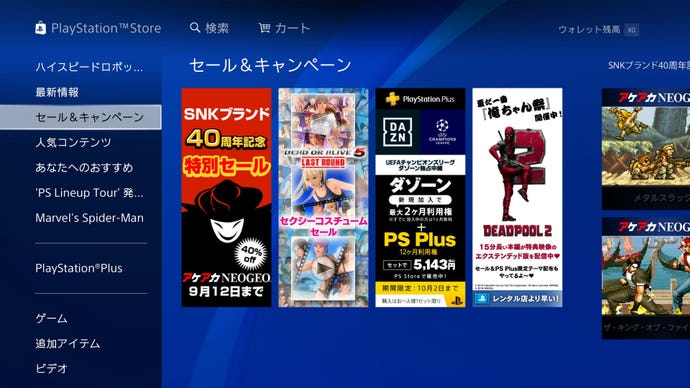 Fans of Japanese games will find a slew of exciting items on the Japanese PlayStation Store for PS4 - but you'll need to navigate the menus to get a Japanese PSN account to grab them. Luckily, we're here to assist.
Gaming is becoming increasingly border-free, with region locks largely a thing of the past - but sometimes, you'll need a region-specific account to grab a neat region-exclusive online item. This is always a particularly pressing issue for fans of Japanese games, with the Japanese version of the PlayStation Store for PS4 seeing things like Japan-exclusive demos of Yakuza 6 and Final Fantasy 15 in the past. Just recently a Japan-exclusive demo was made available for Judge Eyes (aka Project Judge) - the exciting new game from the makers of Yakuza. Sure, you might not fully understand the text in-game, but you can muddle through - and these downloads are free!
There are also Japan-exclusive themes and other free items in the Japanese store, so it's well worth having an account. On this page we're going to stop-by-step guide you through the process of creating a Japanese PSN account for PS4, thus allowing you access to these region-exclusive treasures.
As a general note, we at VG247 want to point out that you will be prompted by your PS4 to OK some Sony terms and conditions in Japanese through this process. We're not translating these (though they are likely similar to your regional equivalent), and you agree to them on your own responsibility. With that noted, let's get into how creating a Japanese PSN account works:
Creating a Japanese PSN account on PS4: the step-by-step guide
First thing's first - Log out of your current PSN Account and Create a New User. This is through the same process as you would for any other account, and can be done by holding the PS Button and selecting Switch User, or from the basic log-in menu that appears every time you start your PS4.
Once you're on the Create a New User page, you'll have some more stuff to page through - all in your native language for now. It'll ask you if you want to sign into an existing account and the answer, obviously, is no. Eventually, you'll get to a screen that lets you select your Country. Hit this option and scroll to find Japan. Brace yourself - you're about to lose English on your screen temporarily. It'll look like this:
Okay, so, here's what you need to know. The first option is your Country, and the second your Gender. You can leave these be if you want - they're fine on the default now.
The third option is the one that concerns you: this is your Date of Birth, in a Year/Month/Day format. You can put whatever you want in here, but we'd recommend using your real date of birth - it'll help you should you ever need to recover this PSN account later on. That'll push you to the next screen...
Okay, here's what these three options are, top to bottom: Zip Code (Or Postal Code, if you prefer), Prefecture (or region), and City. Simple, right?
You should only need to fill one of these three in - Post Code. You can head to google and find a slew of Japanese Postcodes easily enough, but there's also the one we're using above: 876-0842. That points to a street in the city of Saiki, which we pretty much picked at random, but you can go for whatever you like.
Once the postal code is filled in, the other two forms should fill out automatically. If the last doesn't, which sometimes happens, open it up, input a random Japanese character from the keyboard and then pick one of the auto-fill results the PS4 offers up. We'll now be kicked to the next menu in our Japanese PSN account crusade:
Okay - this one should be nice and obvious from the above screenshot. Your options are, from top to bottom, email address and password - the latter twice, because you need to confirm it.
Some important things to note here - for one, you should use an email address that's real. (The one above isn't, but feel free to send your abuse there anyway if you don't read these instructions properly and claim that this page is lying to you.) You should use a real email because you'll need to remember it in order to log in if you switch PS4s, or if you forget the password you'll need to use it for recovery.
Then you'll need a password. Duh. The next screen lets you pick an avatar, and then after that, a username:
We picked the man from Haze because Haze is a very poor 'Halo Killer' with a theme song written by rock outfit Korn. You know - it's appropriate for this because it's a Japanese classic. Anyway.
Once you've picked an avatar from the pre-set Japanese PSN offering, of which there's many, you'll get to the screen pictured above. Top to bottom: Username, First Name, Last Name. Again, do what you want here, but in case you do ever want to regain control of this account or attach a credit card, consider putting in genuine information.
You'll need your username to meet PSN guidelines and not be taken, so if you get a red error message try a different one. We're almost there!
You'll now see a few screens like these - they are basically terms and conditions screens, full of terms (and conditions) that you probably can't read if you need this guide. They're broadly the same as the ones you'll have in your home territory, but we stress again that we're not doing a full translation of them and legally by accepting them, you're bound to them.
If you want to accept these terms, select the Right-hand option each time. You're practically there - you're so close to a Japanese PSN account on PS4 you should now be able to more or less taste it.
At this point the Japanese PSN account process will throw you up other options - trying to sell you PlayStation Plus or get you to make this PS4 into your primary account. Naturally, you don't want or need any of that. Select the far-left options to quit out, and if that won't work Switch Accounts back to your Western account and then back again to be booted to the main menu.
There'll be one more thing you'll have to do: check the email address you registered this account to. Within you'll find an email confirmation from Sony to verify your address - do that, and then you're good to go, ready to launch into the Japanese PS Store and a world of new demos and other freebies to download. Have at it!