How The Division 2 borrows from real life crises to create its post-pandemic DC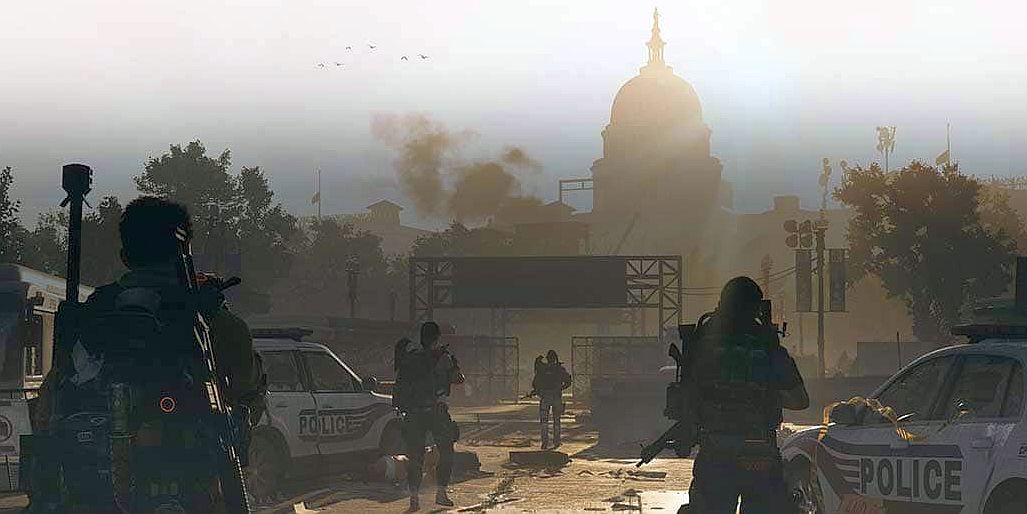 "We're not talking about zombies here. There are no armies of flying robots taking over. This is not sci-fi. This is a scenario we can plausibly foresee, perhaps just a few decades into the future."
Gregory Claeys, professor of history at Royal Holloway University of London, is talking about Tom Clancy's The Division 2, the newly released sequel to the 2016 dystopian hit game which saw players battling across New York City in the wake of a bioterrorist smallpox pandemic.
The Division's mix of bleak dystopia, RPG gameplay and online co-op was a winner for publisher Ubisoft, earning $330million after five days of release. A film adaptation starring Jake Gyllenhaal and Jessica Chastain is in the works. Now we have a sequel. The newly released The Division 2 takes the action from the brutalism of Manhattan to historical Washington DC.
But this isn't another post-apocalyptic video game.
It shows a world coming back from the brink. Set seven months after the original, society (or at least, what's left of it) has moved on. Different political factions are progressing with their own agendas, while the survivors are supporting each other to rebuild communities.
It seems there's hope for all of us.
Swedish developer Massive Entertainment has put in as much research to the sociological implications of real-life disasters as it has into its painstaking 1:1 scale recreation of Washington DC (some players have even found their own houses in the game).
Here the US capital offers a new selection of sprawling, open spaces to play with. Left unattended since the pandemic's release (known as 'Black Friday' thanks to its coincidental November attack), the lawns around the Capitol building are marshland.
With the White House on the horizon, streams trickle underfoot and deer scuttle from the crossfire between enemy parties.
The survivors of the original outbreak are growing in strength. Completing your missions aids their recovery, explains Cloé Hammoud, IP researcher at Massive Entertainment, "You help them find resources and repurpose them; build wind turbines, grow food, develop aquaponics..."
This rebuilding of society in-game can be seen in the base camps' tended vegetable crops, and in the books laid on the ground: the early signs of an education system being reset. This is something seen in real life crises, says Tricia Wachtendorf, a professor of sociology and director of the Disaster Research Centre at the University of Delaware.
"It's about slowly building back community functioning. It might not be that it's a full education system at that point, but those beginning steps, in terms of food production and distribution, those are things that really resonated with our research as part of that resilient aspect."
The months of desolation have transformed DC's most iconic monuments into dilapidated structures, their functions completely transformed. In one of your first missions, you must capture a graffiti-emblazoned White House to use as your base by cover-shooter fighting your way across the lawn. The Lincoln Memorial is the focal point of a later mission. As the statue sits, wrapped in barbed wire and more graffiti, you must battle the True Sons, who have taken it over as a base for their fascist cause.
The White House and its ilk could mistake you into thinking there are political undertones to this game. But if you're looking for political messages, you won't find them here; it's not what this game is about. "For me, it's a complete fantasy. It's a disaster movie through the lens of Tom Clancy," explains Julian Gerighty, creative director of The Division 2.
Rather, seeing world-famous landmarks in disrepute is a staple of the dystopian genre: the Statue of Liberty sinking into the waves in The Day After Tomorrow; the UFO mothership parked menacingly above the White House in Independence Day.
It's more than just a point of reference, says Gregory Claeys, professor of history at Royal Holloway University of London. "In Washington DC there are so many symbols of the most powerful nation in the world, and the fascination with seeing them as ruins indicates that the possibility of this great civilisation collapsing is actually not implausible at all. When people associate the permanence of this country with the White House, they're now challenged with the threat that these symbols have collapsed everywhere around them. This is very potent."
These famous monuments come into play in functional ways, too. In the game, they're used as various bases. This idea takes inspiration from disasters that have happened in the US and in other parts of the world, says Hammoud.
Massive Entertainment looked to Hurricane Katrina and Washington DC's real-life history of flood damage to determine how people would most likely repurpose the surrounding area in a disaster situation. In the game, as it has been prone to do in real life, the Federal Triangle is flooded.
The environment team worked with FEMA experts and the DC coast guard to build a "plausible pandemic situation," says environment artist Chad Chatterton. Look closely and you'll find that vehicles in the game follow the real evacuation routes of the city.
The developers determined that an open space like the National Mall would make an ideal place for FEMA to set up refugee camps. The Division series' equivalent, SERA has used the capital similarly. But, in its design, you can see the evidence of the passing of time: over the months, camps were set up, then abandoned, before eventually becoming a macabre mass grave.
Telling this story of the passing of time presented another challenge: how do you explain plot in an open-world environment? Instead of walking the player through on rails, every scene is littered with story-telling clues.
"Because of the type of game we are making - open world, non-linear, co-op based - it's very hard to tell compelling stories, to be able to have a traditional video game narrative," says Gerighty. "So, environmental storytelling is incredibly important for us, that's why we invest so much in recreating something so accurate... to apply these different layers, like a natural history of the different locations, tells the story of what it was before, what it was during the collapse, and why it's important today."
A tableau from the game comes to mind: in the Georgetown residential district of the map, we find an apartment complete with rotting Christmas tree inside: the virus hit in November, which means the settings are still rife with festive decor. Gerighty breaks the scene down: "There's still food on the table, presents under the Christmas tree, and there's that immediate understanding that something went wrong, for that family to have left straight away. There's a whole world for you to discover in just one single screenshot."
Given the staggering level of real-life grounding to the game, perhaps scarily, the post-disaster scenario The Division 2 paints isn't as far-fetched as it would at first seem.
An advocate on the danger to life of the Earth's current rise in temperature, dystopian literature expert Professor Claeys explains, "It seems to me that these scenarios are quite realistic. It presents a kind of narrative that for the average person today, facing the kind of future that I've projected in a worst case, is quite plausible."
If there's ever a need for respite from impending doom, to connect and build your own communities in a great big multiplayer RPG, there doesn't seem like a better one than that.
The world may be going to hell in a handbasket. But it'll all get better in the end.
Tom Clancy's The Division 2 is out now for PlayStation 4, Xbox One and PC.