How Much Will a Steam Box Cost You?
Valve releases prices and specifications for the Steam Machines coming from its hardware partners.
This article first appeared on USgamer, a partner publication of VG247. Some content, such as this article, has been migrated to VG247 for posterity after USgamer's closure - but it has not been edited or further vetted by the VG247 team.
Back in October of last year, Valve took the wraps off of the Steam Machine, the company's bid to bring PC gaming into the living room. Details outlined machines which are PCs with improved cases, powered by Valve's Linux-based SteamOS. When the company released prototype specifications for Steam Machines, I took a stab at seeing how much a Steam Machine would probably cost a normal user by finding the parts on PCPartPicker.
Now with CES 2014, we actually have prices. Tonight at Valve's CES presentation, the company released specifications and prices for Steam Machines coming from its 13 partners: Alienware, Alternate, CyberPowerPC, Digital Storm, Falcon Northwest, Gigabyte, iBuyPower, Materiel.net, Origin PC, Next, Scan Computers, Webhallen, and Zotac. Kotaku attended the event and received a brochure containing the proposed machines. The machines are shown below: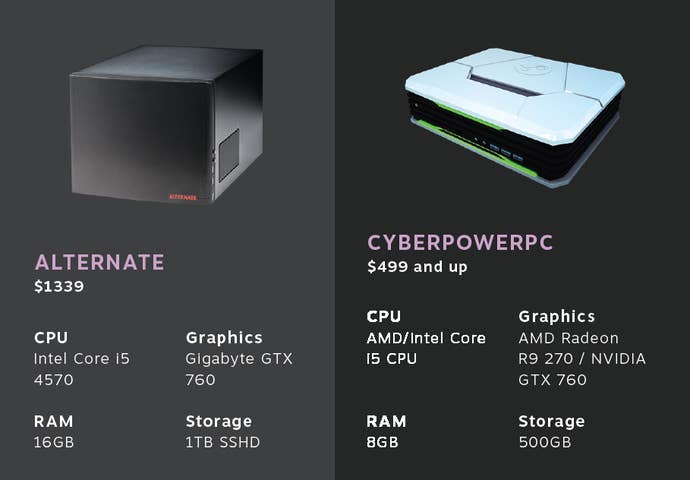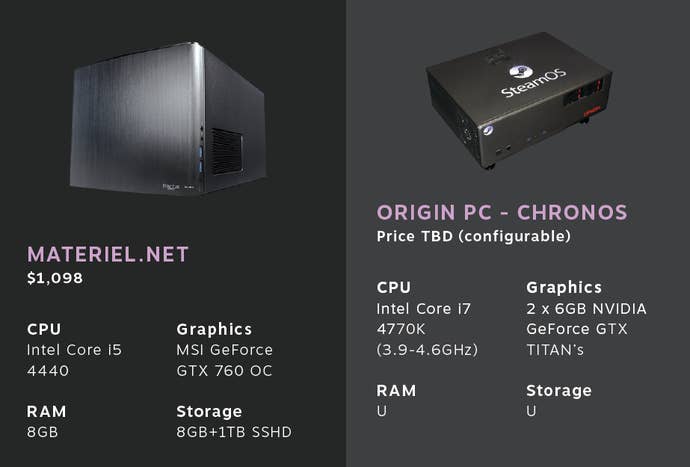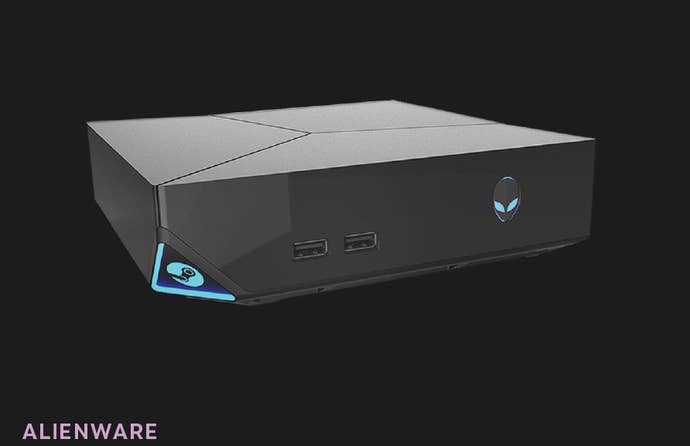 My original ranges for Steam Machines were $550 to $1,500, and that's relatively close to what we're seeing here. The low-end is populated by CyberPowerPC's Machine at $499. The CyberPowerPC unit has a variable price/spec, but the cheapest version is probably the AMD CPU, AMD Radeon R9 270, 8 GB of RAM, and 500 GB of storage. That's a very solid PC.
The high-end is owned by the Falcon Northwest Tiki at $6,000, but we'll ignore that since only the most hardcore of enthusiast need apply. The sane high-end is occupied by the $1,499 Webhallen and the $1,339 Alternate. The Webhallen looks to be the better bang for your buck with an Intel Core i7 4771, Nvidia GTX 780, 16 GB of RAM, and a 1 TB Solid-State Hard Drive.
You'll notice that Alienware's machine has no specs or pricing. Marc Diana of Alienware business development told Engadget that its Steam Machine price would be "highly competitive to the next generation of consoles," so probably in the $500 range.
And what about the Steam Machine prototypes Valve sent out to beta participants? The company is still open to the idea of making and selling its own production Steam Machines.
"We're gonna make that decision as we go along," Valve told Engadget. "We have plans to build more machines as customers ask."
Original Story: Last week, Valve showed us its living room play with the announcement of SteamOS, Steam Machines, and the Steam Controller, but it was light on specifics. Today, Valve has released the planned specifications of the Steam Machine prototypes it plans to send to Hardware Beta participants. Though there will be only 300 boxes sent out to beta users, these Steam machines will still have a variety of specs.
"Valve didn't set out to create our own prototype hardware just for the sake of going it alone - we wanted to accomplish some specific design goals that in the past others weren't yet tackling," the company says in its webpage. "One of them was to combine high-end power with a living-room-friendly form factor. Another was to help us test living-room scenarios on a box that's as open as possible."
"So for our own first prototype Steam Machine, we've chosen to build something special. The prototype machine is a high-end, high-performance box, built out of off-the-shelf PC parts. It is also fully upgradable, allowing any user to swap out the GPU, hard drive, CPU, even the motherboard if you really want to. Apart from the custom enclosure, anyone can go and build exactly the same machine by shopping for components and assembling it themselves. And we expect that at least a few people will do just that."
The full released specs are below:
GPU: NVidia Titan, or GTX780, or GTX760, or GTX660
CPU: Intel i7-4770, or i5-4570, or i3
RAM: 16GB DDR3-1600 (CPU), 3GB DDR5 (GPU)
Storage: 1TB/8GB Hybrid SSHD
Power Supply: Internal 450w 80Plus Gold
Dimensions: approx. 12 x 12.4 x 2.9
So how much will all these parts cost theoretically if you were to build your own Steam Machine based on these specs? We went out to PCPartPicker.com and got as close to these numbers as possible. These aren't perfect representations, they're just intended to give you an idea of what to expect. We chose the cheapest compatible parts for our system builds.
The Best Steam Machine, using the high-end specs, comes to a total of $1,577.46 for an Intel Core i7-4770 3.4 GHz Quad-Core processor, 16 GB of DDR3-1600 memory, a 1 TB hard drive, and an Nvidia GTX Titan 6 GB video card.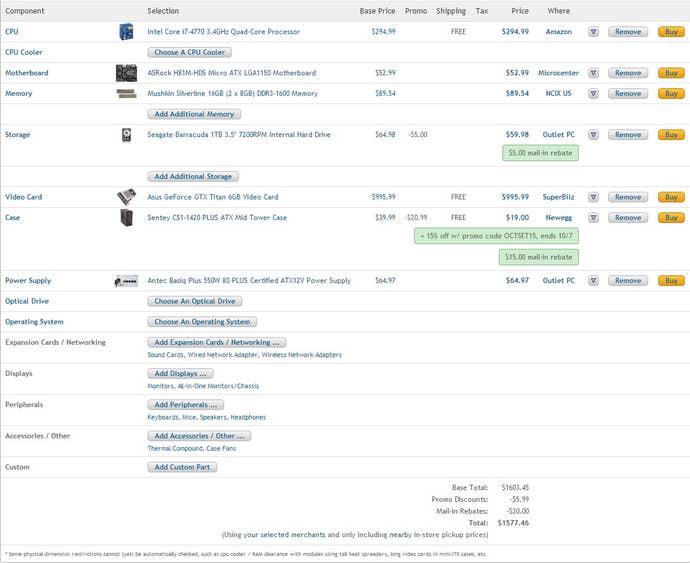 Valve's specs have 3 GB of video memory, but retail GTX Titans only come in 6 GB models at the moment, which could represent a cost savings. The 1 TB hard drive is also a straight 7200 RPM SATA hard drive, not the Hybrid SSHD that Valve is calling for, meaning their drive is probably more expensive.
The Good Steam Machine, using the low-end specs, comes to a total of $557.01 for an Intel Core i3-3240 3.4 GHz Dual Core Processor, 16 GB of DDR3-1600 memory, a 1 TB hard drive, and an Nvidia GTX 660 3 GB video card.
This doesn't represent the cheapest possible Steam Machine that you could build; if you wanted a pure streaming box, you could probably get below this. But it is the lowest spec of the possible Steam Machine prototypes.
A range of $550 to $1,500 is to be expected for a PC, which the Steam Machines are. Home consoles benefit from a few factors based on a single unified design from a larger corporation: bulk part rates and platform holder subsidies. Sony and Microsoft are already getting their PlayStation 4 and Xbox One parts for cheaper because they are building millions of units. They can also sell their systems below cost because they expect to make up the lost revenue in players buying games and subscribing to Xbox Live or PlayStation Plus. As an individual, you can't expect the same benefits. What's being presented by Valve doesn't threaten Sony, Microsoft, or Nintendo. And Valve realizes that the machines its laid out here aren't for everyone.
"And to be clear, this design is not meant to serve the needs of all of the tens of millions of Steam users," says the company. "Many others would opt for machines that have been more carefully designed to cost less, or to be tiny, or super quiet, and there will be Steam Machines that fit those descriptions."
"As a hardware platform, the Steam ecosystem will change over time, so any upgrades will be at each user's discretion. In the future we'll talk about how Steam will help customers understand the differences between machines, hardware strengths and weaknesses, and upgrade decisions."
That last part is the interesting bit for consumers. Valve could go a long way in making the PC upgrade process much easier for users; for the average person, buying a new PC is a complex affair compared to picking up a new console or iPad.