Hitman returns to Paris next week with free holiday content that supports a great cause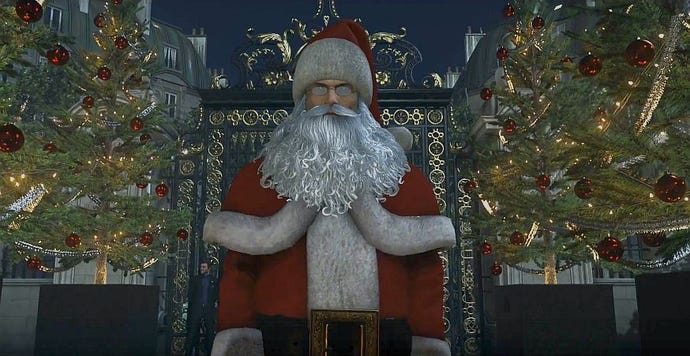 Free holiday-themed content for Hitman will arrive next week, and it will be supporting a great cause.
The mission, Holiday Hoarders, is set in Paris with the Showstopper mission as a backdrop. The lovely city has been dolled up with Christmas trees, decorations and there are presents located throughout the Palace.
But, not all is peace, love and good will toward men: two thieves are trying to gain entrance to the fashion show event and are stealing presents. Agent 47 has been tasked with stopping the grinches.
Players can also open some of the presents they find which include items making it easier to get the job done. And, a surprise guest may pop up when players hear sleigh bells ringing. The fella's suit will apparently come in handy.
While the content is free, IO Interactive is asking players to donate to the World Cancer Research Fund.
"Cancer is something which affects everyone in one way or another at some point in their lives and we at IO wanted to do something to help raise money for Cancer research," said studio head Hannes Seifert. "We're supporting World Cancer Research Fund by giving away some fun free Holiday content to all Hitman players and we ask you in return if you want to donate to a great cause, to give what you can."
If you would like to donate to the cause, Hitman and non-Hitman players alike can do so through the link.
Also, the December content schedule has been posted and it includes information on when to expect the next two Elusive Contracts and more.
The Hitman Holiday Hoarders DLC will release next week on December 13 for PC, PlayStation 4 and Xbox One.