Deckard Cain joins Heroes of the Storm roster: All talents and abilities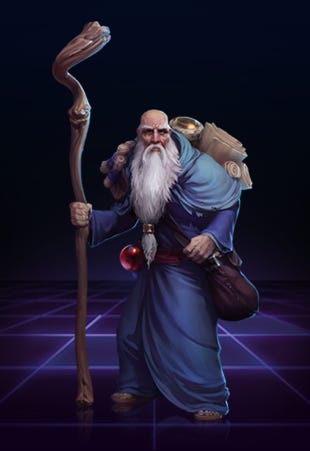 The last Horadrim, Deckard Cain, is joining the Heroes of the Storm roster as the 15th Support hero this month.

Deckard Cain is a decent healer with seriously strong area denial abilities - which his variety of talents only make better.
Activision Blizzard announced the new character at their PAXEast HotS panel, and dropped a spotlight breakdown video at the same time:
Deckard Cain Talents and abilities: Primary abilities:
Deckard throws a Healing Potion on the ground that heals the first allied Hero that it comes into contact with for 230 health. Deckard have up to five potions active at any one time, meaning that they can be stacked in advance for burst healing.
Deckard throws the Horadric Cube, which deals 80 damage to all enemies in its area and gives them Slowing for 40% for 1.75 seconds.
Deckard unfurls an enchanted scroll, which forms a triangle that deals 150 damage to enemies inside and Roots them for 1.5 seconds.
Heroic Abilities:
Vector Targeting Create a swirling Lorenado that travels in the targeted direction, continually knocking away enemies that come into contact with it.
After 1 second, Channel for 3 seconds, putting enemy Heroes in front of Deckard to Sleep while Channeling, and for 2 seconds after. Enemies can only be put to Sleep once per cast, and Sleep's effects end instantly if they take damage.
Hero Trait:
Fortitude of the Faithful
When Deckard is near at least one other allied Hero, he gains 10 armour and his Basic Abilities recharge 50% faster.
Deckard Cain Talents:
Ancient Blessings

Deckard can activate Fortitude of the Faithful to give him and all nearby allies an Ancient Blessing for eight seconds. Their basic attacks deal an additional 133 damage and heal 200 per enemy hero hit.

Super Healing Potion

Healing Potions heal more after a duration

Potion of Revival

Healing Potions heal in an area

Bottomless Flasks

Healing Potions can recharge after they have been used

Sapphire

When activated the next cast of Horadric Cube Slows by 70% for 1.75 seconds.

Ruby

When activated the next cast of Horadric Cube causes three Lesser Healing Potions to spawn from each enemy hero hit. These potions heal for 417 and last for 10 seconds.

Emerald

When activated the next cast of Horadric Cube reduces enemy healing received by 75% for four seconds.

Perfect Gems

Reduce the cooldown of Gems by 25 seconds and the Horadric Cube by five seconds.

Respect the Elderly

Stay Awhile and Listen Silences and Blinds

Morenados!

Hitting Heroes reduces the Cooldown for Lorenado.