Here's how Xbox One S compares in size to the standard Xbox One and PlayStation 4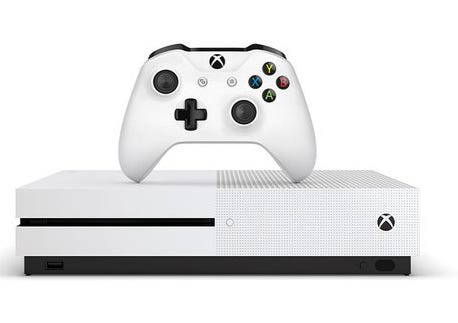 You've seen the size difference between the standard Xbox One and the Xbox One S in images. And you've seen it unboxed. Now, get a better look at the differences not only in appearance, but find out how it stacks up with its older brother size-wise and his rival, PlayStation 4.
Alex was able to get his hands on the new console model during E3 2016, but his time with it was limited. Now that he has one of his own, he can provide a more in-depth assessment.
Want to know everything there is to know about Xbox One S? We have you covered.

In the video, he goes over the contents of the box, the various features on the exterior of the console such as ports and the like. Alex also shows you how to use the vertical stand, which only comes with the 2TB model. If you purchased a different model, you will have to purchase the stand separately.
As you will see in the size comparison shot, as Microsoft previous stated, the Xbox One S is 40% smaller than the standard Xbox One. It's rather obvious just by looking at it, that the new console is the most compact Xbox console to date.
When sitting Xbox One S and PlayStation 4 side-by-side, you will note the size of the former is more comparable to PS4 when the original Xbox One is factored in. That said, Xbox One S is taller than PS4, but is shallower in depth and pretty much the same size in width.
Booting is faster on Xbox One S, with the dashboard popping up 47 seconds after being powered on from a cold state. It took the standard Xbox One one minute ten seconds to load the dashboard, but as Alex notes, the timing will also depend upon the amount of data stored on the original's hard drive.
If you give the video a watch you will learn all of this and a bit more.
Xbox One S 2TB Launch Edition is out today and the 1TB and 500GB models will be made available on August 23.