Here's a new action-packed gameplay video for Vikings – Wolves of Midgard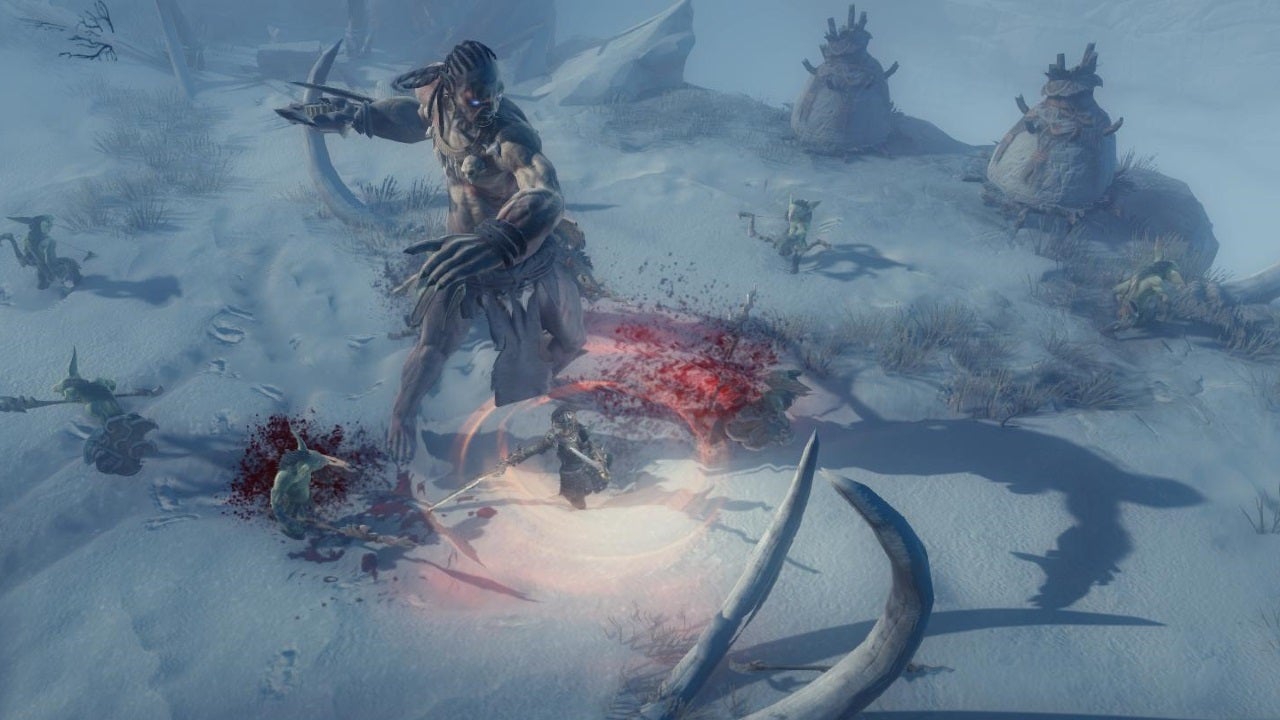 In this new video for Vikings – Wolves of Midgard, you'll get a look at some gameplay pulled from the latest build of the isometric action-RPG.
Kalypso Media released the trailer for Vikings – Wolves of Midgard yesterday, and along with all the action, you get a quick look at some of the environments.
Players will be able to fully-customize their Viking warrior, battle rather formidable looking bosses, use various magical abilities and experience a "deep progression system."
It features an online co-op multiplayer mode and single-player.
Developed by Game Farm, here's a list of features:
Fantasy Meets Nordic Mythology: Travel the realms of earthly Midgard, freezing Niflheim and boiling Balheim, either as a fierce Viking warrior or merciless shieldmaiden.
The Deadly Fimbulwinter: Withstand the deathly colds and protect yourself from exposure to nature's wrath in order to survive.
Tribute to the Gods: Collect blood from fallen enemies and sacrifice it at the altar to gain gifts from the Gods to enhance your powers.
Berserker Rage: Let your anger take hold by activating Rage Mode to overwhelm your enemies in bloodthirsty combat.
The art of combat: Perfect your skills with each weapon to unlock their true potential, including swords, bows and spell-powered canes.
The Power of the Gods: Make the abilities of the Gods your own by equipping power-infused amulets, like the Talismans of Thor or Loki. Put your new skills to the test by competing in the Trials of the Gods to earn further rewards.
Teamwork: Team up with a friend and journey to the Shores of Midgard together in an epic two player online co-op mode. Choose between four difficulty levels to suit your skills and talents. Do you dare attempt the unrelenting hardcore mode?
The Clan of Wolves: Restore and rebuild your village and lead your clan to glory. Upgrade buildings such as weaponsmith, armourer, runesmith, and mead hall to unlock more content and better equipment.
Legendary Weapons: Gather the scattered fragments of mythical weapons and armors to take on the most fearsome creatures of the realms.
A Class of its Own: Become even more powerful in the next life by attempting New Game+, and push your Viking warrior or shieldmaiden to their limit.
Destructible Environments: Utilize your surroundings by burying your foes under falling rocks or pushing them off high cliffs.
Steam users can pre-purchase Vikings – Wolves of Midgard now at a 15% discount through February 24. Doing so will newt pre-purchasers an exclusive pack containing an additional outfit for both male and female warriors, an additional tattoo, hairstyle and clan symbol, a new beard style for male characters and tribal jewelry for female characters.
It also comes with a digital artbook and soundtrack.
Vikings – Wolves of Midgard will release in early 2017 for Linux, Mac, PC, PS4 and Xbox One.