Halo Infinite has Monster Energy weapons, because of course it does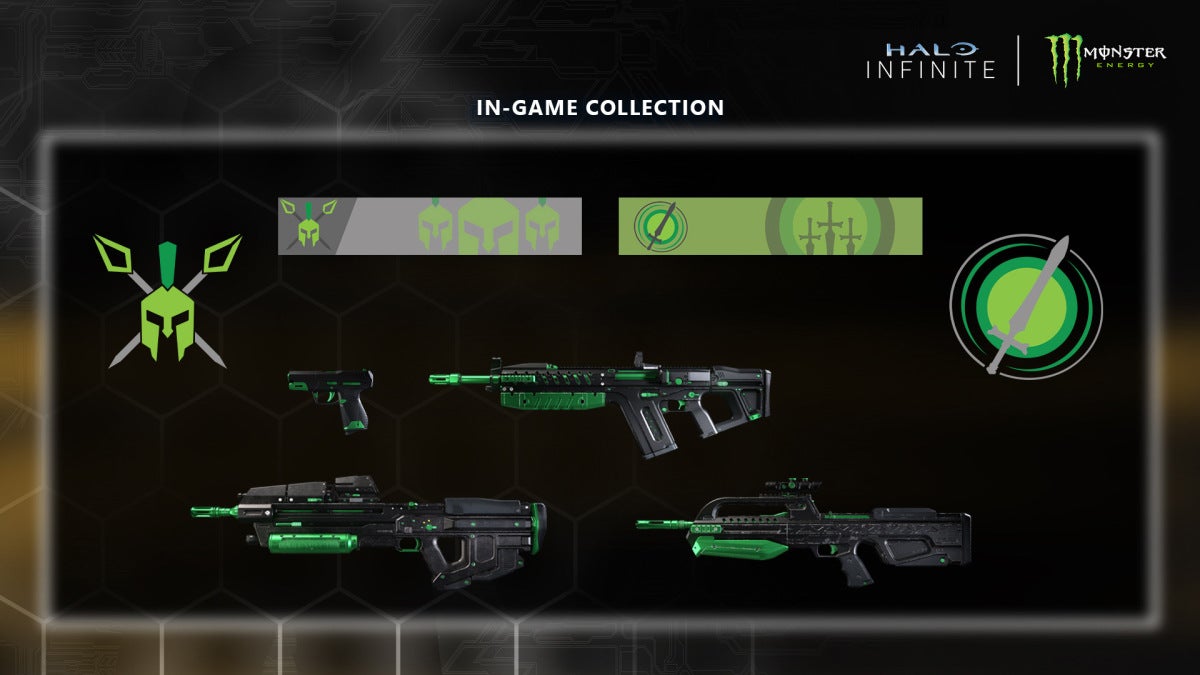 In a move that will shock absolutely no one, Microsoft recently announced that Halo Infinite will feature guns sponsored by Monster Energy.

The news comes from an official Xbox blog post, which opens by discussing the recently launched Halo Infinite Monster Energy cans. While these real-life cans are emblazoned with the stern visage of Mr. John Halo, there was no reciprocal instance of Monster appearing in the virtual realm of Halo Infinite - until now.
Check out the screenshot below, which offers us a look at the official Halo Infinite Monster Energy guns.
They don't actually look too bad at first - the green and black palette is aligned with Combat Evolved-era Master Chief, and there's no piss-colored M on the front of the guns. However, after 0.5 seconds of looking at them, I can confirm that I, personally, will not be using a Halo Infinite Monster Energy weapon skin - unless it's for occasional, intentionally ironic purposes.
Players can also earn Double XP boosts by purchasing cans of Monster with Master Chief on the front. Each can is good for one boost, so if you get a 24-pack of Monster (please don't, you'll hurt your teeth), you'll get 24 individual Double XP boosts lasting 30 minutes each.
According to the blog post, the maximum amount of Double XP hours one person can earn is 60, but that means you'll need to buy 120 cans of Monster.
That is way too much Monster.
Instead of spending all your money on caffeinated sugar water, check out this mod that allows you to play as a Grunt in Halo: Combat Evolved. It's basically just a reimagining of the series' inaugural game that makes John Halo the bad guy - it's probably pretty close to the version of Halo that teenage Elites play on the other side of the universe.
In related news, Halo Infinite has been delayed until at least 2021. Microsoft originally considered splitting it into several pieces prior to pushing back the release date, but ultimately determined that delaying it was the safer bet.