Halloween files found in new GTA Online update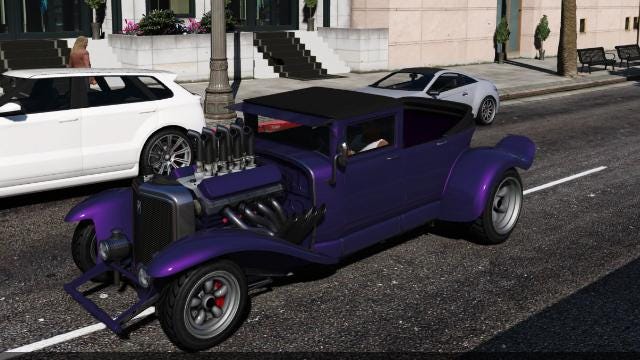 According to new update files, Rockstar is planning a Halloween surprise in GTA Online: see the new masks, vehicles and face paints here.
GTA modder Yan2295 has been doing some digging into tomorrow's GTA Online update. According to Yan, update files have already hit the servers and they contain more than just the autoshop and Lowriders.
The modder says he found something named "mphalloween" among the files. Rockstar hasn't announced any plans for public events to coincide with the holiday yet, and could be planning a surprise.
12 new masks were also found, alongside a file called "ped overlays" - presumably standing for pedestrian. Here they are:
Two new vehicles ("btype2" and "lurcher"), as well as a new weapon (a flashlight, costing $500), were also dug up. (Thanks, taltigolt).
So the Halloween DLC will be on your consoles, but not active. Rockstar will then activate it via tunables when they want, around Halloween.

— Yan2295 (@Yan2295) October 20, 2015
Update: There's also a new selection of facepaints coming for Halloween:
The new Face Paints look so good when on your face #GTAOnline pic.twitter.com/4pcwif4dcV

— Austin (@Dat_Saintsfan) October 19, 2015
And how about that Butchery And Other Hobbies t-shirt?
New Halloween Tshirt Designs #GTAOnline pic.twitter.com/HFjn7zx9WU

— Austin (@Dat_Saintsfan) October 19, 2015
There's also a machete coming with the Lowrider update:
And here's the Machine Pistol, which costs $750, as seen in the trailer.
and finally, here'sw some of the customisable plates for the new lowriders:
Special lowriders plates. pic.twitter.com/FEBIQmwt1c

— TezFunz (@TezFunz2) October 19, 2015
The update goes live tomorrow but Halloween isn't until October 31. These new event-exclusive items could only appear on that day or sometime prior. We'll keep an eye out.