Valve didn't consider vehicles for Half-Life: Alyx because it had to establish a whole "visual language" for HL2's driving sections
If I asked you to tell me what the core components of Half-Life 2 were, you'd probably list some of the following: puzzles, pacing, gunfights, variety, crowbar, physics, and vehicles.
Most of those things are present and correct in Half-Life: Alyx, though Valve couldn't get the crowbar to work. As for vehicles, they were never even considered because they were a pain enough to implement outside of VR.
"It wasn't because we don't think they work in VR or anything," programmer and designer Robin Walker told me. "We didn't get to the point, really, where we spent any significant time thinking about vehicles.
"At a guess, I would say a reason that never really came up seriously onto the set of things we were looking at was everything that we were seeing was telling us that players wanted denser worlds. They were going to move through space more slowly, explore more carefully, and our response to that was to add even more detail to the world. We put that in front of playtesters, and they would pay even more attention.
"I remember back in Half-Life 2, we struggled to reconcile, even then, the density implications of players in vehicles. If you remember the Half-Life 2 coastline area, with the buggy, we had to establish, essentially, a visual language with players for the place you need to get out of your buggy and explore."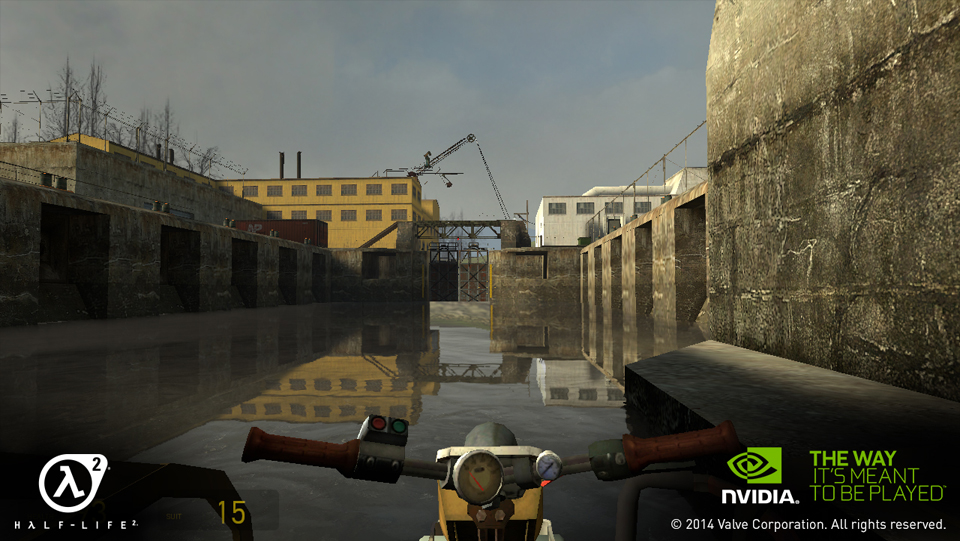 Because Valve's worlds are hand-crafted, playtesters in Half-Life 2 were constantly worried about missing something during the vehicle sections. This led to frustration as the developers watched on while they drove a few meters, got out and explored, drove a few meters, rinse and repeat.
"They were just really worried about missing anything, which is a really natural thing to be worried about in a Half-Life game," Walker explained. "You know in a Half-Life game that anything that's there was thought about and designed and placed. It's not just painted down by some automatic thing that's filling the world with rocks and trees and nature.
"And so, in Half-Life 2, we established this design language, which was these human structures. Things that were built by humans. Things that actually were areas that we were always going to put design and build content into. Natural stuff, rocks, trees, the beach, all that, we wouldn't. And so, you could drive as a player along the coast, drive for a while, and then see a house, and stop at the house. Jump out, explore the house, get a unique experience, and then drive along, stop at the next human landmark.
"So, even back then where we had essentially an order of magnitude less detail in our world, you had to establish those sorts of rules to help players understand, 'How do I know when I should explore, and when I shouldn't?' I think that was probably all part of the thinking in our heads."
Have a read of our Half-Life: Alyx review to see why you should play it, even without vehicles.