Half-Life: Alyx - 15 secrets and easter eggs you missed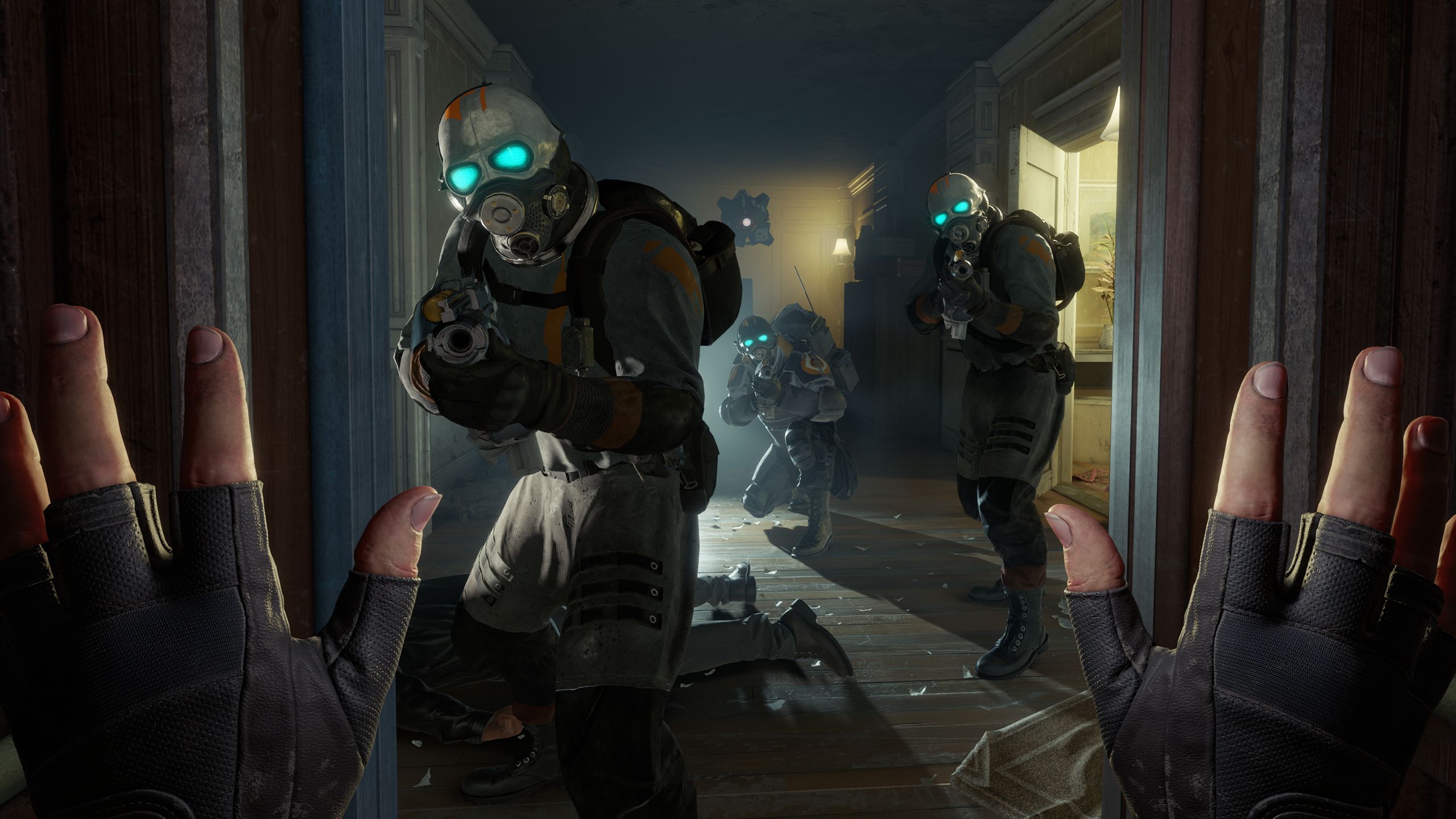 Sweaty geeks the world over are strapping on a plastic gasket and diving into the nooks and crannies of City 17 in Half-Life: Alyx, the long-awaited prequel-sequel to Half-Life 2, the ground-breaking shooter with the crabby things.
As is customary for the crew at Valve, the game is littered with the kind of details you could only find if you gave Gabe Newell a wedgie. I've played the game twice through now so I feel like I've pinned down most of the tidbits and secrets hiding in the game, including references to Valve's other games and nods to the fate of unseen characters.
PSA: Secrets and easter eggs should be considered spoilers, so if that's not your thing, please come back once curiosity gets the better of you.
Baby Dog's blueprints
After you've finished drawing dicks on the windows in Alyx's greenhouse, if you head downstairs and grab a Polaroid from the shelf you'll find some necessary eye bleach - a candid pic of Dog, Alyx's robot sidekick from Half-Life 2 as a wee baby. You can also find scribbled blueprints for his eventual upgrades on the table nearby.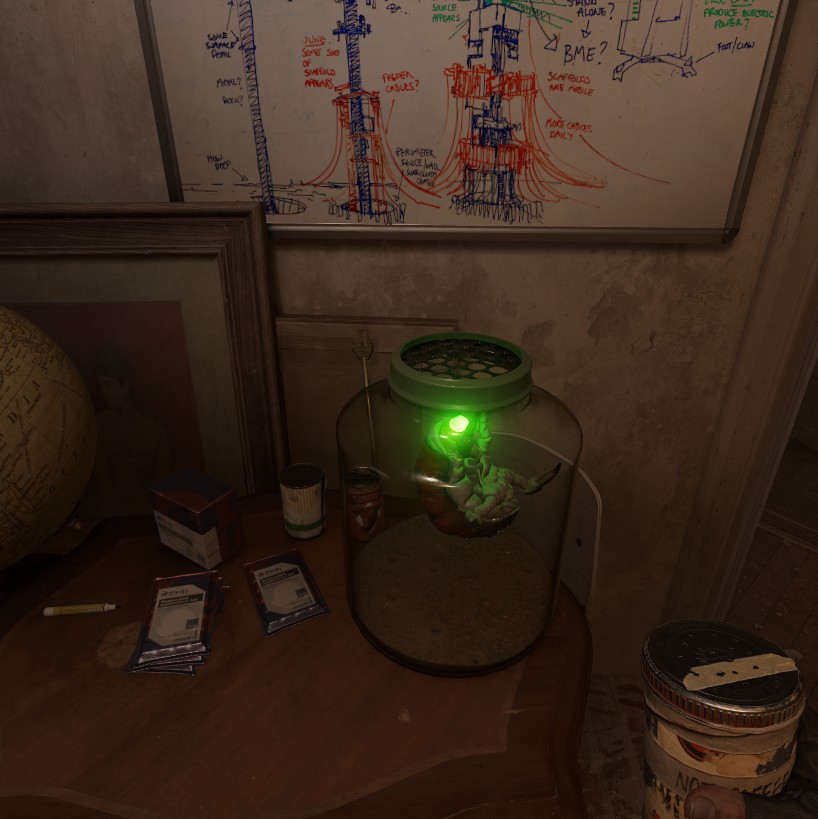 Feeding the Snark
Also in the room with Dog's blueprints, you should see a creature in a jar. You can feed it with the nearby chow shaker for an achievement. This is a Snark, which was previously used as a grenade in the original Half-Life. Alyx appears to have captured one and is keeping it as a pet. Cute!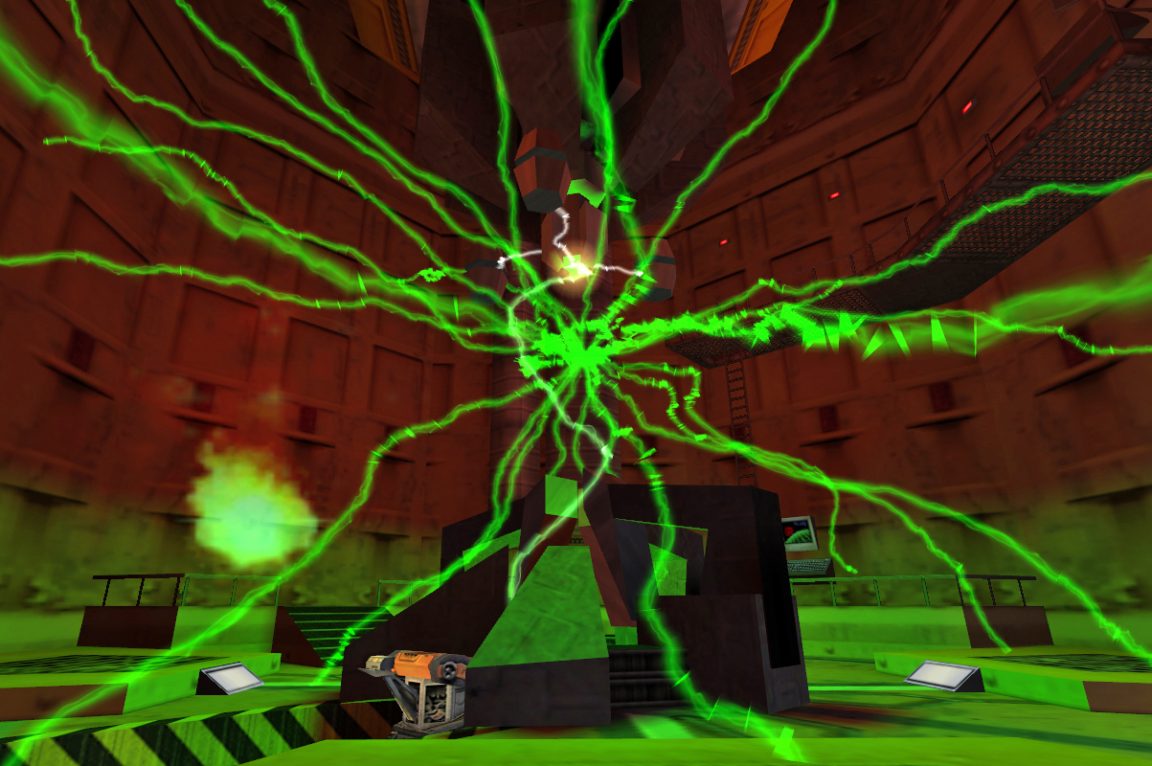 The Resonance Cascade
Left from the Snark cage, you'll see a globe where Alyx has circled a vague area in Eastern Europe as City 17's location. Spin it and you'll see a gigantic black mark across all of North America. This is due to that nasty alien business at Black Mesa that Gordon unintentionally kicked off at the start of the original Half-Life. Black Mesa was nuked into oblivion, leaving America's fate unknown. Ooer.
Gnome Chompski Returns
You'll soon go through a playground much like the one from Half-Life 2 and then arrive in Russel's Lab. This place is littered with secrets, but the most interesting one has to be his Gnome Chompski bottle opener. Gnome Chompski first appeared in Half-Life 2: Episode 2 as part of an achievement where the player must transport him through the whole game and send him off in a rocket. In Alyx, the situation is no different - there's an achievement for carrying him to The Vault at the end of the game. Good luck!
Team Fortress 2 Scout Bobblehead
Elsewhere in the office is a bobblehead depicting the Scout class from Team Fortress 2. You can use this asset on the table when Russell asks you to "find something that represents us" for an achievement. There's a blue counterpart to this red bobblehead on a shelf in the late game, referencing the RED and BLU teams from Team Fortress.
Lazlo Lives!
There's a sticky note on the wall next to the Grabbity Gloves with 'pw: lazl0' written on it. In the game files, some of Russell's assets are tagged with Lazlo suggesting that this was a previous name for his character, but it might also be a reference to Laszlo, a character in Half-Life 2 referred to as "the finest mind of his generation" who is murdered by Antlions.
Dr Kleiner's book
'From here to there in under a second' by Dr Isaac Kleiner can be found on the balcony where you start Half-Life: Alyx and later in Russel's Lab. The spine of this book is seen in Half-Life 2, and it obviously refers to Kleiner, the baldy scientist who experiments with teleportation in previous games.
Wallace Breen graces the cover of WIRED
Also in Russel's Lab (I promise we'll get out of here eventually) is a magazine cover that depicts Wallace Breen looking all Elon Musk. The mag is clearly a homage to Wired magazine with its panelled neon trim. The article subhead reads "how the right man in the right place could save us all," alluding to Breen's negotiation of Earth's surrender after the Seven-Hour War against The Combine. It's also a cheeky nod to the G-Man's eternal quote lobbied at Gordon Freeman during the Half-Life 2 introduction - "The right man in the wrong place can make all the difference in the world."
Wallace Breen's newspaper appearances
Elsewhere in the world, you'll be able to find newspapers in English and Russian about the Black Mesa disaster, with Wallace Breen appearing on the pages here too. This delves deeper into Breen's "rank opportunism" in negotiating humanity's surrender, given his shift from being a Black Mesa scientist to a scheming politician. The papers also mention the portal storms ravaging Earth which ushered in the Xen and Combine invasion.
The Vortigaunt timeline
No picture for this one as it's an amazing part of the story but you'll know it when you see it! The Vortessence timeline is full of interesting little symbols and drawings related to Half-Life lore. Keep in mind that the Vortigaunts share a hive mind and see time in a different manner to humans, meaning they know of the future and the past.
Portal turret graffiti
Later on, when you head outside to fight your first set of Combine, you'll see this cute graffiti of a portal turret and its feelings of love. Haven't found the Rattman den just yet, but here's hoping!
Half-Life: Lost Coast travel posters
In the subway tunnels, if you explore around the corner before a set of gates, you'll see a mural with a coastal environment with the tagline "Visit the coast." I think this is a reference to Half-Life 2: Lost Coast, a technology demo and cut level that launched a year after the release of Half-Life 2. Lost Coast saw Gordon raid a gorgeous monastery and was a testbed for HDR.
0451
An in-joke amongst game designers, this keycode is usually the digits you need to solve the first puzzle in immersive sim games. It's rife in Deus Ex, Dishonored, Bioshock and many more games of the sort. In Half-Life: Alyx it has no function (at least to my knowledge) but you can find it in the Northern Star hotel.
The Combine's poisoned water supply
Throughout the game, there are tons of advertisements aggressively pushing Mountain Peaks - a brand of bottled water. This is most likely a reference to the rumour spread in Half-Life 2 that the Combine have tampered with the water supply to control citizens during the invasion. As one train station-dwelling citizen explains, "Don't drink the water...they put something in it, t-to make you forget. I don't even remember how I got here."
Gordon Freeman's legacy (Spoilers?)
Later in the game, as the main cast get closer to The Vault they start to discuss Gordon Freeman's legacy. At one point when Alyx stumbles on a crowbar, Russell says that the legend has it that Freeman liberated Black Mesa with that lone trusty metal tool. When Alyx fully upgrades her pistol, there's another conversation about Gordon where Alyx mentions she wants to give him her upgraded gun. Russell cuts in, disgruntled at the fact that she has taken control of what used to be his gun and suggests that she gives Gordon the shotgun instead. "Legend has it he's absolutely mental with the shotgun," he explains. Rightly so!
Need more Half-Life: Alyx? Here's the ending explained and what it means for the future of the Half-Life series.