Guild Wars 2: a noob's journey - part one

Guild Wars 2 is out tomorrow, but VG247's Dave Cook has been playing it over the weekend. He was essentially an MMO virgin, but now he's starting to understand the hype. Join him on his quest for enlightenment.
I never play MMO games. It's not because I think they look rubbish or I subscribe to that worn view that MMO players are sad, lonely people. Let's face it, that old stereotype has been wide of the mark since forever, but it's more that my rig has always been crap. Really crap.
Whenever I bought a new PC or laptop they were weak, low spec paperweights that existed purely for work, never play. However, during my university years I did - foolishly - dabble in two MMOS. First I played Final Fantasy XI as I'm a long-time fan of the series.
That was perhaps the most painful three months of my life. I felt like everyone playing Final Fantasy XI and the developers were laughing at me, in on some horrible joke that I wasn't aware of. It was crushingly hard, and so, I bailed.
Next was RF Online, which was actually kind of cool. It had warriors, it had questing and it had mechs. It was fun, but I just couldn't commit whenever I had to start being places at specific times to meet my comrades online. That's where I drew the line.
I never want games to dictate my life, because I see them as on-demand entertainment that I can dip in and out of whenever I get bored or need to unwind. The collaborative side of MMOs felt like a part-time job to me.
But after playing Guild Wars 2 over the weekend, I'm finally starting to get the appeal.
This is my journey.

Saturday 25th August: Charr warrior, Levels 1-8
After battling through the EU server problems that hit Guild Wars 2 hard on Saturday I finally managed to log in to the game and began making my character. Whenever I make an RPG character, they're always a human warrior with a beard that sort of looks like mine, but not really.
I decided to be adventurous and make a Charr warrior instead. The idea of being a mage and quickly selecting the correct cocktail of buffs and offensive magic in the heat of battle has always sounded too stressful to me. I just prefer to hit things until they die from it.
Here's my character Fastrez - username fastrez.5140 if you want to add him to your contact list. He looks like a savage brute, but he's a proud, noble warrior who will die for his Warband. You can find him on the EU server Gunnar's Hold. Come say hi if you're ever in his neighbourhood.
After making Fastrez I was hurled head-first into Tyria, the world of Guild Wars 2. The story focuses on a time of unease, as a pack of ancient dragons has awoken and begun terrorising the populace. Every race has put old disputes to rest, and has bandied together to fight this common enemy
I knew about the overarching plot from Guild Wars 2 previews I'd written before, but what I didn't realise is that players must start their quest in their race's native land, dealing with smaller issues at home before heading out into the wild world.
Fastrez was first tasked with protecting the plains of Ashford from an army of attacking ghosts, and as I charged head-first into the battle alongside about 30 other human players, I had to admit: Even though this was the game's tutorial, I was already confused.
I just ran in towards my enemies swinging my sword blindly by clicking the attack icon as fast as I could - unaware that standard attacks are actually automatic, idiot - and just hit the buggers until they died. Victory!
But I was still confused. Was I sharing experience with these other human players? What about loot? What I didn't realise at the time was that, while MMOs can be overwhelming, Guild Wars 2 operates on a 'trust us, you'll get it if you just do what we say' basis.
I was over-thinking things from the start, which I now realise was a dumb thing to do. Once the tutorial battle was over I was then given free reign to just accept quests and explore as I saw fit. Panic set in as I checked the world map and saw about a million HUD markers I didn't recognise.
It looked like this:
The hearts on the map are side quests that range from defending a set area from waves of enemies, travelling off to an instance somewhere to fight a boss, or by gathering supplies. The range of tasks is pretty neat and the more I did, the sheer scale of Tyria became less daunting.
That was until I zoomed all the way out and saw the true size of the map: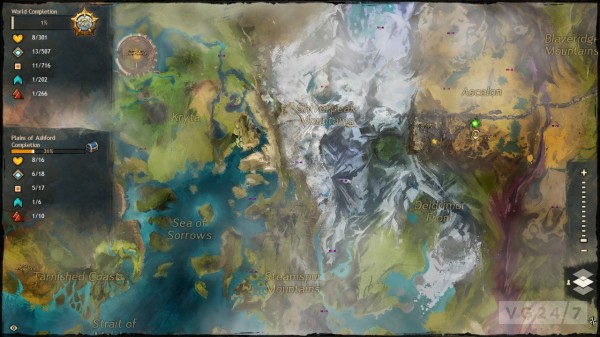 That still isn't even half of Tyria, and I zoomed as far out as I could to take this picture. This is what worried me about MMOs in the past. When will I ever have enough time to see all of that map from the ground?
But, in the name of opening my mind, I soldiered on. After an hour or two of whacking wildlife to bits for loot, running small errands and successfully defending a steampunk workshop from raiders, I finally started to understand the appeal of Guild Wars 2 and other MMO games.
It all clicked when I realised I never had to schedule an online meeting with friends in order to overcome a tough area or enemy. Again, because I don't like the idea of games dictating my life.
In fact, you get rather tough pretty quickly in this game so - I think - you can see everything this game has to offer solo if you wish. It's just a bonus if some other player happens to be nearby and decides to help you in a fight.
There was also the time when I was down by the lake in Ashford Plains, helping a local fisherman clean out traps so he could catch more fish. All of a sudden a large lizard emerged from the lake bed and started beating me up with minimal effort.
'I'm done for', I thought, 'This is Final Fantasy XI's crushing brutality all over again! FML!!' But unprompted, about six total strangers who weren't in a group together rushed over to my aid and helped me defeat the beast.
Everyone got the same XP, everyone got loot and we all lived to fight another day. That's the beauty of Guild Wars 2 - you always get some sort of reward for helping others, but you're never obliged to lend a hand.
Another thing I had really grown to enjoy by this point was that combat isn't just a case of clicking on an enemy and watching as your character automatically fights them. To me, that is soul crushingly boring.
Instead, Guild Wars 2 is a halfway house between MMO and hack n' slash combat. You have to keep focused on your actions and tap out combos to earn bonus XP during fights. As a fan of fighting games, I appreciate the method ArenaNet has gone for.
I kept on playing for about another three hours after that incident. I progressed the story, exposed an inept commander and took his job, aided the Charr leader Rytlock in the war effort and more. I felt useful.
Personally, I levelled up a lot - I now own decent armour and a brutal axe, as well as a set of powerful new moves and buffs. I wasn't sure what any of it did at first, but again, after a little practice I'm now I'm wasting enemies with ease. I'm really starting to understand everything.
By this point the tables had turned. I was now up to level eight and helping other new players I encountered in the world, because I knew how they felt wading into such a big and busy place for the first time. Again, I felt useful.
So what comes next for the mighty Charr warrior Fastrez? Well, I've now become leader of my own warband, a proud pack of warriors that help me when playing story missions. But beyond the story I'm simply venturing a little further into Tyria each day.
I'm yet to join a guild, play multiplayer or explore beyond the safety of the Charr homeland. I think to really understand and get inside the MMO mindset, I'll have to start interacting with other humans properly soon.
After all, they don't call it 'Massively Multiplayer' because it's a single player game now do they?
Check back on Monday, September 3, for part two of Guild Wars 2: A Noob's Journey