GTA Online's Vigilante Batmobile now available to buy, $400,000 gifted to all players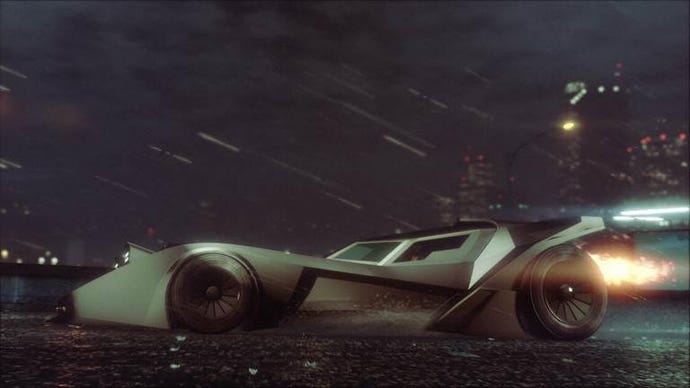 The Vigilante car teased months ago for GTA Online is now available to buy.
It will set you back a cool $3.75 million, but if you want to cruise the streets of Los Santos in a vehicle that would get Bruce Wayne jealous, that's a small price to pay.
It comes with front-mounted machine guns and you can upgrade it with rockets if you need to. Go grab it at Warstock Cache & Carry.
The Vigilante forms part of the returning Halloween content also available, with the Lurcher hearse and Franken Stange hotrod also back for a limited time. These two vehicles can be acquired through the Southern San Andreas Super Autos in-game website.
To celebrate four years of GTA Online, any players who log in between now and November 6 will also be gifted $400,000 in-game cash.
Log in today and you'll also unlock three free horror-themed t-shirts and get double RP and cash for a new Condemned Adversary mode.
There's also discounts on a number of other vehicles, as well as cheaper bunkers, clubhouses and warehouses. They are:
PROPERTIES
All Hangars – 30% off
All Bunkers – 30% off
All Biker Clubhouses – 30% off
All Vehicle Warehouses – 30% off
SPECIAL & WEAPONIZED VEHICLES
Weaponized Tampa (both prices) – 30% off
Half-Track (both prices) – 30% off
Ramp Buggy (both prices) – 30% off
Phantom Wedge (both prices) – 30% off
Ruiner 2000 (both prices) – 30% off
CARS, MOTORCYCLES & AIRCRAFT
Vapid Retinue – 30% off
Hijack Ruston – 30% off
Pegassi Infernus Classic – 30% off
Pegassi Vortex – 30% off
Nagasaki Shotaro – 30% off
Declasse Tornado Rat Rod – 30% off
Ocelot Penetrator – 30% off
Banshee 900R upgrade – 30% off
V-65 Molotok (both prices) – 30% off