GTA Online's Bikers DLC kicks off with week-long discounts, launch trailer and New Adversary Mode
To help you get started with the new Bikers DLC in GTA Online, Rockstar Games is offering new rewards, discounts and a fun new Adversary mode.
Slipstream is the new Adversary Mode in the Biker DLC for GTA Online where your team of fellow bikers will need to hit checkpoints at the same time. Other teams will also be trying to hit the finish line first, so be sure to strive for the lead position. There are seven maps ready to go as of now.
One of the ways to do this is to take advantage of other players' slipstreams for speed boosts - similar to what cyclists do in a race.
Another example of using a slipstream is a convoy. Large semi-trucks take advantage of slipstreams or drafting as it's called when on the interstate by driving back-to back. The slipstream caused by the moving trucks help the drivers save fuel. Hopefully that gives you an idea of what a slipstream is in case you were unfamiliar with the term.
Also, using timed melee attacks, players can knock other folks off their bikes. That will help things as well, plus provide you with the satisfaction that comes with hitting someone.
The patch notes for the Biker DLC are live, and rather extensive. Along with the new features and content, some fixes have also been applied. You should give the list the once over.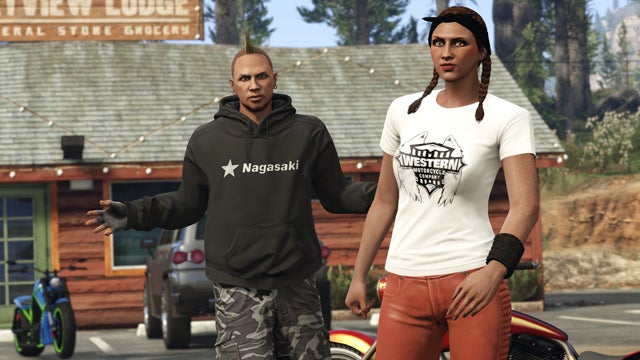 Starting today and running through Monday, October 10, the Bonus Week is offering up a free Western Logo T-shirt and the Nagasaki Hoodie free at any clothing store. Players will also be handed a black Western Logo T-shirt when grabbing the new Western Nightblade bike.
Discounts are being offered on Body Armor and Ammo, and players can take 25% off high-capacity Drum and Box Magazines and discounts are also available for Weapon Tints.