GTA Online: Independence Day discounts, weapons and clothing are back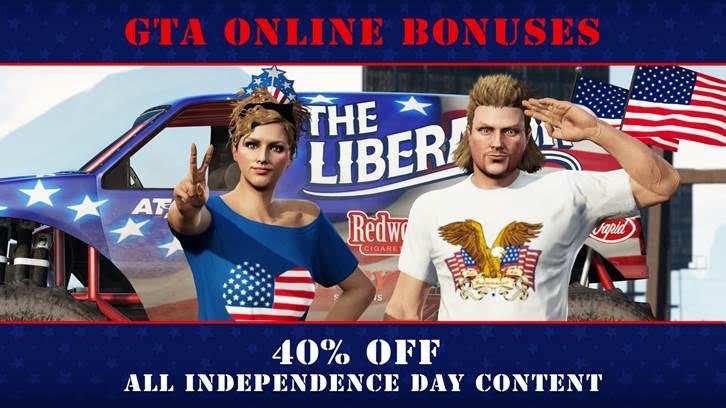 Happy birthday America!

To celebrate American president Will Smith punching an alien square in the kisser, GTA Online has rolled out its usual Independence Day goodies.
Log in to GTA Online today and throughout the weekend to get a free t-shirt, the Canis USA Tee, as well as the Patriot Beer Hat. You can also earn double and triple GTA$ and RP for a whole bunch of missions and activities; Nightclubs, Client Jobs, Special Cargo, Biker and Bunker business and Air-Freight Cargo, to name a few.
There's a big 40 percent discount on the Liberator monster truck and star-spangled Sovereign bike, as well as random vehicles like the Blimp, Scramjet, the Ramp Buggy and more. You can also get 75% off ammo, and pick up the fireworks launcher and musket while you're visiting Ammu-Nation.
If you want to buy into a business now is the time to start with 40 percent off the biker clubhouse, the CEO offices, nightclubs, hangers and special cargo warehouses. And the yacht, so you can ball on a budget.
And if you're waiting for your bonuses for hooking up Twitch Prime, those are starting to roll out now so keep an eye on your Maze account.
The Independence Day Specials end on July 10. Yeehaw.