GTA Online Import/Export guide: how to get the Wastelander, Boxville, Ruiner 2000 and other Special Vehicles cheap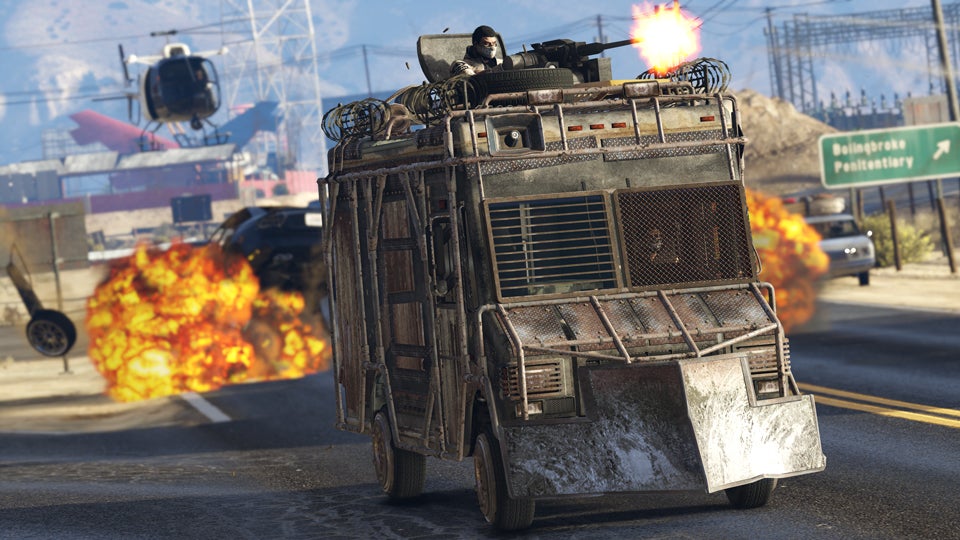 Here's how to unlock Special Vehicle missions in the new Import/Export update, buy a vehicle warehouse and boost cars for a healthy wage.

GTA Online's Import/Export update is live, allowing players to steal, modify and sell-on special vehicles for a tidy profit.
As well as a handful of super cars it also delivers eight brand new Special Vehicles which you can buy at a significantly reduced rate, but to get to them you'll have to play through new co-op missions.
And to get to those co-op missions, you'll have to be the CEO of your own business and put in work completing the new Steal Missions. Let's break it all down.
How to get a 60-car garage
Firstly, you need to be the CEO of your own business. We have a full guide to doing that here.
You can now buy one of the many Vehicle Garages or CEO Warehouse extensions to store a much higher number of vehicles than usual. Vehicle Garages are dotted around Los Santos and store up to 40 vehicles, including 8 spaces for the Special Vehicles in an Underground Storage Facility.
You can buy them via the SecuroServ app on your desktop computer in the CEO Office. The first time you open it up your secretary will talk you through it.
You're also able to buy a CEO Warehouse extension which adds space for 60 vehicles to your Office, split over three floors. This can also be customised with its own Auto Shop. You can buy this from the Dynasty8 Executive website.
How to do Steal missions
Once you have your CEO Warehouse go to the SecuroServ app on your CEO desktop and begin a Steal mission by selecting Special Cargo and then Source Vehicle. You'll receive a text with info on the car and its rough location, as well as a picutre of it and its value. The difficulty of the mission is based on the value of the vehicle.
These missions are fairly simple and you can do them solo or with other players. They involve stealing a vehicle and delivering it to your CEO Warehouse. You will be asked to tail or straight up smash-and-grab a vehicle, and you'll have to shake off or kill gang members and cops before delivery. Some involve beating race times, but they also end in violence.
The more damage the vehicle takes during the boost, the more you have to pay to repair it before selling on. So not only do you have to drive carefully, but also avoid gunfire and other hazards. Remember CEOs have the ability to bribe the cops, and that's something you should use as soon as you're in the driving seat.
It's at this point that other players will see your target vehicle on the map, creating a more dangerous hazard for you. They can steal your ride or just nuke it and give you some shit. Remember: other players are more problematic, so it's worth recruiting Associates to support you.
Once you get the target vehicle safe in your Warehouse, you can sell it on via an Export mission.
How to do Export missions
Go the laptop in your Garage and access the Ad Hawk Autos app to begin an Export mission. If there's only one of you in the warehouse, you can only Export one vehicle at a time. You'll need an Associate for every other vehicle you want to sell on.
From here you can choose who you want to sell it on too. Private dealers won't cost you any extra, but you'll get the least amount of cash. Showroom and Specialist dealers give you a bigger cut, but you'll have to add some mods (which your mechanic will do at your in-house garage). They're expensive and if you lose the vehicle on the way to delivery you get nothing.
Remember that delivery of the Export vehicle becomes visible to all, so other players can now steal it or damage it. You'll get a time limit to deliver it, but your biggest problem is other players or damaging it through carelessness. If you so much as scrape it against a street lamp you'll lose part of your commission so careful driving is key here. There's even a handy counter in the right hand of the screen that shows you how much damage you're causing. It's enough to make you wince.
once you deliver you can collect your rewards, and you're well on the way to unlocking Special Vehicle Work.
How to do Special Vehicle Work missions
All the Special Vehicle Work missions are co-op for 2-4 players. These can be accessed on the SecuroServ app on the CEO desktop and are locked until you complete the required number of Steal missions for that particular mission. Once completed, you'll be able to buy the Special Vehicle for a reduced trade price.
We've listed the missions below, complete with the Special Vehicle it unlocks and how many Steal missions you need to access it, as well as the cheaper trade price.
How to get the Wastelander, Boxville, Ruiner 2000 and more
Mission: Escape Escort
Unlocks: Ramp Buggy
Required amount of Steal missions: 4
Trade price: $2,400,000 (Normal price $3,192,000)
Mission: Breakdown Recovery
Unlocks: Wastelander
Required amount of Steal missions: 8
Trade price: $495,000 (Normal price $658,350)
Mission: Cleanup Op
Unlocks: Blazer Aqua
Required amount of Steal missions: 12
Trade price: $1,320,000 (Normal price $1,755,600)
Mission: Asset Seizure
Unlocks: Phantom Wedge
Required amount of Steal missions: 16
Trade price: $1,920,000 (Normal price $2,553,600)
Mission: Firewall Protection
Unlocks: Rocket Voltic
Required amount of Steal missions: 20
Trade price: $2,880,000 (Normal price $3,830,400)
Mission: Coast Guard Duty
Unlocks: Technical Aqua
Required amount of Steal missions: 24
Trade price: $1,120,000 (Normal price $1,489,600)
Mission: End of Transmission
Unlocks: Armoured Boxville
Required amount of Steal missions: 28
Trade price: $2,200,000 (Normal price $2,926,000)
Mission: Arms Embargo
Unlocks: Ruiner 2000
Required amount of Steal missions: 32
Trade price: $4,320,000 (Normal price $5,745,600)