GTA Online's heists are still the most fun you can have in co-op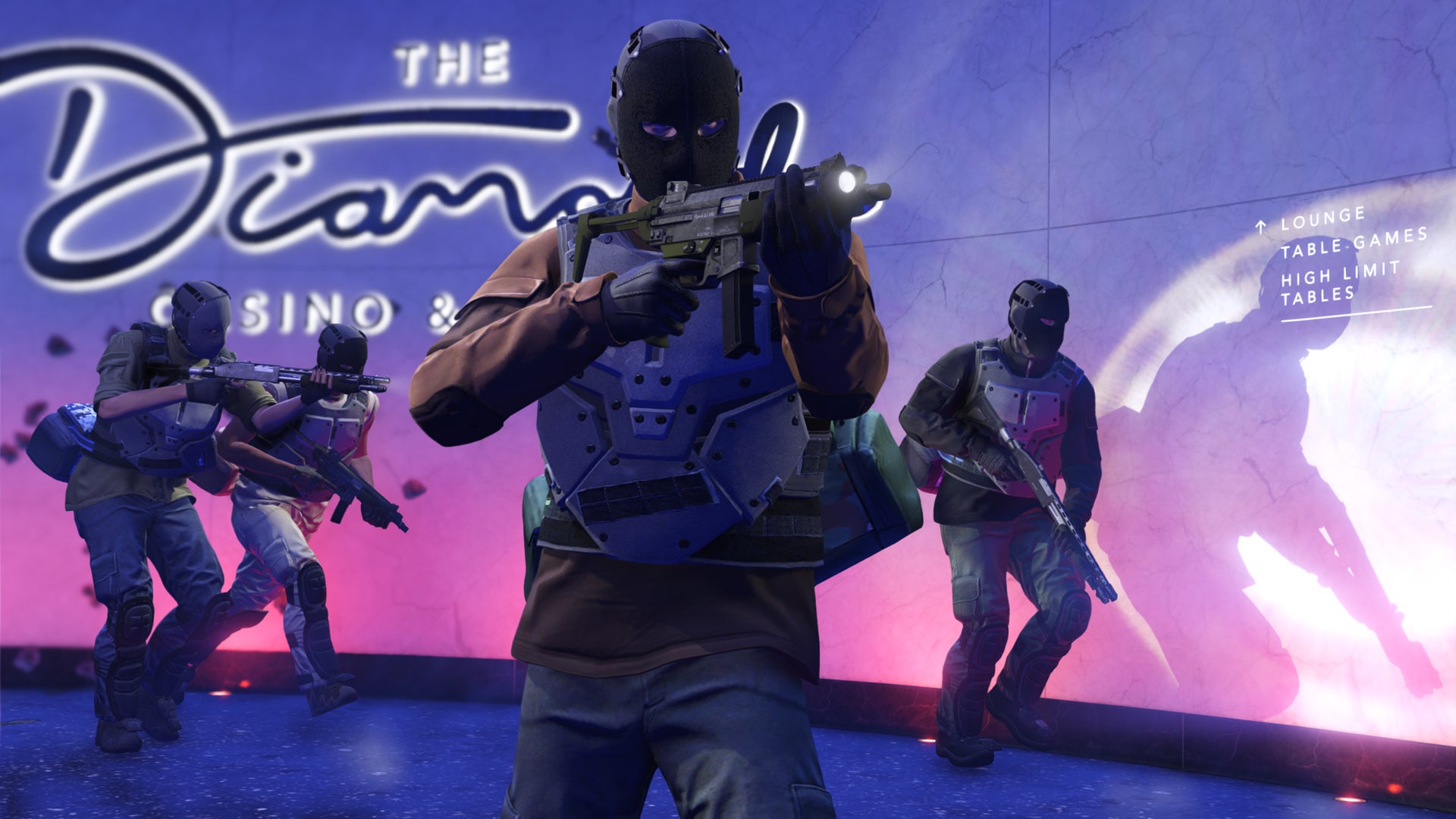 Like any good heist movie, it starts with a plan.
Me and my crew are driving around Los Santos for a big shot celebrity who's been dicking us around. Go here. No, go there. Now over here. We've been everywhere, and now he wants us to murder some paparazzi. We do it with a smile, since we want to get into the Diamond Casino and Resort disguised as a member of the musician's entourage.
Most of the targets are dealt with quickly, using our CEO's chopper to drop each member of our four-person heist team directly onto our targets. It's a surgical strike: one behind a target riding a moped; one behind a dude driving a car; one into a bush on a hill, rolling down the hill, falling miles away from the target, getting hit by a car.
By the time all our targets are dead, we've got the whole of Los Santos' finest buzzing overhead and gunning for us in patrol cars. It's a complete shitshow and an omen for what is to come.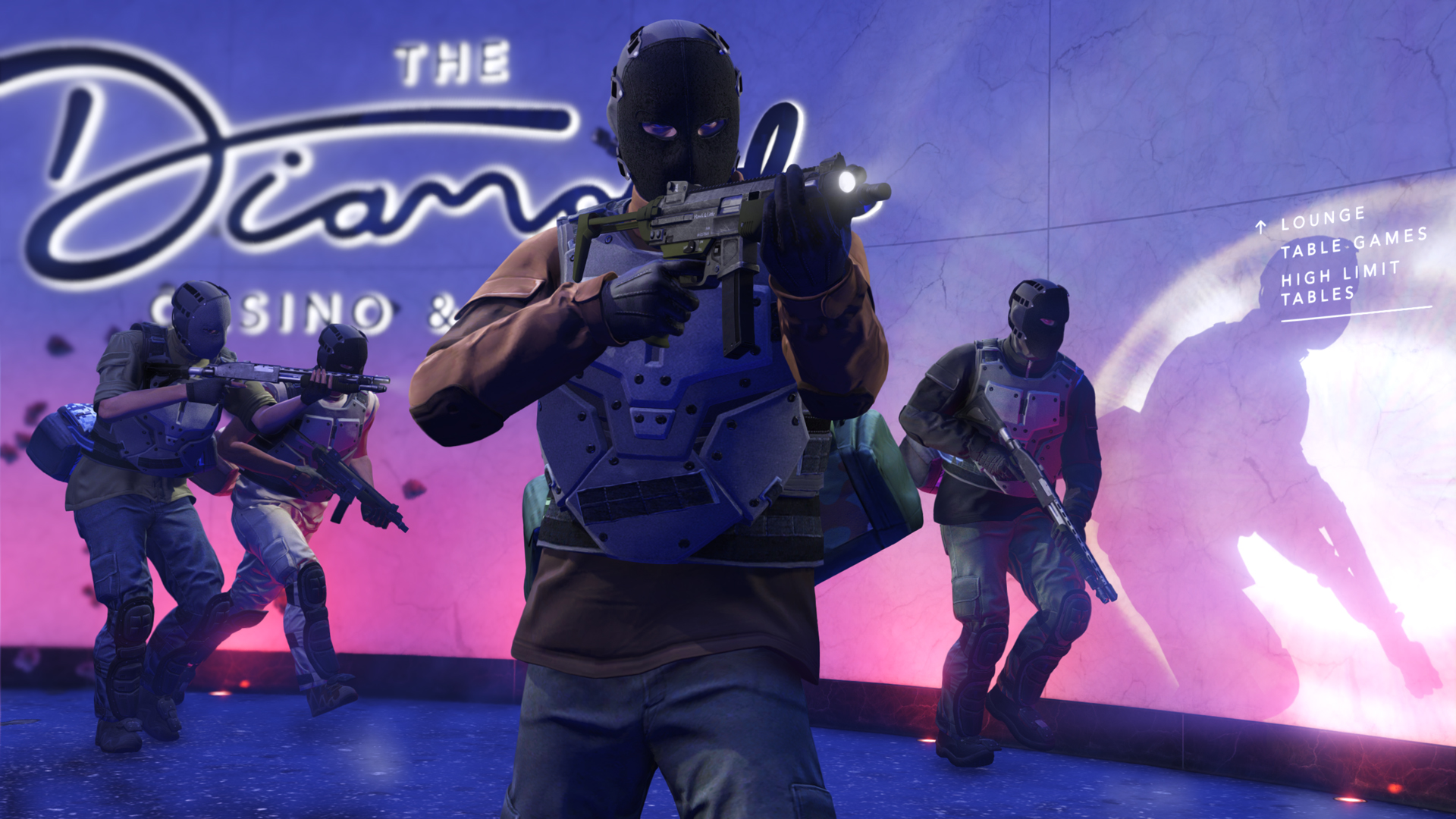 There are three ways to rob the casino in GTA Online's latest heist: aggressive, stealthy, or the big con. We've gone for the latter. How much set up you do changes up how difficult each approach is. We've done a fair amount of prep and feel confident, despite that one crew member - let's call them H - who keeps rolling down hills.
Before the big mission, we've opted to go in disguised and we've chosen to escape via the helipad, hoping and praying there will be a helicopter waiting for us.
We rock up to the casino on the day, all kitted out in neon pink hoodies. We walk through the main doors without incident, through the main floor, and out into the back rooms of the casino, into an executive office where we swipe the keycard for the vault area in a cutscene.
Once we're in the back rooms it's masks on, guns out. We're hoping to get to the vault without being spotted. There are four of us and one of us is H, so this is no easy task.
We're watching for vision cones and slipping through rooms. We're donking guards on the back of the head. It's going well. Then, suddenly, through no fault of H, I'm spotted by a security camera and all hell breaks loose.
Now we're weapons free and covering angles, slowly advancing on the vault as we pepper offices with bullets. Guards drop. Our armour supplies dwindle. But we make it and two of us start drilling the locks while the other two cover our backs.
Once we're in the vault, we only have a little time to scoop up some cash since we raised the alarm. I pack bundles of cheddar into my rucksack while my comrades do the same. Even H is doing his part. Unfortunately, we don't have time for the lockboxes. Noxious gas is seeping into the room.
We fight our way out, up the stairs, heading to the helipad. All we need now is a helicopter…
Reader: there is no helicopter.
The casino is surrounded on all sides by SWAT teams and we have to parachute down, get to the escape cars and get away. We only have room for one mistake - one life shared between all four of us. I stand on the ledge, get ready to jump down, and my in-game phone rings. I accidentally answer it, jump, and fail to open my parachute because I'm operating my phone like an imbecile.
The next time, I'm ready. I jump down and push forward, pulling my parachute and banking forwards until I faceplant the pavement and die. By the third go, I've got it. Only, H hasn't got it. H hasn't got it at all.
After about ten retries, H gets it. Now we're strafing across the wide Los Santos roads and firing bullet holes into the windshields of approaching cop cars. We're ducking down side alleys as one dead-eyed crew member greedily hoovers up the bacon with controlled bursts from an assault rifle.
Now we're in the cars and racing through downtown, looking for an exit onto the highway so we can escape into the countryside. A handbrake turn down a dirt road sees us safely in the Vinewood Hills, off road and evading the law. I manage to manoeuvre us away from the approaching vision cone of an overhead chopper just at the last minute, then we've lost the fuzz and we're gunning it to victory, rolling down the hill - a final ode to H - in our escape vehicle.
GTA Online's heists have still got it.
If you can get three friends together, they're the most fun you can have in co-op and the new Casino heist continues that fine tradition. They're like MMO raids for people who like fun instead of maths, where much of the joy is found in messing up in ridiculous ways, trying again, and messing up again. Every group has a H and every group needs a H - a symbol, like GTA's Trevor, of the barely contained carnage holding the illusion of Los Santos together; a simulated city just waiting for someone to bump into its back so it can roll down a hill like a mad Katamari.