GTA Online Bikers DLC: how to form a motorcycle club, do work, become president, ride in formation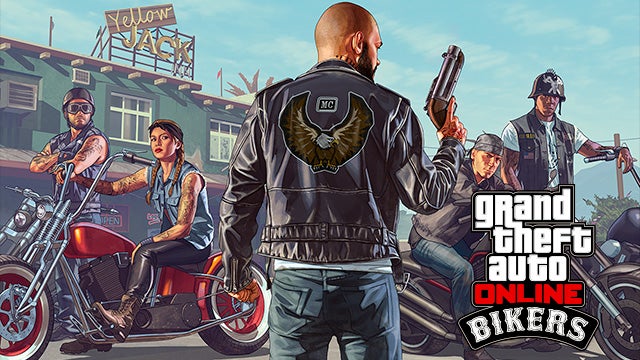 It's my way or the highway, buster.

The obvious addition to GTA Online with the Bikers DLC is a whole mess of new motorbikes and some lethal weapons to go with them.
But beyond that, Bikers introduces the concept of forming your own motorcycle club with others, handing out positions of power, and earning cash through various "business" activities with your fellow bike aficionados. So just how exactly do you form a group of kitten-cuddling, flower-sniffing, law-abiding motorcycle enthusiasts?
How to become President
This is simple enough. Just buy yourself a Clubhouse from the foreclosures section of the Maze Bank website. There are plenty to choose from, with the cheapest out in the desert and the most expensive in the city of Los Santos itself.
As with yachts and CEO offices, you can name the clubhouse and customise it to your liking - all at extra cost. Clubhouses store 10 personal bikes and have space for 7 MC Member rides. Once you have a clubhouse you can become President. Just go to the Interaction Menu and tap on the Motorcycle Club President section.
How to become a Prospect?
There are plenty of bonuses and reasons to become a club president, but also good reason to sign up as a Prospect. Prospects are low level MC members who do a lot of grunt work, but earn good money for doing so. You also earn Lifetime Points and Session Points within the Motorcycle Club. The more you have, the more reason a President has for rewarding your loyalty. Just set your status to Looking for MC on your interaction menu. Presidents can recruit up to 7 other players to become Prospects in a motorcycle club.
A President can promote Prospects to various roles and titles, all of which have their benefits. They are:
Enforcer
Can call in 'Hit Squad'.
Can drop body armor.
Can launch 'Rippin' It Up' Member Challenge.
Sergeant at Arms
Drop Molotov x3.
Drop Ammo.
Can start 'On the Run' Member Challenge.
Road Captain
Can call in vehicles: Slam Van, Moonbeam, BF Injection, Dubsta, Buzzard.
Can start a 'Race to Point' Member Challenge.
Can set a formation to ride in (if the President has a formation set, the Road Captain cannot set one and vice versa).
Vice President
Can call in Bullshark Testosterone.
Can launch 'Hit and Ride' Member Challenge.
Can set 'Target Rival' that places a marker on a chosen player in the session.
Club Work
There's a whole bunch of club work you can do during your MC life to earn cash and RP, but they're essentially splint into four types of missions/modes. It breaks down like this:
Clubhouse Contracts
These can only be launched by the President from the meeting room inside the Clubhouse. Once launched they are open to everyone in freeroam.
Missions are varied and include ambushing a weapons deal, defending a moving convoy, assassinating a target or defending and rescuing a civilian.
There are 11 missions all together but only three are available at a time. The missions listed on the clubhouse wall refresh periodically.
If you're part of the launching motorcycle club you will earn cash and RP for completing the Clubhouse Contract.
If you're playing solo or from another MC you'll earn cash and RP for disrupting or delivering against the launching motorcycle club.
Either way, all players who take part earn cash and RP.
Club Challenges
These are simple mission that pit MC member against MC member for cash and RP.
Search and Destroy: go against your buddies to reach an area, find a target and beat him/her down.
Wheelie Rider: you must get the longest wheelie within a time limit.
Criminal Mischief: you can now melee attack while riding a bike. In Criminal Mischief the winner is the one who damages the most cars with a weapon while riding.
Member Challenges
These can only be triggered by a MC member with a specific role/title.
On The Run - Sergeant at Arms: this can only be triggered when all the MC members are close to one another. Once triggered all members get a 5-star wanted rating and the winner is the one to survive the onslaught of cops and FIB.
Race to Point - Road Captain: once started it's a race to the clubhouse or random spot on the map.
Rippin' It Up - Enforcer: kick this off to see who can cause the most damage while on their bike.
Hit and Ride - Vice President: this brutal mode sets a time limit - winner is the one with the most pedestrian kills.
Club Work
These are freemode missions that can be triggered by the MC President. Everyone in the session can get involved in the chaos.
Deathmatch: an invite-only Deathmatch with another motorcycle club.
Joust: a deathmatch on bikes in a specific part of the map. Again, it's invite-only.
Stand Your Ground: get to an area of the map and defend it from others. Rival MCs and solo players win by capturing the area.
Caged In: Much like the Freemode activity, you must stay within a shrinking circle to the destination. But now you can use melee attacks to push your rivals out the loop.
Why ride in formation?
Not only does riding in formation look cool as fuck, but it also regenerates health right up to full armour, repairs bike damage and fixes flat tyres. Here are a few things you need to know:
Only the President or Road Captain can trigger riding in formation.
You can choose Lead to ride at the front of the pack, or Open to ride in the middle.
Look to ride inside the shaded area. That will activate the formation.
With Riding Formation Assist the President can set it so no other MC members go faster than the President.