GTA 5 cheats never prosper: upload glitch videos and Rockstar will crush you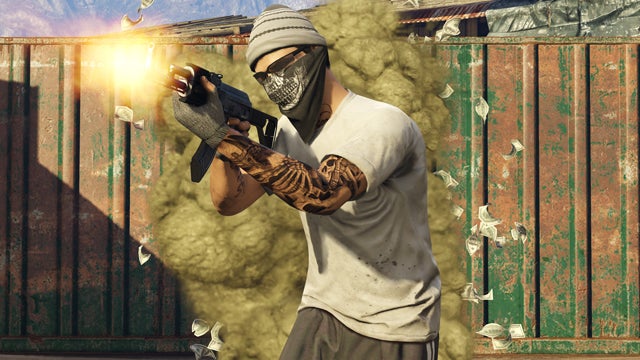 If you're exploiting GTA 5 cheats in GTA Online you need to chickity-check yo self.

If you upload GTA 5 cheats videos to YouTube, Rockstar Games will come out swinging.
The latest YouTuber to receive a bruising from the Housers is GoldenGunGames, a "verified GTA 5 YouTuber and founder of EliteGlitchers" according to his Twitter profile.
We'd link to some of his GTA 5 cheats videos but they've all been terminated with extreme prejudice.
And the poor soul can't seem to understand why Rockstar has an issue with him uploading glitch tutorials on how to cheat in GTA Online and ruin the fun for legit players.
I literally feel like quitting YouTube, honestly all this hard work and effort, I'm done. pic.twitter.com/2LpfF5IJeI

— GoldenGunsGames (@GoldenGunsGames) June 22, 2016
YouTube, backed by Take Two and Rockstar, hit GoldenGunGames with three strikes for eight videos over two weeks.
Three strikes on YouTube gets your account terminated, all videos uploaded to your account deleted, and you're unable to create new YouTube accounts. That's gotta sting.
I'm legit getting soo much hate right now, I don't understand why people will legit say "You deserve it" how the fuck do i deserve it?

— GoldenGunsGames (@GoldenGunsGames) June 22, 2016
GTA 5 cheats can get pretty rampant in GTA Online on PC, but it also exists on PS4 and Xbox One.
Being in a lobby with a player who's invincible, invisible, using guns in passive mode or otherwise exploiting the system isn't welcomed by the majority of online players. And Rockstar clearly doesn't wanted it happening or tutorials on how to do it shared amongst the unscrupulous.
If GoldenGunGames was looking for sympathy or support after his GTA 5 cheats videos got obliterated, he didn't really find it on Twitter. Here's just some of the responses from the player community.
So what lesson did we all learn today, kids? Don't post GTA 5 cheats videos on YouTube. Otherwise you'll get taken out by the publisher and the developer, banned from the biggest video-sharing site in the world and shunned by the gamers you claim to be helping.