Goat Simulator now available for pre-order, Internet rejoices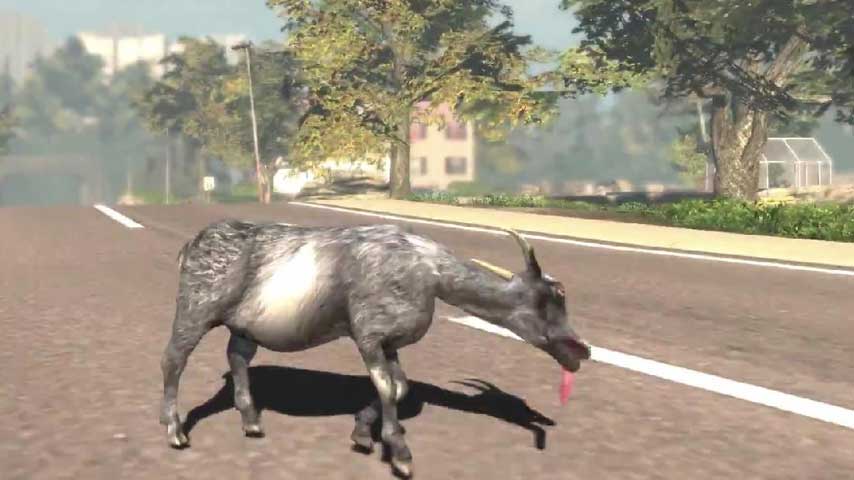 Goat Simulator, a throwaway game jam project from the developer of Sanctum, is going to be a thing you can really truly buy. I haven't been this excited since - well, kind of ever.
Last week, Sanctum developer Coffee Stain Studios released video of something it called "Goat Simulator". Set to some ridiculous music, it had a goat character roaming a suburban environment wreaking havoc, much to the discomfort of the inhabitants.
It got 2 million views, was covered by a significant number of mainstream outlets in addition to gaming press, and even got a sequel.
The video was accompanied by a warning that it was the product of a jam and would not be developed into a real game, so we (foolishly! So foolishly!) ignored it. Well, things change: everyone loved Goat Simulator so much that it is now a thing you can pre-order for $10 ahead of its Steam release.
"OKAY INTERNET YOU WIN, IT LOOKS LIKE GOAT SIMULATOR IS OUR NEXT IP," Coffee Stain wrote.
"Goat Simulator is like an old school skating game, except instead of being a skater, you're a goat, and instead of doing tricks, you wreck stuff. It brings next-gen goat simulation to YOU. WASD to write history."
Unfortunately, everyone wants to own this so badly that the game's website is intermittently down. While you're waiting for your turn, check out this new trailer, which shows off the new lick feature and - well, anyway. Look.
Thanks, Kotaku.