Goat Simulator has a plot, apparently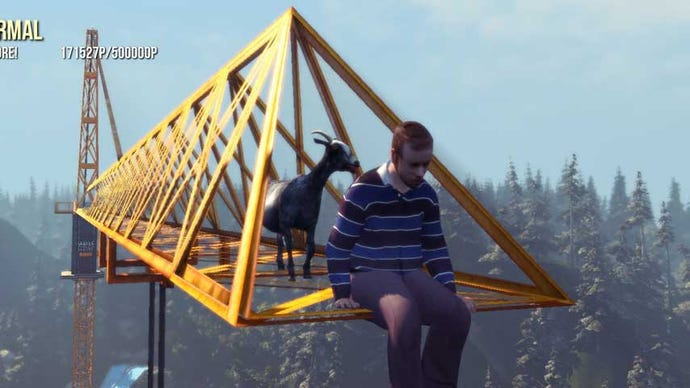 Goat Simulator has a plot. Wait, no, sit down; let me explain you a thing.
In a post on the Goat Simulator Steam Community Page, creator Armin Ibrisagic explained that the various map elements - the roads in and out of town, the magic circle, Goathenge and the anti-gravity research centre - have symbolic meanings, and the map itself is Purgatory.
"If you notice you'll see that one of the tunnels has a sign saying 'Himlen' and the other has a sign saying 'Helvete'. If you pull that through google translate you'll see that 'Himlen' means Heaven, and 'Helvete' means hell. That is why there is both a Devil Goat and an Angel Goat in the game," he wrote.
"That is why the pentagram is closer to the sign saying 'Helvete', even the demonstration (symbolizing the current chaos in the Ukraine) is on that end of the map. Goathenge is closer to Hell, symbolizing the backwards and old ways of humankind that need to be destroyed for progress to be made, while the Low Gravity Testing Facility and the Beacon is closer to 'Himlen', symbolizing research, progress, and hope. The trap once you go to space shows that we must not rush things before we are ready."
Your mind is already blown, but it gets better: the reason humans will only go limp or run away from you is that the player is "always alone".
"This is just the tip of the existential iceberg, those who seek shall find more. I'll let you analyze the new map yourself that's coming with patch 1.1," Ibrisagic added.
This might just be an elaborate joke but I'm writing it right into headcanon.
Goat Simulator's 1.1 patch will add parkour as well as multiplayer for up to four goats and a new map. It's due later this month.
Thanks, Eurogamer. [rad image].