Give your eyes a treat with this gorgeous Bloodborne fan comic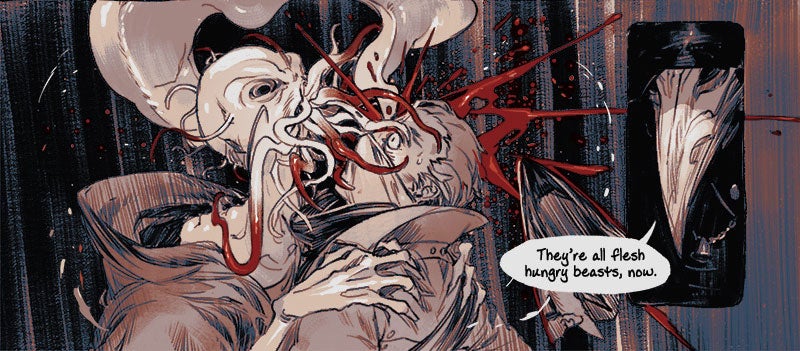 Bloodborne is game of the year every single year. In our hearts.
Bloodborne may or may not ever get a sequel, but even if it stands alone for the rest of time it will live on in the hearts of those who took to the streets of Yharnam during the time of the hunt.
There are so many haunting stories in Bloodborne, whether you dive deep on the lore or just let the overarching narrative wash over you without interrogating it. The atmosphere and unique setting marry with the tense, fast-paced gameplay so beautifully that your own exploration is a thrilling tale of its own.
It's no wonder fans are keeping the love alive with art, fiction and videos. One Bloodborne tribute in particular has been over my dashboard multiple times over the past week: a comic from artist Sarah Stone (Tumblr). Here are the first six pages:
You can continue reading from page 7 on Tumblr, but it's not clear whether all 15 pages will be released for free; the comic is part of an upcoming Bloodborne fanzine called Echoes of Blood. (You can pre-order it on Etsy ahead of June release, if you like.)
The same artist was responsible for a beautiful five-page comic on Father Gascoigne, one of Bloodborne's more obviously tragic figures. As it happens that comic is also included in the fanzine - but you can read the whole standalone thing through the link.
If you've never played Bloodborne and this art intrigues you, listen: it's really good. Sure, it's hard, but it's not impossible (especially with our Bloodborne guide, plug plug).
It's not quite the same as Dark Souls, having more of an emphasis on aggressive action, so maybe you should have a go even if you couldn't hack From Software's other hardcore games. Plus, there are so few games with an atmosphere like Bloodborne's - Victorian, Lovecraftian, beautiful and terrifying.