It's time for you to give Driveclub a second chance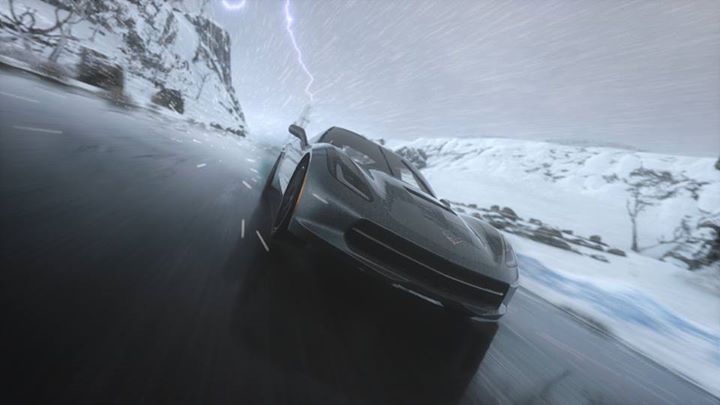 After its massive launch issues and the non-appearance of the PS Plus version, is it time you gave Driveclub another pop? Johnny Cullen says yes.
Everyone knows of the issues DriveClub went through when it launched last October. Multiplayer was essentially fucked with little-to-no hope of getting on it at all, while Challenges were pulled from the service by developer Evolution to help cope with the overwhelming server load, as was the game's main aspect of Clubs.
I'll be upfront with you: even through all of its issues, I still enjoyed playing Driveclub's single-player game. It took some getting used to after coming off a heavy stint of Forza Horizon 2, but once I got into it I was hooked.
Considering the game's USP was social teams and competition with Challenges and Clubs, trying to convey the essence of the game when those things and multiplayer were broken was like trying to sell a bag of magic beans at £40. The core driving gameplay was there, and it was great, but not so much everything else.
But three months on from its release, Driveclub is a substantially better game than it was at launch. Post-launch updates have flipped the game on its head and given it a new lease of life. So if its previous problems had put you off the game or you stopped playing, let me tell you why you should try and give it a second chance.
Online works
"Here's a simple rule to follow: don't be a bumper-car dick online, be a classy driver."
Lets start with the elephant in the room: multiplayer has been up and running for a while, although even before the Christmas break it did have issues. Now having played a good couple of hours with it over the weekend, it's running like a dream, whether competitively or as part of a simple red vs blue team race, in which the team of drivers with the highest amount of points at the end of a race wins.
That said, there's almost always one person who just wants to smash you off the road. It's something you'll have to put up with playing online. In my first race in Norway, I had someone crash into me intentionally – aptly named on PSN as SgtBash – costing me fifth in the race, eventually coming home seventh. My next race in Canada had someone else on a mic bragging after they shoved me off the road. I came right up behind him in his slipstream and passed him cleanly as he tried to nudge me off again in his BMW. All I did was get him to miss and go into a spin. "What a fucking idiot," he said, referring to me, probably thinking I somehow caused his accident. In fact, to paraphrase Buzz Lightyear, it was driving with style.
It does take a while to master Driveclub's controls and knowing when to break (the coloured flags help dictate whether you go full-on the acceleration or brake hard for a upcoming turn), but once you get it, you'll be singing your way to victory. Here's a simple rule to follow: don't be a bumper-car dick online, be a classy driver.
Photo Mode makes everything look a bit sexier
Alright, this one is a bit of a stretch considering Sony had been pushing Photo Mode on most of its first-party games pre-Driveclub with inFamous: Second Son and The Last of Us: Remastered. It's a popular feature and you have access to your usual themes and filters, how you want the picture to come out, the usual jazz with your typical Sony-made Photo Mode.
Evolution has managed to create one of the best-looking games on PS4 and Photo Mode is the place to really appreciate that. Best graphics this-gen so far? I'll resoundly say yes.
I took these during one such race in Scotland, driving a Hennessey Venom GT. They look alright, don't they? Which brings us to the biggest reason of why you should give Driveclub another chance.
Weather is the literal game-changer
Even from its outset, as much as I enjoyed going through the single-player stuff, it did feel like there was something missing from Driveclub. A little bit of soul that was lacking. It turns out what the game really needed was the weather update. I don't know why this was never added in from day one because it makes such a difference to the gameplay.
I'll give you a few examples. I'm driving on a track in Chile in a Mercedes SLS AMG in a four-lap race and I'm wrestling for control of the car, the velocity of the rain and how greasy the track is fighting with the back end of the car. You have to time it right when you hit the brakes as a result to compensate for the wet track and gingerly apply the right amount of pressure to the acceleration (in the player's case, R2) when taking a turn. Press down too hard and eight times of ten, you're gonna end up spinning.
Another example I'll give; In a race I had before Christmas, in Norway, it was snowing heavily and more or less pitch dark. After slipping behind to last, having at least had some semblance of where to go thanks to the back headlights of the cars in front of me, I was now so far behind that I had no idea whether a turn was coming up or not. Not even my front headlights could help. By the time I managed to see a turn was coming up, it was already too late and I slammed right into the barrier.
From a purely cosmetic level, it's the most beautiful weather system you'll see this-gen so far. Words aren't enough to do it justice, so I put together a couple of videos of a few races in snow and rain. Take a look. It's just mind-boggling.
Free content for all. And a PS Plus reduction.
"It's the weather update that should convince you Driveclub is a sound investment."
To make up for the game's launch problems, Evolution handed out two free expansions for all players comprising of new single-player events and cars. And today, Evolution releases a free update that sees Japan added to the game with five new tracks, with an additional premium expansion for Japan with new events and cars due to drop at the end of the month.
However, there is the fact that there's still no PS Plus edition of the game, which was promised during Sony's E3 press conference in 2013. Evolution has been promising it won't put it out there until it can be sure the servers can hold up.
But last week, Sony announced it had dropped the price of the game to £20 for PS Plus subs on the PS Store. So while the wait goes on for the free PS Plus edition – who knows if or when it'll show up - £20 is a steal for a fantastic racing game considering the amount of content that has dropped since launch.
So yes, Driveclub had massive issues out the starting gate. But since then, it's turned itself into a fantastic racer. It could be debated it could have done with one more delay, if albeit a minor one (a month maybe?), to have these additions like weather in there from the get-go or to fine-tune the servers for online, but it's all relative now.
At £20 on PS Plus, you have the opportunity to pick up one of the best racing games this gen so far. And while all the free content in the world and a working online game is all well and good, it's the weather update that should convince you Driveclub is a sound investment.