Ghost Recon: Wildlands is Far Cry meets Grand Theft Auto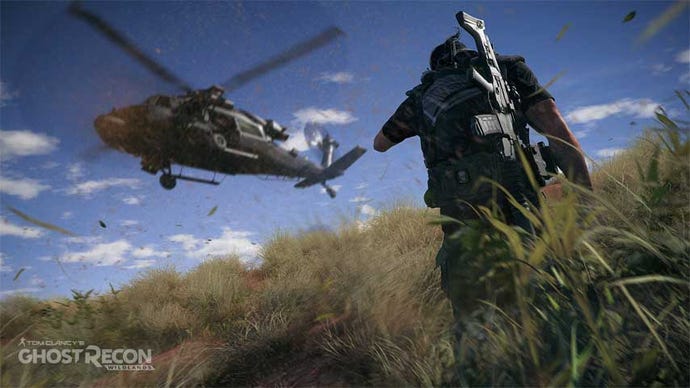 Welcome to Bolivia where the drug cartels do as they please. You have carte blanche to eliminate them. The new Ghost Recon feels reassuringly familiar.
The developers are promising "the largest action adventure open-world ever created in a Ubisoft game."
It's easy to say one game is like another and be disparaging, but in the case of Tom Clancy's Ghost Recon: Wildlands it's meant as a compliment.
Wildlands is Far Cry meets GTA with four-player co-op. The demo we saw today at E3 was a mixture of Far Cry's outpost capture and GTA Online's Heists. The mission itself required co-operation between players, a little bit of improvisation and a lot of coordination to pull off successfully. It didn't go exactly to plan, but we'll cover the reason for that later.
The game is set in Bolivia, ruled by a coalition of corrupt government and drug cartels. Your four-man team has carte blanche to change the regime and break the narco-state, and plenty of tools at their disposal. The developers are promising "the largest action adventure open-world ever created in a Ubisoft game," so naturally there are plenty of vehicles for you to steal; buggies, choppers, planes, cars, dirt bikes, trucks with fixed machine guns and more.
It's probably worth noting that Wildlands can be played solo but that would be missing the point. The entire game can be played with drop in and drop out co-op, whether between friends or strangers. The mission we saw was simple enough - grab and extract a VIP cartel member being held hostage in a settlement.
Our four players came together from various parts of the map, demonstrating the varied terrain. One descended from snowy mountains, another across salt flats, one through a farm and another via the jungle.
Two ghosts teamed up to infiltrate a village for any recon that will help with the coming mission. It just so happens that there's a bunch of hired thugs here holding villagers captive, with the developers state that is a direct result of a previous mission. Just like the sections in Far Cry 4, you need to take them down silently and free the villagers. After a bit of interrogation you're told the outpost where you'll find the snitch is heavily guarded, which is intel you wouldn't have had if you'd gone in all-guns blazing. By now this game should start to feel familiar, right?
As the team move on to the next location we're told that players are free to make their own approach to complete the mission. With a little exploring it turns out there's a chopper nearby. Much like other open world games there seems plenty of scope to steal the gear you need, and either go in blasting or adopting the stealth approach. Apparently, NPC's behaviour is unscripted, so as we approach another village there are events going on such as a farmers market and hoe down, with the population doing their own thing and reacting should you start to kick off.
After stealing a helicopter the four ghosts take to the sky where we get a real sense of scale. And from here two of the ghosts skydive and parachute down to the edges of the settlement, where they take up observation positions and mark targets using binoculars. I don't have to tell you again this is a third-person Far Cry, right?
While the two ghosts in the chopper hang back, our operatives stealth in to the location and take down a few enemies by synchronizing headshots. A few silent hand-to-hand takedowns later the ghosts have freed the hostage, at whi h point the alarm goes up and it turns in to more of a firefight. The chopper team come back, laying down surpressive fire with a high caliber machine gun from above. The two on the ground escort the hostage and to a sedan, throw him in the trunk, slam the lid down on his head and floor it outta there.
I don't see how doing this sort of mission with three friends can't be fun. If you've successfully pulled off a Heist in GTA with your buddies or played Far Cry 4's two-player co-op you should know exactly what you're getting. In this instance the demo starts to glitch with the hostage appearing outside the car and being dragged across the ground. Even the developers are pissing themselves laughing and in good humour. "It's not for sale tomorrow, folks!"
So yes, the game looks very familiar, and not just in terms of the Ubisoft approach to open world games in general. Yes, you'll probably explore the world by capturing bases and unlocking parts of a map as we've done so many times before. Mercenaries, Just Cause, GTA, SOCOM, Far Cry, have all been there. But it also has the crunchy combat that Ubisoft is doing so well with The Division and Rainbow Six: Siege, a nice selection of gadgets and the options to do as you please, how you please, with the least or most amount of noise possible.
There are a lot of questions about Wildlands at this point and we wouldn't expect them all to be answered yet. It's probably got a least another 12 months of development to go, if not more. And I would expect it to have some significant changes when we see it in more detail this time next year. But in the meantime it's an interesting take on a military open-world action game and comes with the kudos of the Tom Clancy name and the Ubisoft blockbuster budget. I'm ready to pick up an AK 47 and go hunt me some drug lords.