Ghost of Tsushima - Best Ghost Weapons, Stance upgrades, and Techniques
The best Ghost Weapons, Stance upgrades, and Techniques to prioritise on Jin Sakai's journey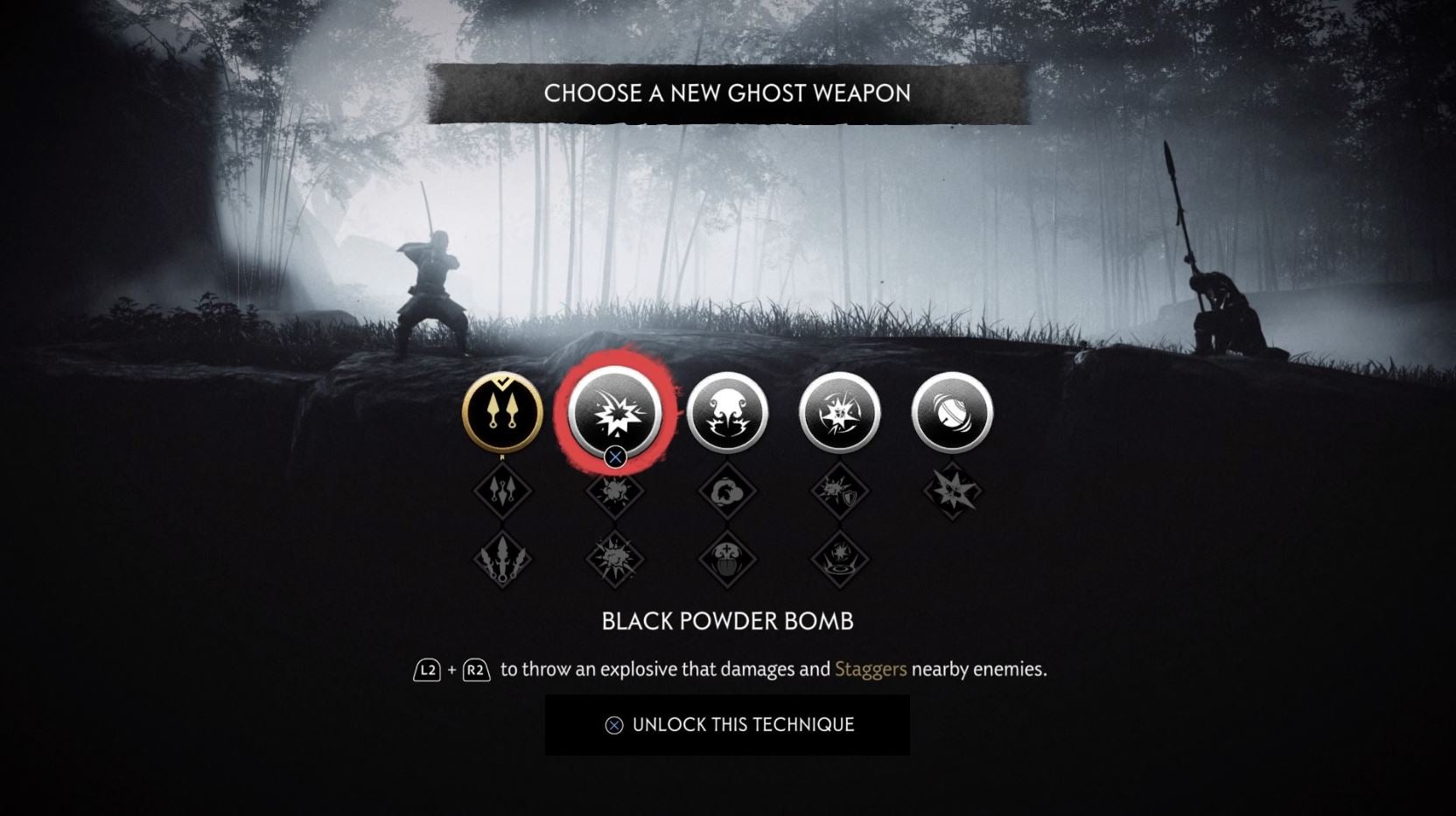 Ghost of Tsushima Director's Cut has landed on PS5, and there's never been a better time to begin or revist your Samurai training. Through dedication and perseverance, Jin Sakai's arsenal of Ghost Weapons, Samurai Techniques and Stances grows larger with every battle, but there's still a lot to learn.
Now that the base game has been out in the wild for more than a year, it's clear that some of the Ghost's skills are better than others in certain situations.
Before you're finished with Ghost of Tsushima, you'll likely have enough points to buy every single technique in the catalogue. But here are the best techniques and best ghost weapons to prioritise in Ghost of Tsushima - based on our multiple playthroughs.
As a general rule of thumb: Ghost Weapons are really powerful and should be used liberally. The Deflection tree in Samurai skills is also very strong. While the enemy difficulty roughly goes Shieldmen, Brutes, Spearmean, then Swordsmen, so you can max out your stances accordingly.
Ghost of Tsushima | Best Ghost and Ghost Weapon upgrades
You unlock new Ghost Weapons every time your legend grows, and there aren't really any wrong answers here.
Kunai and Smoke Bombs are probably the strongest. The former can be used frequently to break through the defences of groups of enemies and can be used liberally for an easy life.
Smoke Bombs on the other hand have both offensive and defensive utility. Yes, you can use them to escape a fight - but the galaxy brain strategy is to combine them with the Chain Assassination Master technique from the Evolving Tactics section to cut through swathes of enemies even as a stealth character.
Wind Chimes and Firecrackers are classic stealth tools which help you to pick off enemies, and are a solid pickup if you're really trying to lean into the unseen assassin play style.
Black Powder Bombs and Sticky Bombs do basically the same thing, just Stickies are more suited to quickly lobbing in the heat of battle.
From Evolving Tactics, Improved Standoff Streak is another technique that you'll want to invest in early, as well as Assassination Steak of course.
Ghost of Tsushima | Best Samurai Techniques
As mentioned, the Deflection tree has a number of techniques that you will want to work towards from the very beginning of Ghost of Tsushima.
Mastering Perfect Parry is key to getting the most out of the game's combat, since it allows you to quickly bank Resolve to unleash Jin's most powerful moves. Parries become more relevant as the game progresses, where more and more enemies will spam attacks which can only be parried - so it's good to get your eye in early.
On this same vein, Unyielding Sword Parry and Unyielding Spear Parry are both must-have techniques.
Finally from this tree, Deflect Arrows couldn't be more vital. Every single archer you encounter might as well be Tadayori Nagao himself - capable of pinning the tail on a donkey from 50 yards.
Aside from that, the basic Roll is great. But I feel like you can pick up the rest of this screen at your leisure.
Ghost of Tsushima | Best Stance upgrades
From the beginning of the game, not all stances are available to you. First you need to defeat Mongol Leaders at encampments around Tsushima.
There are enough of these enemies in Act 1 to unlock these abilities quickly, and you should try and do so - since the Mongol Territory objectives will give you a good feel for Ghost of Tsushima's combat too.
If you approach an encampment stealthily, you should be able to remain undetected and spot the leader using your hearing vision. The leader is usually on their own, practising fighting back and forth. "Observing" them train will grant you an extra point towards you stance progress, and this is well worth doing.
From there, Water Stance's Flowing Strikes is useful in just about every regular fight in the game, as well as boss fights.
In Wind Stance, Spear Defence is a quality pickup since Spearmen just love to spam their lunge attack.
Against Brutes with the Moon Stance, the middle two techniques - Strength of the Heavens and Finishing Strike - let you deal with large enemies with relative ease.
Finally for Swordsmen, the final Stone Stance technique, Momentum, makes dealing with basic sword enemies much more efficient.
We have a full map page, with locations of every vanity item and sword kit, here.
While for more on Ghost of Tsushima, check out our pages on the best armour sets, and the best charms for building out your character.
We also have maps of where to find every fox den, every hot spring, and all of the bamboo strikes.