Love Island: The Game Cheats and Tips: How to get gems for Summer 1 and 2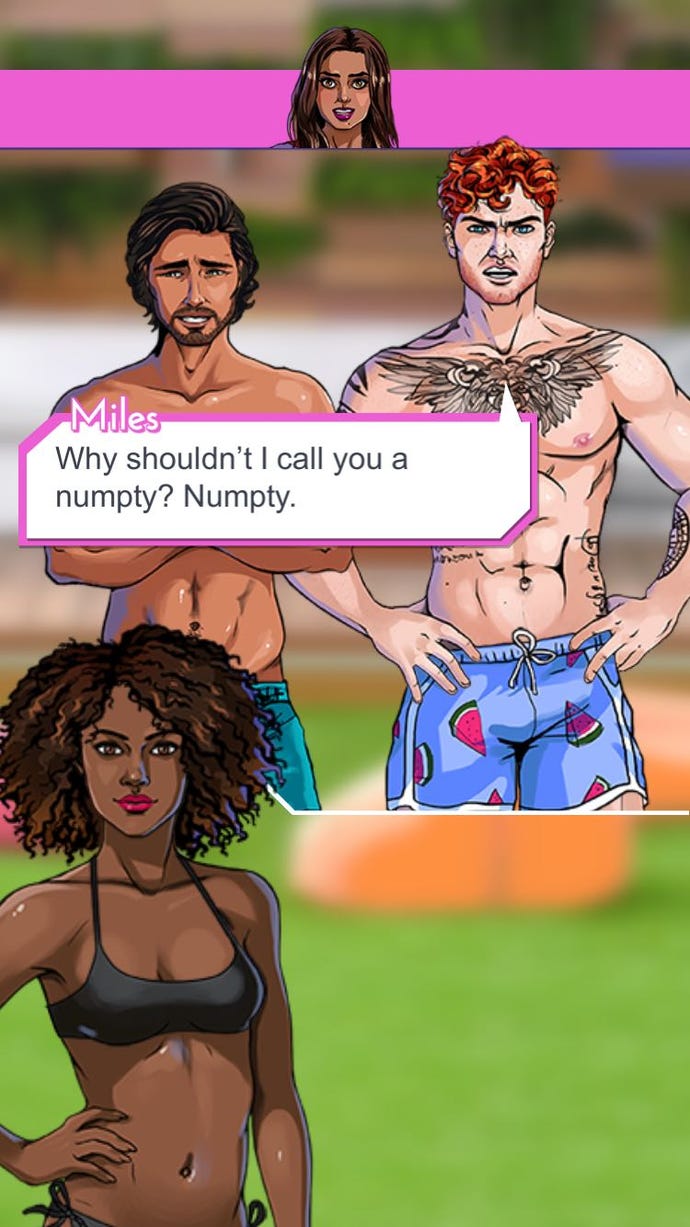 The new series of Love Island has kicked off, and after the long, dark winter, another story in the official game is here to usher in the summer spirit. Although you might not be able to retreat to your own villa in Majorca, you can experience a little bit of the fun with Love Island: The Game.
Love Island: The Game works a lot like a similar visual novel game you can get off the App Store, Episodes. To play stories and different chapters, you need to have passes. You get more passes gradually over time, or you have to pay to get more if you want to binge on everything.
While you're actually playing the game, the currency you need is Gems.
How to get gems in Love Island: The Game
Gems unlock most of the best story paths in the game, letting you graft with the guys you want, as well as learn the juiciest secrets. You'll need to get as much dirt on your housemates as possible, since you might be quizzed on it later.
And if you don't spend gems at the right time, you could have a bad experience and get a negative emoji cloud from your favourite character.
I'd recommend only choosing gem conversation options with characters you definitely want to get with.
The best advice is to save your gems for when you're given a one-or-the-other choice where the non-gem option is something you really don't want. This gives you the best chance of impressing the character you most want to get with.
So that means try to resist fancy clothes and cracking on with people you're not that into.
To legitimately get gems in Love Island: The Game, you can:
Although it's annoying to have to spend real money, this is really the only way to get large amounts of gems in bulk. If you want to take every single premium conversation option - which I wouldn't recommend - it's going to add up pretty quickly.
The prices are as follows:
| Amount of Love Island: The Game Gems | Price: |
| --- | --- |
| 12 | £0.99 |
| 26 | £1.99 |
| 60 | £4.99 |
| 162 | £9.99 |
| 360 | £19.99 |
Alternatively, you can:
When you complete a story chapter you'll receive a gem as a reward.
However, you'll also be given the option to watch an ad to earn an extra gem - doubling the amount of gems you get from playing. Tap on the pink "Get Rewards" box when you complete a chapter:
I'd recommend doing this after every chapter, because it'll stand you the best chance of being able to afford the story options you want to choose if you're tight with your gems in the other parts of the game.
And finally, I would not recommend:
There are tons of dodgy apps out there that claim to be able to get you free gems and passes for most mobile games.
Leaving aside that using these will most likely get your account banned from the game you're trying to play anyway, these apps and websites are generally scams that are either trying to steal the password of your account, or make money from you by getting you to download other apps (or malicious software) in exchange for premium currency.