Gears Tactics Eschews XCOM Comparisons By Embracing the Brutality of Gears
Tactics with the carnage and momentum of Gears.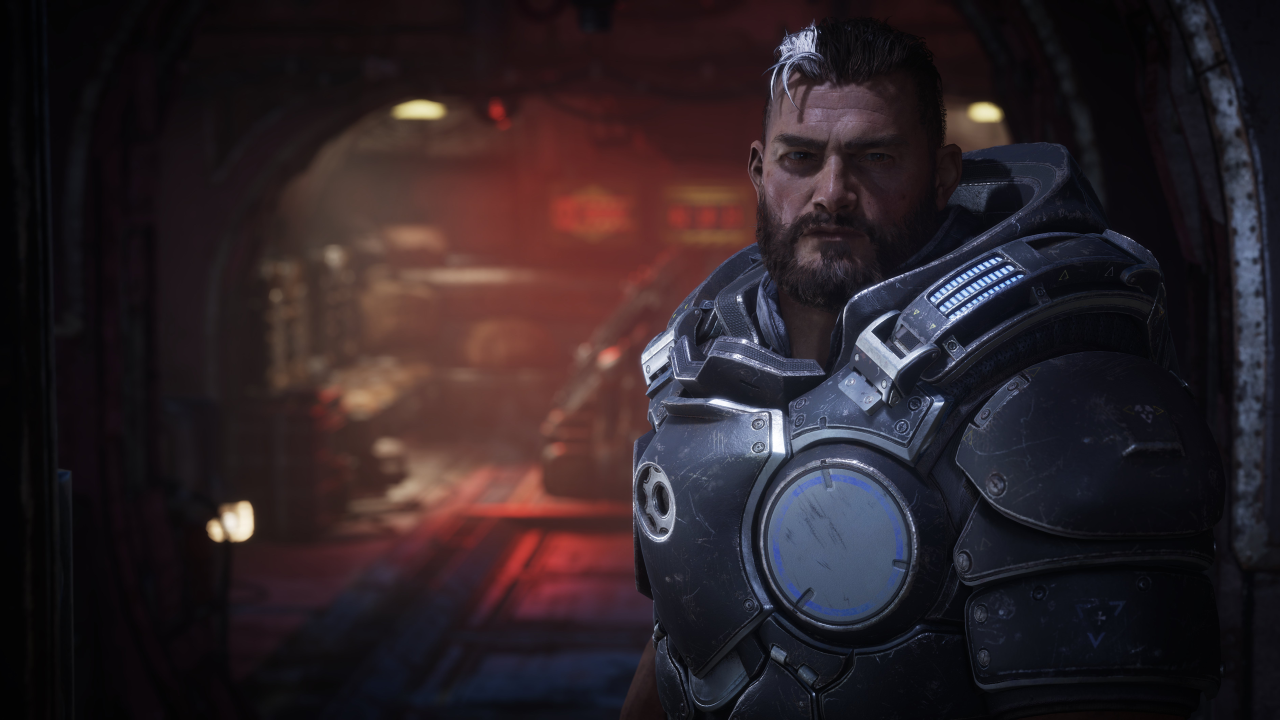 This article first appeared on USgamer, a partner publication of VG247. Some content, such as this article, has been migrated to VG247 for posterity after USgamer's closure - but it has not been edited or further vetted by the VG247 team.
Gears of War has been traditionally known for chaos, cover, and carnage. It's a series centered around heavily armored soldiers wading through literal hordes of enemies, with the chainsaws whirring beneath the barrel of their Lancers. On the surface, that makes it an odd fit for the slower-paced tactics genre, seemingly killing the classic adrenaline rush of a traditional Gears encounter.
As design director Tyler Bielman tells me though, the pitch for Gears Tactics didn't come from Splash Damage, the studio The Coalition partnered with to make this unique spinoff a reality—it came from The Coalition itself, through Bielman and the publishing team. From the initial concept to where the game is now, the direction was clear.
"The mandate of our team is to expand the reach of the Gears of War franchise," said Bielman.
Indeed, Gears Tactics hardly loses the excitement the Gears series is known for. It's a surprisingly energetic, sometimes frantic tactics game that pushes you to think both in the moment and five moves ahead. It suffuses the more intellectual tactics genre with the frenzied spirit of the series that made chainsaw bayonets iconic.
Set 12 years prior to the start of the first Gears of War, Gears Tactics focuses on Gabe Diaz, father of the current series protagonist Kait Diaz. It's the early days of the war against the Locust horde, and after a mysterious call to duty, Gabe finds himself chasing a strange and intelligent Locust leader named Ukkon. The father of Kait, hunting the "father" of the Locust's most terrifying monsters gives Gears Tactics its own thematic identity apart from the mainline series.
"It was always important for us to reach the incredibly high bar set by the main Gears of War games in terms of characters and storytelling," said Bielman. "However, we wanted the opportunity to tell a different story with a main character that is aligned with the kind of game we were making."
In the digital demo, I got the chance to see a few slices of Gears Tactics' campaign missions. The focus is on single-player, so there's both a full campaign with cutscenes as well as side missions, with optional bonus objectives and modifiers. Bielman says it was crucial that Gears Tactics got the single-player component right.
"We wanted to ensure that we could tell a real Gears story and have real Gears combat within the turn-based genre first and foremost," Bielman says.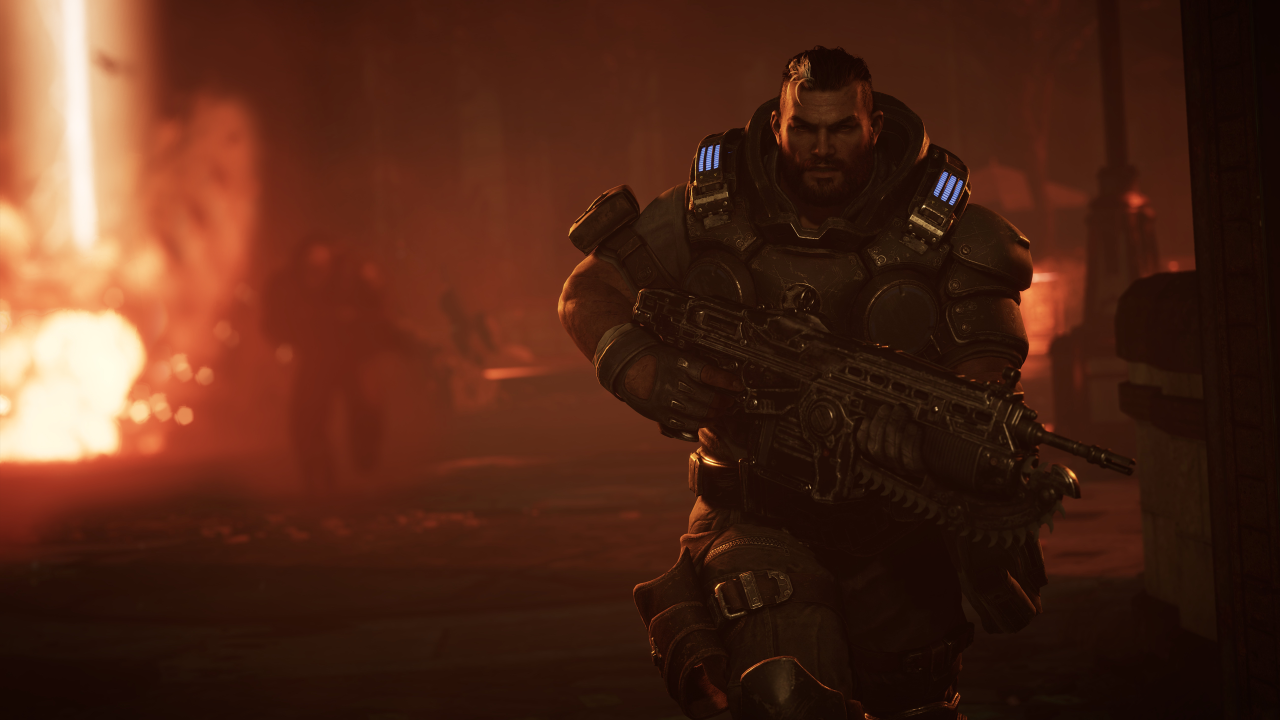 Despite its narrative focus, Tactics doesn't take long to throw the player into the thick of battle. On their way to a command center, Gabe and his enigmatic old-timer partner Sid find themselves against a small unit of Locusts. It's here where Gears Tactics will have strategy game fans feeling at home: a top-down perspective, various degrees of cover scattered around, and of course, hit chance markers on attacks. What's a tactics game if you're not gambling on a 40% shot to make or break the mission?
Each Gear in the squad has an assigned class, conferring abilities and strengths worth taking advantage of in firefights. Early on, Gabe's classic chainsaw-toting Lancer lets him do a move-attack that can kill basic enemies on a cooldown. Sid's Retro Lancer, meanwhile, gives him the option of charging across the field, razor-sharp bayonet leading the way. If any Locust is unlucky enough to be in the way, well, you know what happens if you've played a Gears game.
What meters out every action, besides cooldowns, is an action points system. Every action in Gears Tactics costs a certain amount of points, from moving, to shooting, to using abilities. Without a grid, the points simply mark a linear distance that a character can move—though the developers say they'll let you fudge that number a bit if a character is moving to cover.
Even overwatch, a genre staple popularized by XCOM, is rationed out by this system. In other games, a soldier entering overwatch means putting them on alert, allowing them to fire interrupting shots on enemy units who move into their field of view.
In Gears Tactics, you define the cone of vision a Gear monitors when they enter overwatch, and depending on how many remaining action points they have, how many shots they can take. The potential is high if you plan it right, but otherwise, a Gear might stare the wrong direction and not even see an enemy force move around their flank.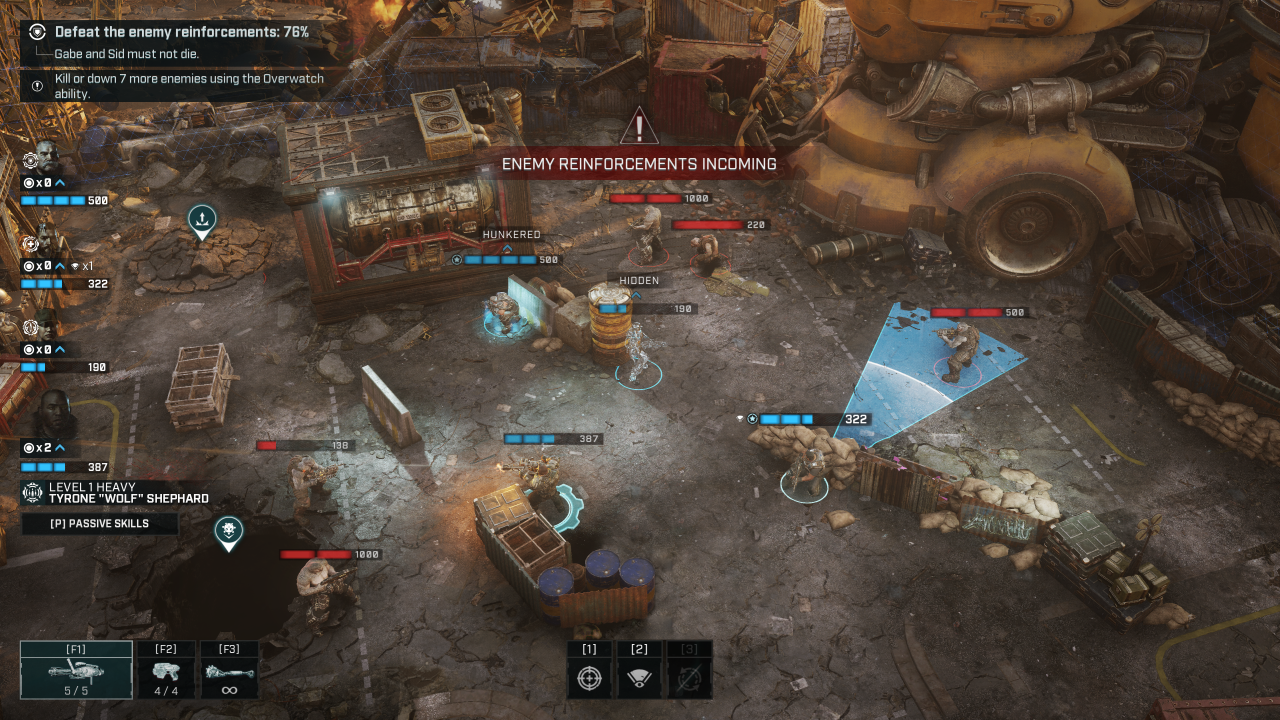 What keeps the action moving, and the Gears adrenaline pumping, are its executions.. When an enemy goes into a "down" state, you can either let them bleed out, or have a Gear perform a cinematic execution which gives an additional action point to every other Gear in the squad of four. It's a tide-turning advantage that can either get a unit out of harm's way, or set up a cascading series of actions as the Gears rip and tear through Locusts. This gets Gears Tactics into a humming, rhythmic flow of moving from enemy to enemy, setting up big plays while encouraging the use of heavy weapons.
It's a system Bielman describes with words like "fluid" and "offensive-minded." There are plenty of options, and the Gears need all the help they can get, because the Locust forces in Gears Tactics are unrelenting.
Enemy numbers can quickly escalate, and the deeper into the campaign you get, the more varied they get. Drones and wretches will charge your position; boomers sow chaos, and disciples—a new class for Tactics—let loose a gas on around their corpse that buffs enemies and harms your Gears.
Eventually, emergence holes will start to appear, and foes will stream out of them until they're blown shut. Airborne Locusts will drop in to attack unwary reserves. At times it can be overwhelming.
The massive bosses put an exclamation mark on these battles. One such boss is the Corpser, a spider-like crawler from the mainline Gears series. With a full squad of four, my team had to split its attention between the Corpser's devastating (and thankfully telegraphed) attacks, while dealing with the onslaught of regular enemy forces backing it up.
I thought I had laid out the perfect plan: my Scout was in cover, cloaked and unseen; my units covered the vantage points, safe from the Corpser's strike, while prepared for the emergence of another hole full of Locust. In a matter of moments, my perfect defense was shattered. Like XCOM, Gears Tactics punishes mistakes and punishes them hard.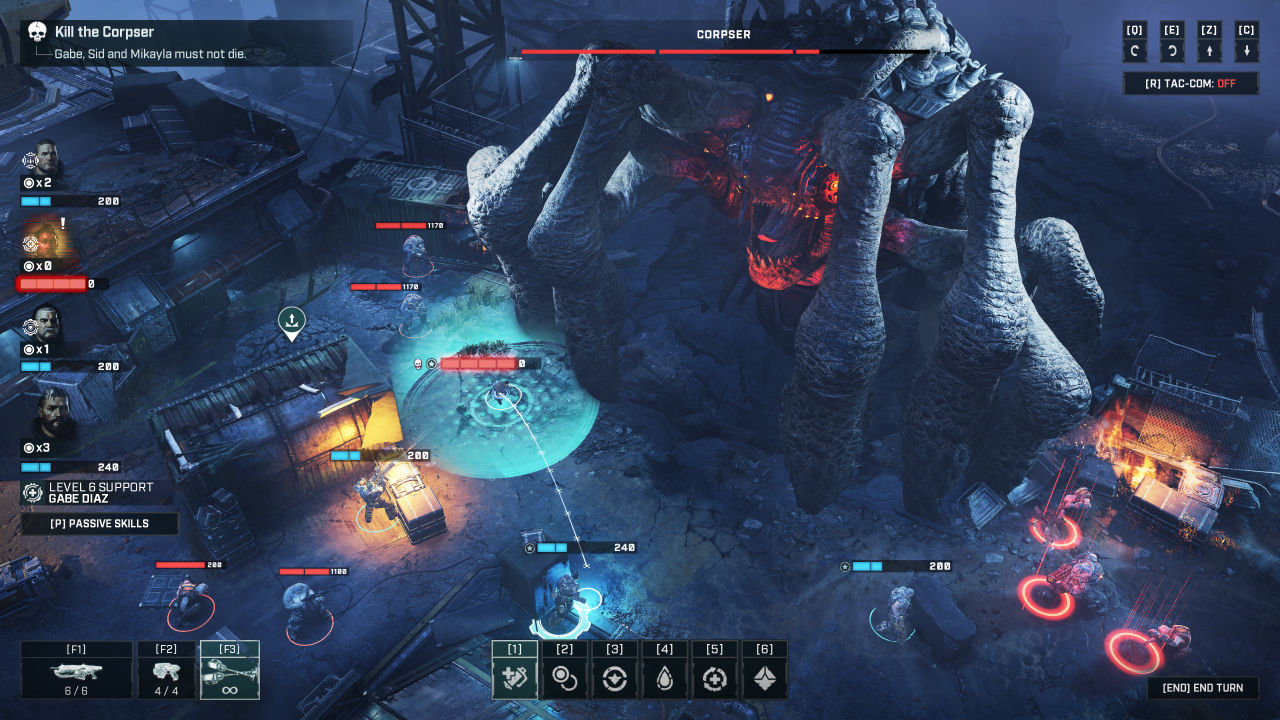 Any mission in Gears Tactics can swing in a matter of turns, rewarding your smart play with a jolt of momentum, and punishing your misplays by forcing you to watch as one of your characters hits the dirt. Soldiers can be picked up from a downed state, though if a story character dies, that's an automatic failure. The procedurally generated and customizable Gears, meanwhile, suffer a more permanent death.
Tack on an ironman mode, where every decision is locked in immediately and no save-scumming is allowed, and Gears Tactics could potentially provide a real challenge akin to XCOM. Ironman in Gears Tactics is a toggle that can be used independently of difficulty choice, so you can play through the campaign on a medium difficulty while still locking in choices.
"We are all strategy game fans here, and we know that sometimes raising the stakes through something like our Ironman mode can really make the challenge come to life," Bielman says.
But while the similarities are abundant, Gears Tactics stands out to me for its aggression. It's a faster game, with more kills and more carnage. That equates to equal danger for your own Gears. A boss can push your honed strategy to the edge, as your best-laid plans are quickly torn apart by a constant stream of enemies, each bringing in their own methods of disrupting and demolishing Gears.
Gears Tactics will arrive for PC on April 28, and will be on Xbox Game Pass for PC. It may look like XCOM, but its take on tactics is ultimately faster and more brutal. Despite its unusual pedigree, it could well measure up with the genre's best. After all, Gears Tactics may be a tactical game, but it sure is a Gears game, too.