Gears of War 3 ComicCon panel: Bernie gets included, movie will be "something awesome", more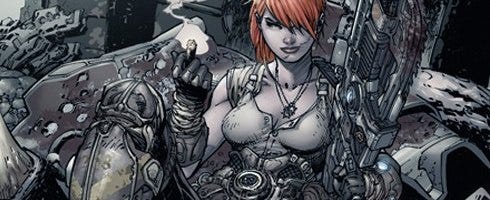 Epic's just wrapped up its ComicCon panel for Gears of War 3, and needless to say a fair bit of info was dropped.
Bernie gets a nod, Claudia Black to voice Sam
The panel that consisted of Cliff Bleszinski, Gears franchise overseer Rod Fergusson, Gears 3 writer Karen Traviss and some of the voiceovers for some of the characters for the game, like Dom, Cole and Carmine, were about to look over the whole shindig, which seen a couple of big character announcements.
One of which was the news that Bernie Mataki would cross over from her appearances in the novels to an appearance in the game. How that plays out is unknown.
Also confirmed at the panel was that Claudia Black, - yes, Chloe "she's the one with the nice arse" Frazier of Uncharted 2 - would be adding a voiceover to the game as Sam Byrne, who is one of the main important female COGS in the game alongside Anya Stroud.
As for if Alex Brand will be in the game - she's a character in the comics - Microsoft basically gave G4 a no comment on it.
Epic making "something awesome" with movie

As for how far along in development the movie version of Gears was, Bleszinski said it was something it was taking its time on.
"What we had on paper looked something like 2012 (the movie), which would have taken an enormous budget, and would people go see something with people getting chainsawed in half and doesn't have Will Smith's kid starring in it," said Bleszinski.
"These things take a while, and we're going to make something awesome."
Bleszinski told VG247 back at E3 that the movie was "touch and go".
"It's touch and go. It happens in Hollywood sometimes, man. That's all I can really say right now," he told Patrick Garratt in LA in June.
"Spectacular" death for Carmine promised
Earlier in the week, Epic announced how Clayton Carmine's fate in Gears 3 laid in the hands of the players - either spare him a painful death, or give him just that, like his brothers before him - by buying either Xbox Live avatar gear or real T-shirts that sported "Save Carmine" or "Kill Carmine" slogans.
But if players do decide to kill off the last of the Carmine brothers, Bleszinski promised a "spectacular" death.
"By the way, if he does die, we're going to take him out in a spectacular fashion."
Get the lowdown on it here.
It's two-player local split-screen co-op, not four; achievements from Gears 2 carry over
Epic also revealed during the panel that the four-player co-op applied only to online: as far as local went, it was just two-player split-screen. So if you want to play as someone other than Marcus or Dom, best get Live going.
Meanwhile, it was also confirmed that some achievements from Gears of War 2 will carry over to Gears 3 in a similar move to Gears 2 with Gears 1 achievements.
Why it wasn't mentioned, but going by past experience, expect some extra multiplayer goodies.
Big stuff there, kids.
Gears of War 3 releases on April 5, 2011 in the US, with an April 8 release in the UK and Europe for 360.