Gearbox officially takes the wraps off Borderlands: The Secret Armory of General Knoxx DLC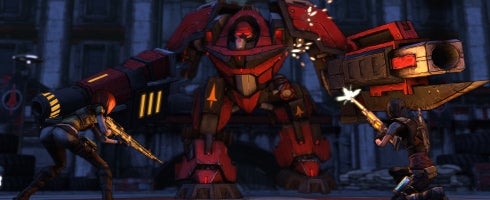 More of a good thing can't hurt, right? Gearbox sure doesn't think so. The Secret Armory of General Knoxx echoes that sentiment, essentially screaming, "50 levels and 70 gazillion guns? Feh. Whatever. More levels! More guns! More! More! More!"
"This DLC extends the Borderlands experience, providing new challenges and opportunities for growth for characters from around level 34 to level 50. Growth for characters at 50? Yeah, that's right, we've raised the level cap; even players who think they've seen it all have tons more to do! The Secret Armory of General Knoxx offers hours of thrilling shooting and looting for Borderlands players!" reads Gearbox's announcement.
So, we've got the "what," but how about the "when"? For now, Gearbox is keeping things hush-hush.
But look! Screenshots!
We'd keep going, but well, a picture's worth a thousand words, so this post is getting pretty lengthy. More through the link.
Thanks, Blue.