GamesMaster staging comeback, TV series possible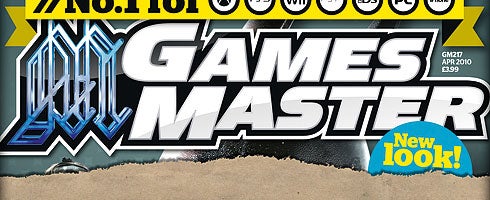 Future said today that GamesMaster mag is to relaunch in the UK in May, and that the TV series may even return.
Brits growing up in the 90s will be more than familiar with the "old" GamesMaster TV series, which featured people like Dominic Diamond and the never-boring Mario 64 grump episode with the Games Animal. He was a marketing manager, remember. You had to be there.
PR below. Don't shit your pants just yet: the TV comeback is only being "explored".
GamesMaster gets major refresh

UK's bestselling multi-format games title gets new look as Future explores brand extensions

11/03/10 – Future, the special-interest media group, today confirms it is planning a range of cross platform activity to boost its iconic multi-format games brand, GamesMaster.

GamesMaster magazine will unveil its first extensive redesign for six years this May. The front-to-back regeneration and editorial focus has been overseen by games media veteran Mark Donald, working closely with Editor-in-Chief, Robin Alway. Mark's 12-year games career includes the launch of Official PlayStation Magazine and the genre-leading redesign of PC Gamer.

Following a specialist consumer research project, the new look GamesMaster magazine promises to reflect the way gamers are playing in 2010, focusing on the growing importance of online and on-console communities amongst the title's audience. As the UK's bestselling multi-format games title, the redesigned GamesMaster adapts its editorial focus to recognise the changing attitudes and tastes of gamers.

Future is also looking at ways to extend the brand into new formats. GamesMaster remains the UK's most successful videogames TV show of all-time, running from 1991 until 1998 on Channel 4, and the team are exploring the potential for reviving the brand on TV screens.

Emma Parkinson, Associate Publisher of GamesMaster, said:

"We have ambitious plans for the future of this iconic gaming brand, kicking off with a major redesign of GamesMaster magazine in May. We intend to develop GamesMaster across multiple platforms, updating the look and feel, whilst protecting its 19-year legacy and the immense respect it receives from gamers and the industry itself."

Simon Maxwell, Group Publisher of Future's Console and Online portfolio, added:

"GamesMaster is a key gaming brand for Future and there are some fantastic opportunities to expand its reach and influence beyond the magazine. This year, we'll bring a comprehensively redesigned GamesMaster magazine to market, develop an online presence through our existing sites, and explore the appetite for bringing the show back to TV."

The July issue of GamesMaster, on sale Thursday, 20th May – with a coverprice of £3.99, including exciting relaunch gifts.

ENDS