Fortnite Season X opening cinematic: Dusty Depot returns, possible new skins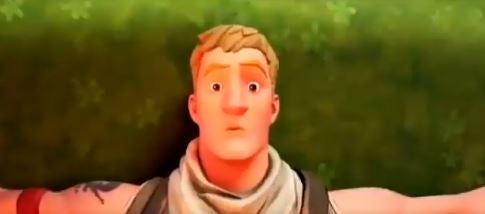 When you've got millions of people scrabbling after every detail, you're always going to get a few leaks.
Update: Shortly after the leak, an HD version of the trailer was posted on the official Fortnite Twitter account. Downtime is expected from 9 am BST/ 4 am ET/ 1 am PT and you'll be able to start downloading the new patch for Season 10 soon.
The Zero Point is exploding. Get ready for #SeasonX dropping 8.1.2019. pic.twitter.com/11t14SC1eI

— Fortnite (@FortniteGame) July 31, 2019
Original story:
It looks like the Fortnite Season 10 (or Fortnite Season X if you want to style it like that) introduction cinematic has leaked ahead of time, giving us a few juicy hints as to what might be in store today!
First up, we see an un-bunkered Jonesy floating through what looks to be a mysterious purple time void, floating around things from Fortnite's past like the rocket launch, tactical submachine gun, Skull Trooper skin, and ethereal Butterfly from a previous event.
Mixed HD(ish) video + Higher quality audio from the cinematic

(i synched it as best as i could, but i think the original is out of sync in a few spots in the first place)

Video via: @sucodegebrieu/@ShiinaBR

Audio via: @evaldokkkk's video

mixed: @Lucas7yoshi pic.twitter.com/4wiHxxgEDi

— Lucas7yoshi - ??? something. maybe (@Lucas7yoshi) July 31, 2019
This all but confirms the hottest rumours that have been circulating for the last couple of weeks: we're heading for a theme based around time travel or alternate universes.
Translated, the Portuguese phrase at the end of the trailer means "Time is up", or "Out of time".
It makes sense that Epic Games wants to be a little reflective in their smash-hit game's tenth season, but the most interesting implications are for the Fortnite map.
At the end of the cinematic, we see Jonesy land in what looks to be the old Dusty Depot - an OG point-of-interest from the early days of Battle Royale.
This could mean that we're in for the return of old points-of-interest, or there might be a new mechanic that changes them between games. Loot Lake has been through a lot of changes since its first iteration, which is to say nothing of the defunct places like Moisty Mire.
Also, as well as Peely and the Skull Trooper, we see an interesting mech character that might be a new skin, as well as alternate versions of current skins as was rumoured.
You can read more about what else could be coming to Fortnite in our Season 10 Rumours page, which also includes what we think the start time will be tomorrow.
While you're caught up in all of the excitement, don't forget that today is your final chance to collect all of the Fortbytes and complete every weekly challenge!
Fortnite Season 9 Weekly challenges
Here are all the Overtime Challenges, Birthday Challenges and Fortbyte locations