Fortnite: watch "The Duck King" search for Rubber Duckies while losing his dignity in the latest weekly challenge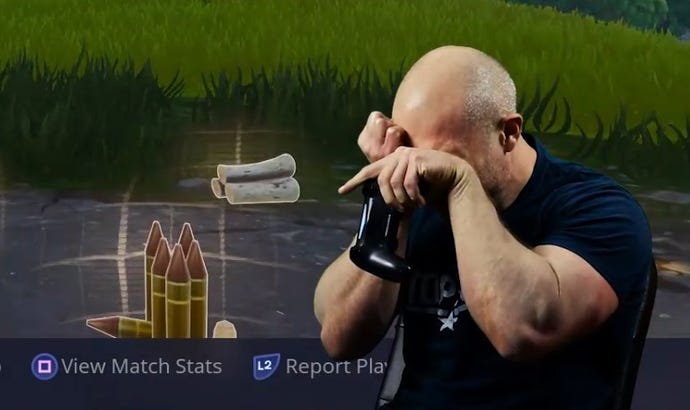 Playing video games is an essentially pointless act that sucks up your valuable existence in exchange for gaudy, cheap thrills.

Simon Miller - wrestler, broadcaster, hunk - knows this. Which is why we force him to play Fortnite, the most popular game on Earth. He's not a big fan, and we can't help but laugh as his dignity shrinks like the Storm Circle, entrapping him in a world of inevitable, joyless death.
This week on Fortnite: Chattle Royale we challenged Miller to find ten rubber duckies but didn't give him a map. We also briefed him about the new Burst Assault Rifle but forgot to tell him when it was delayed.
So why not watch the man himself and marvel at his antics, which include:
Thinking he has the new weapon when he's running around with the worst gun in the game.
Approaching a Loot Llama like Early Man prodding fire.
Trying to "learn the buttons"
Go through all the emotions of a grown-ass man playing a game built for 9 year-olds.
Mysteriously refer to the year as "2014"
Actually find some ducks, which surprises all of us, let's be honest.
Is this the week that The Duck King actually manages to kill someone?
Spoiler: not likely.
If you like Simon's video, you should consider throwing him a few quid on Patreon for all sorts of wrestling and video game stuff.
You can also laugh at last week's attempts to "be" Thanos in the Fortnite Limited Time Mode.
If you're here for Fortnite, we've got the low down on all the Week 3 Challenges including where to follow that map found in Salty Springs.