Fortnite Best Skins: The best skin combos to flaunt your Fortnite fashion
Fortnite is as much a social space as a shooter at this point. Stocking your locker with some of the best skins around - as well as finding the best skin combos - is a point of pride for a lot of players, because if you're roaming a map in a battle with 99 other people, you might as well do it in style.
Building up a large wardrobe of skins can get expensive though, so you want to know that you're going to get the most out of what you're flexing in-game. There are quite a few cool outfit generators that help you to visualise different combos - one we like is just called Fortniteskin.
It has models of almost every skin and back bling in the game - although not ones that are brand-new - so you can test out different combos before you spend your hard earned V-Bucks on something that's just not quite right.
These are some of our favourite skins, but sound off in the comments with the outfits you like the most, as well as your go-to skin combos from pieces you've collected!
For the sake of ease, we're going to only include the final stage of progressive unlock skins, since they usually have similar colour schemes anyway.
Best Fortnite Skins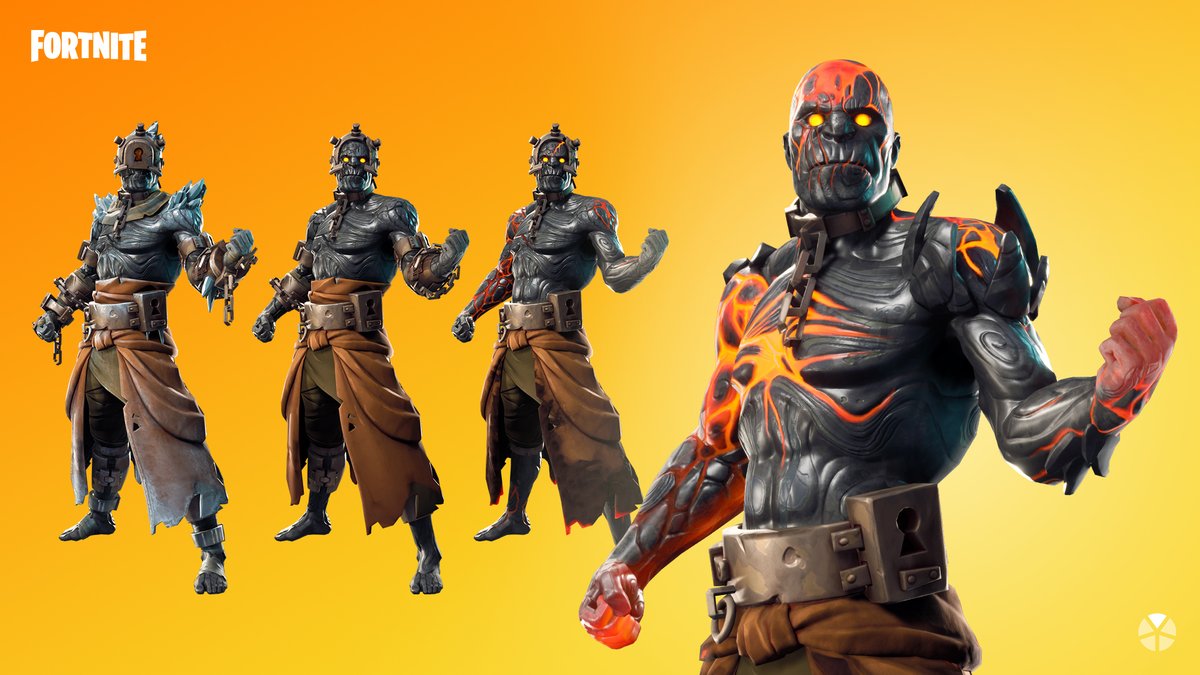 The secret skin from the Season 7 Battle Pass is a doozy, and since he's reasonably difficult to get - thanks to having to complete almost every weekly challenge - it's quite rare to see him about too.
The striking contrast between the animated orange magma seeping out of his skin and his ashen body is awesome and different to any other skin we've seen.
The Prisoner Skin Combos
Subjugator (from the Enforcer)
Wolfpack (from Dire)
Valkyrie Wings (from Valkyrie)
If you want to rock the most punk skin, then Power Chord is your only option. Her black and pink colourway is another stand out, and she's one of the only default recolours where her model still wearing high lace-up combat boots actually makes any sense.
Power Chord Skin Combos
Six String (from Power Chord)
Keytar (from Synth Star)
Road Flair (from Chopper)
Standard Issue (from Season 4 Battle Pass)
Trog might be a bit seasonal - you're not going to be wearing him much in summer, let's face it - but he's so adorably derpy that you can't be help love his little stupid googly eyes.
Trog Skin Combos
Goodie Bag (from Season 4 Battle Pass)
Blue Shift (from PlayStation Plus Celebration Pack 2)
Pool Party (from Season 5 Battle Pass)
Shark Fin (from Chomp Sr.)
Raven has been a staple ever since it was introduced - the purple feathers, the glowing eyes, the scarf like a noughties scene-kid, all classic.
This skin just nails the aesthetic of Fortnite, combining rugged, military and techwear boots and accessories with a fun, cartoony character concept.
Raven Skin Combos
Precision (from Season 3 Battle Pass)
Dusk Wings (from Season 6 Battle Pass)
Spider Shield (from Spider Knight)
While previous seasons' tier 100 skins have taken a while to spin up, The Ice King is awesome from the second he's unlocked.
His four recolours all look great too, and there's not one I wouldn't wear. There's not much you need to do with him either - just team him with your favourite wings or cape and hit the Battle Bus.
Ice King Skin Combos
Black Shield (from Black Knight)
Dark Wings (from Ravage)
Coven Cape (from Sanctum)
Subjugator (from the Enforcer)
Of all the cool superhero Fortnite skins, Verturion is the boldest, most detailed, and importantly isn't tied to an old Battle Pass if you haven't already picked him up.
Venturion Skin Combos
Enduring Cape (from Magnus)
Skirmish (STW Founder Pack)
Buckled (from the Item Shop)
In case you hadn't noticed with Trog, I quite like derpy characters - so the Beef Boss was an auto-include. Just look at his face.
Beef Boss Skin Combos
Backup Plan (from Twitch Prime pack 1)
Sashimono (from Musha)
Dyanamo is another super detailed skin with a really cool and unique design. The main black and white costume colour scheme has subtle hints of pink, red, and green that make it pop in-game.
Dynamo Skin Combos
Subjugator (from the Enforcer)
Enduring Cape (from Magnus)
Black Shield (from Black Knight)
Love Wings (from Love Ranger)
Both of the skins inspired by traditional Chinese culture and mythology are super cool. There are so many small details packed into both of these skins, and it felt a shame to not give them a mention as a pair.
The signs of the Chinese Zodiac on Wukong's necklace and the duelling dragon and tiger on Guan Yu's pauldrons are definite highlights of these all-around awesome skins.
Guan Yu and Wukong Skin Combos
Ballistic (from Shade)
Black Shield (from Black Knight)
Destabilizer (from Oblivion)
Coven Cape (from Sanctum)
Plague is a unique and striking male character skin that really changes the look of your character without sticking out from the environment like a sore thumb.
His black and grey colour scheme goes with a lot of back blings, and because he's not too bright you can create some fun contrasts. There's a female version of this skin too, called Scourge.
Plague Skin Combos
Backup Plan (from Twitch Prime Pack 1)
Ominous Orb (from Fate)
Precision (from Season 3 Battle Pass)
If you want a striking skin with lots of detail and a cool colourway, look no further than the Field Surgeon. Her white and red outfit is eye-catching, but it's the intricacies of her body armour, wrist tech and accessories that set her out from the rest.
Field Surgeon Skin Combos
Love Wings (from Love Ranger)
Ignition (from Whiteout)
Hatchling (from Tricera Ops)
The Brite Bomber is a great balance between fun and colourful and a more realistic, human look. For when want to go for a bit of a military vibe, but without being too boring, this is the go-to.
Brite Bomber Skin Combos
Dark Wings (from Ravage)
Six Strings (from Power Chord)
Sashimono (from Musha)
A lot of people pick up the Black and Red Knights because of their cool back bling, but the skins themselves are among the best of the default skin reworks and stone-cold classics.
Both skins go well with cape back blings, but their black, grey and red colourways mean they go well with a lot of the more military-styled pieces too.
Black and Red Knight Skin Combos
Backup Plan (from Twitch Prime Pack 1)
Special Delivery (from Tomatohead)
Fabled Cape (from Season 6 Battle Pass)
Season 8 of Fortnite is on the horizon, with new teasers dropping daily. Read up on all the Fortnite Season 8 Rumours and speculation to get you in the mood!