Fortbyte 61 location map: Accessible by using Sunbird Spray on a Frozen Waterfall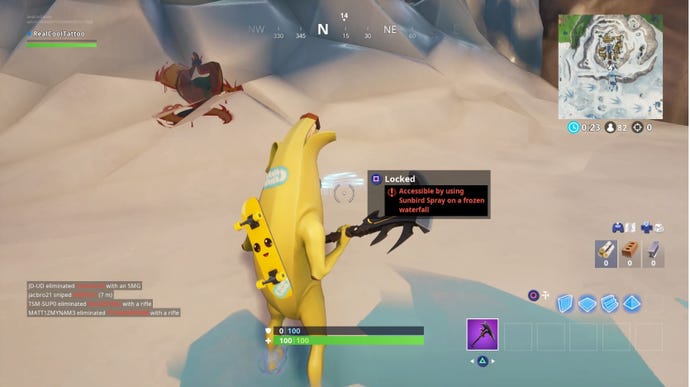 It's become a daily ritual by now, with a brand new Fortbyte challenge dropping every single day - this time it's number 61. Here's where you can find Fortbyte 61 and add it to your collection. more
To complete this challenge you need to have reached Battle Pass tier 26 and unlocked the Sunbird spray.
Any guesses what the mosaic we're building with all these Fortbytes is yet? Every day as more and more reveal themselves throughout the map, we get closer and closer to the sweet Uptopia skin waiting at the end of the road.
You need 90 Fortbytes to get the special skin, so get collecting.
For the locations of every other Fortbyte in the game, check out our full list.
Where to find Fortbyte 61 - Accessible by using Sunbird Spray on a Frozen Waterfall
This time around your instruction is: Accessible by using Sunbird Spray on a Frozen Waterfall
Here's where to go. First off, going into your Locker and equip the Sunbird spray, which you unlock at Battle Pass Tier 26.
Now, drop into a match and head over to the Viking Village southeast of Snobby Shores.
At the base of the frozen waterfall, you'll find Fortbyte 61. Just spray it with your Sunbird and it'll unlock.
In other Fortnite news, today saw the introduction of the new Storm Flip grenade which damages players inside the circle and protects them outside the circle.
Week 10 of the World Qualifiers was also moved so that pro players could play in the Pro-Am tournament without it clashing.
Finally for help with this season's weekly challenges, check out the list below:
Fortnite Season 9 Weekly challenges
You can check out all the Fortbyte locations here.