Forspoken Resources Guide: Where to find Wild Musk, Nuggets, Feathers, Crag Grass and more
Take on the Tantas with a store cupboard full of powerful ingredients!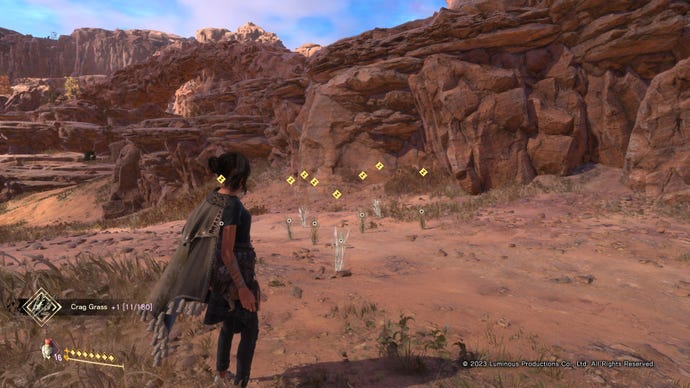 Across Frey's quest to defeat the corrupted Tantas of Athia in Forspoken, she gathers many different kinds of resources to brew potions, craft items and improve her powers and equipment.
Some types of plants, ore and gemstones are more plentiful than others, but most of the time that's because they're useful ingredients that get used up in large amounts.
A technical rundown of the world of Athia in Forspoken
Because the different categories of resources in Forspoken are so numerous and disparately spread, we've opted to organise them into one convenient page that you can skip around at your leisure.
But while it might not be immediately obvious what everything you acquire is for, once you start to unlock the magic skills which allow Frey to improve her best gear, you'll begin to burn through resources much more quickly.
Remember to fully upgrade your equipment, you need to unlock the magic skills Vivify from Purple Magic, Amplify from Red Magic, and Fortify from Blue Magic.
The below list isn't exhaustive of every single item in Forspoken, but should allow you to upgrade pretty much everything you want to as you roll the credits on your adventure and beyond.
Forspoken Resource locations
Forspoken Wild Musk locations
Used for: Adding special effects to gear slots
Treasure chest northeast of barren plains at bottom of cliff
Top of staircase on right as you investigate smouldering in Cipal
Ruins of Hopston Blessed Plains
At bottom of river just outside Ruins of Hopston inside treasure chest
Thane in Blessed Plains
Locked Labyrinth Barrier side path
Chest south of middle praenost eastern belfry and next to monument of love
Side path in Locked Labyrinth Mountain
Treasure Chest in the northeast of praenost castle town
Locked labyrinth Cliff side path
Finders Keepers after you return to Cipal from Sila
Chichek in the north of The Water Garden
Locked Labyrinth Mountain Base The Fountainfields
Treasure Chest south of Avoalet Castle Town in The Misty Shore
Treasure Chest outside Saray Gate in The Misty Shore
Chest inside Olas' vision
On trash can in alleyway in Olas' vision
Visoria Castle Town refuge
3rd floor of Tanta Olas' library
Forspoken Nugget locations
Used for: Increasing Medicine Pouch capacity at a Crafting Table
You get one nugget as a preorder bonus
One from Poppet Trader
One from treasure chest on the left right as you come out of Cipal
Inside blessed plains refuge
Highly corrupted area of Reeve in Blessed Plains
Middle Praenost Northern Refuge, next to the bed
Ruins of Svetlo Middle Praenost
Citadel Western Refuge
Praenost castle town refuge
Treasure chest eastern side of Fort Virtus in Pioneer's Plain
Militis Academy The Mustering Ground south of Praenost Castle
From the archivist during the party post Sila
From Wallace event as you leave Cipal post-Sila
Locked Labyrinth Hill Blessed Plains corridor
The Water Garden Central Refuge
Defeat the enemies on Merveil Bridge in The Water Garden
Chichek in the north of The Water Garden
Shepherd's Meadow Refuge
Fountainfields Refuge
The Untrodden Forest Refuge
The Misty Shore Refuge
Cat event post-Prav in Cipal rotunda
Humble plain eastern refuge
Visorian Plateau refuge
Tanta Olas' library chest
In chest to the left while following guiding light
Chest next to fight with orge in Praenost during chapter 11 story
Forspoken Feather locations
Used for: Increasing Materials Pouch capacity at a Crafting Table
North of Barren Plains just south of Fallen temple next to broken bridge in treasure chest
Top of the Xenos guild tower
Finders keepers in south of lower Cipal after Tanta Sila boss
Talk to the archivist in the archive as an event and you find a feather on the way out
Reeve in Blessed Plains
Abandoned Military Convoy Middle Praenost
Middle Praenost Hollow
Fort Praenost treasure chest
Treasure chest north of Praenost Castle Ramparts
Treasure chest in the east of Pioneer's Plain - northeast of the locked labyrinth
Side path in Locked Labyrinth Mountain
Treasure chest on left-hand side of Praenost castle town, underneath the photo spot
Ruins of Volek, the Citadel
Ruins of Vinos, the Citadel
Treasure chest next to monument to love in Home of Heroes on the high bridge
Cliff overlooking the Blessed Plains, west of the refuge, inside treasure chest
From Cat event in Cipal rotunda post-Sila
Plateau Hollow in Shepherd's Meadow
Locked Labyrinth Mountain Base The Fountainfields
Locked Labyrinth Field side path Humble Plain
Visoria Castle town refuge
Forspoken Balm Flax locations
Used for: Crafting Healing Draught at a Crafting Table
Grows in the open world in from The Barren Plains around Cipal onwards
Found in various treasure chests throughout Athia
Forspoken Crag Grass locations
Used for: Upgrading how much cloaks and necklaces boost your magic
Grows in Praenost desert areas, including the areas Middle Praenost, Home of Heroes, Brass Hollow, The Citadel, Pioneer's Plain, The Mustering Ground, etc.
Found in various treasure chests throughout Athia
Forspoken Shore Violet locations
Used for: Upgrading how much cloaks and necklaces boost your magic
Grows in the Avoalet wetland areas, including Water Garden, Fountainfields, Untrodden Forest, Samun Coast, etc.
Found in various treasure chests throughout Athia
Forspoken Tall Aster locations
Used for: Upgrading how much cloaks and necklaces boost your magic
Grows in the Visoria grassland areas, including Shepherd's Meadow, Humble Plain, Academy Hills, Visoria Plateau, etc.
Found in various treasure chests throughout Athia
Forspoken Fluteblossom locations
Used for: Upgrading how much cloaks and necklaces boost your Magic
Buraq Guild, Guardian's Way, Praenost
Locked Labyrinth: Barrier, Guardian's Way, Praenost
At the top of the Lithos guild, The Citadel, Praenost
In treasure chest right next to you as you enter Pioneer's Plain - next to the photo point - in Praenost
Ruins of Volek, The Citadel, Praenost
Ruins of Vinos, The Citadel Praenost
Locked Labyrinth: Field, Humble Plain, Visoria
Forspoken Grainstone locations
Used for: Upgrading how much cloaks and necklaces boost your Health and Defense
Found throughout Athia as nodes in the open world
Found in treasure chests throughout Athia
At Finders Keepers next to Cipal's main gate throughout the game
Forspoken Spinestone locations
Used for: Upgrading how much cloaks and necklaces boost your Health and Defense
Found in nodes in Praenost
Pronoia in Middle Praenost
Samum Coast eastern refuge in Avoalet
Treasure chests throughout Athia, and in Locked Labyrinths
Forspoken Beamstone locations
Used for: Upgrading how much cloaks and necklaces boost your Health and Defense
Top of Solida Guild in Guardian's Way, Praenost
Ruins of Pagus, north of the Castle Ramparts in The Citadel, Praenost
Treasure chests throughout Athia, and in Locked Labyrinths
Forspoken Anglestone locations
Used for: Upgrading how much cloaks and necklaces boost your Health and Defense
Ruins of Vinos, the Citadel, Praenost
Brass Hollow Refuge, Praenost
Pronoia in Middle Praenost
The Water Garden Central refuge, Avoalet
Locked Labyrinth: Mountain, The Fountainfields, Avoalet
The treasure chest as soon as you enter the Untrodden Forest
The untrodden forest refuge, Avoalet
Samum Coast eastern refuge, Avoalet
Treasure chests throughout Athia, and in Locked Labyrinths
On the 2nd floor of Tanta Olas' library
Gift from Johedy in the late-game
Forspoken Diurnite locations
Used for: Upgrading how much cloaks and necklaces boost your Health and Defense
Vivus Cave in southwest Middle Praenost
Treasure chest to the east of Middle Praenost Western Belfry
Locked Labyrinth: Cliff, The Citadel, Praenost
Locked Labyrinth: Hill, Blessed Plains, near Cipal
Treasure chest overlooking Avoalet Castle Town
Locked Labyrinth: Field, Humble Plain, Visoria
Forspoken Ringstone locations
Used for: Upgrading how much cloaks and necklaces boost your Health and Defense
On the eastern side of Fort Virtus, Pioneer's Plain, Praenost
Brass Hollow Refuge, Praenost
Plateau Hollow in Shepherd's Meadow, Visoria
Tanta Olas' Library
Gift from Johedy late-game
Forspoken Noctite locations
Used for: Upgrading how much cloaks and necklaces boost your Health and Defense
Vivus Cave in southwest Middle Praenost
Ligare, Guardian's Way, Praenost
Treasure chest next to Middle Praenost Northern Belfry
Treasure chest to the west of Middle Praenost Northern Refuge
Locked Labyrinth: Cliff, The Citadel, Praenost
Locked Labyrinth: Hill, Blessed Plains, near Cipal
In treasure chest in The Water Garden, Avoalet, next to Familiar monument
Finders Keepers next to the Cipal front gate after your encounter with Tanta Prav
Locked Labyrinth: Field, Humble Plain, Visoria
Forspoken Bumbershoot locations
Forspoken Leaden Bloom locations
Used for: High level upgrades
Enemies in the Depths of Corruption: Praenost
From the stags in The Untrodden Forest, Avoalet
From the bears in the Windy Hills, Visoria
Forspoken Lucid Bloom locations
Used for: High level upgrades
Vivus Cave in southwest middle Praenost
The boss of Locked Labyrinth: Barrier, Guardian's Way, Praenost
Lithos guild, Depths of Corruption: Praenost, The Citadel
Forspoken Welkin Bloom locations
Used for: High level upgrades
Orge at top of Lithos guild, The Citadel, Praenost
Shoal Pool in southern Water Garden, Avoalet
Ruins of Yuldis, Samum Coast, Avoalet
Locked Labyrinth: Field, Humble Plain, Visoria
Forspoken Fervid Bloom locations
Used for: High level upgrades
Buraq Guild, Guardian's Way, Praenost
Ruins of Pagus north of Castle Ramparts, The Citadel, Praenost
Locked Labyrinth: Mountain, Praenost
Praenost Castle
Defeat Ogres in Avoalet castle town
Big goat enemies in Samum Coast, Avoalet
Forspoken Lambent Bloom locations
Used for: High level upgrades
Bird enemies in Pioneer's Plain, Praenost
The boss in Locked Labyrinth: Cliff, The Citadel, Praenost
Ruins of Yuldis, Samum Coast, Avoalet
Forspoken Fervid Garland locations
Used for: High level upgrades
Militis Academy, The Mustering Ground, Praenost
Forspoken Lucid Garland locations
Used for: High level upgrades
Defeat Goliaths
You can a couple for completing Pronoia in Middle Praenost during Johedy's side quest