Final Fantasy 15's Moogle Chocobo Carnival rolls out with update 1.04 and some new features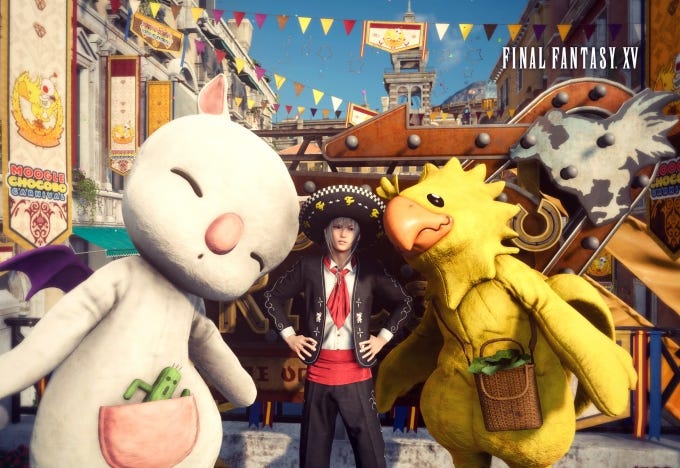 Final Fantasy 15 update 1.04 is live, and so is the Moogle Chocobo carnival. Squee!
The carnival of your dreams is here. Or my dreams. Final Fantasy 15's Moogle Chocobo carnival is live and it looks awesome.
The celebration is set in Altissa and you can access it with the first post-launch DLC, available for free or as a premium version.
The Holiday Pack DLC includes a Carnival Passport that lets you take part in the festivities - which are not part of the story - directly from the main menu. According to the Square Enix blog, all you have to do is hit the Special option on the menu after downloading it and you'll be whirled away to the carnival
Apart from getting to wander around a transformed Altissa, you can take part in a variety of mini-games, plus you'll get an outfit for Noctis and a selection of photo frames. If you paid for the premium DLC you'll get a bonus outfit and exclusive frames.
Update 1.04 also brings the new manual camera feature with it so you won't have to rely on Prompto's questionable photography skills to get the shot you want.
And lastly, you can finally buy items that were limited to pre-order exclusives. Just head over to the Xbox Marketplace and PlayStation Store to have a browse through the following:
Item: Travel Pack
Item: Angler Set
Item: Camera Kit
Weapon: Gae Bolg (from FFXIV)
Weapon: Mage Mashers (from FFIX)
Weapon: Masamune
Weapon: Blazefire Saber (from FFXIII)
Regalia Decal: Cindymobile
Regalia Decal: Gold Chocobo
Regalia Decal: 16-Bit Buddies
Regalia Decal: Platinum Leviathan
Outfit: Royal Raiment
Avatar: Final Fantasy XV - Noctis & Carbuncle (only available on the Xbox Marketplace)
So head out there and have some fun, Kupo!