Final Fantasy 15 Japanese Cup Noodle commercial is all kinds of crazy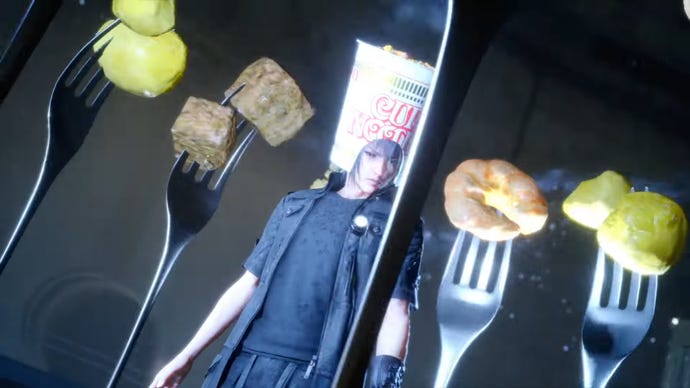 Cup Noodle product placement on a whole new level.
If you've started playing Final Fantasy 15, you may have noticed the very real Nisshin Cup Noodles popping up on a billboard or - more likely - in conversation with Gladio, who can't get enough of the things.
There's even a tie-in quest - be warned, click the link and you'll spoil the joy of finding it for yourself.
But the love of Cup Noodles transcends in-game product placement, as evident by this Final Fantasy 15 x Cup Noodle mashup that kicks in after the first 15 seconds.
"The currently airing Final Fantasy XV commercial has been reprocessed scene by scene and converted into the Cup Noodles format – transforming the majestic and atmospheric world of Final Fantasy through brute force into the Cup Noodles universe."
According to DualShockers, the press release referred to the "neighborly friendship" between Nissin and Square Enix, whose offices are a three minute walk apart.
"When Nissin Foods sent over gifts to celebrate the release of Final Fantasy XV, the conversation turned into an excited discussion about collaborating together, and so it came to be that the FFXV development team produced this mashup TV commercial."
There's even a tweet showing the dev team receiving their Cup Noodle care package.
Who among us hasn't indulged in a quick and dirty meal of instant noodles? You can't beat curry flavour.
Both Final Fantasy 15 and Cup Noodles are available to buy right now.