FIFA 15: "We want to make a game that people enjoy playing"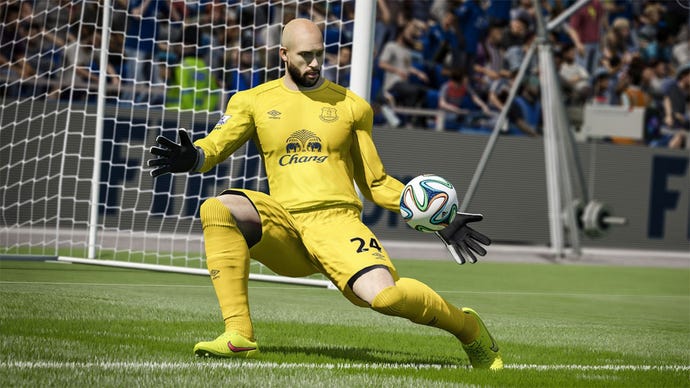 FIFA producer Nick Channon on goalkeepers, FUT changes and Americans getting into the World Cup.
"Ultimately, we want to make a game that people enjoy playing. It seems obvious but it's true. We aim to make the best game that we can every single year, and we'll continue to do that."
There's a FIFA "joke" in games media circles. There are a few, actually. The most common one goes something like this: "Such-and-such is working on a game? You'll be saying EA's releasing another FIFA next."
It's testament to the incredible drive of EA Sport's FIFA team that such wit still appears. The main FIFA series will see its twenty-second release this year with FIFA 15, the latest in a franchise included in an elite group able to boast more than 100 million total sales. FIFA is the world's bestselling sports game, EA's biggest property, and one of the most bulletproof releases in the entire medium. FIFA is a phenomenon.
But how is it even possible to maintain momentum over such an enormous career? Commitment to quality is paramount, according to producer Nick Channon.
"Ultimately, we want to make a game that people enjoy playing," he told VG247. "It seems obvious but it's true. We aim to make the best game that we can every single year, and we'll continue to do that."
Goalkeepers are the main focus of this year's update, the latest improvement in a game EA seeks to ceaselessly improve. As ever, the upgrade isn't cosmetic.
"We've completely rewritten them," said Channon. "It took us two years. Keepers now have much more intelligence to make decisions on the fly. We now have the processing power to do it. We can branch animation, letting them dive in one way whereas previously they would just dive and deflect. There are really big changes to how the animations now play; it makes it much more fluid."
And the new animations, apart from looking lovely, have a real point. FIFA's gameplay needs to be constantly upgraded, but when you're releasing annually the general look needs to boost as well.
"Whenever you do something new with your gameplay you're generally going to need animations to support it," he said.
"It's just a natural evolution of what you do. A lot of the animations need to change because the systems change. This year we've redone dribbling, so there are lots of things to do there. It's the same with defending. But we also do aesthetic things for variety to make the game feel fresh every year."
Channon and his team are making changes across the board with FIFA 15, including feature updates to FIFA Ultimate Team (FUT), the franchise's cash-cow.
"You can now loan players, which is a really big deal," said the developer. "You can bring in players and loan them for four, five or six games, which is really nice. A lot of players have asked for that.
"We've got friendly seasons, which is another big request, but we can now play each other online. And we've got the concept squad idea, where you can go to any player in the database, look at them and create what you want as your squad. You can go into the database, put them into your team, see what it does to chemistry, and then see if you can get them on the transfer market."
And it isn't just long-awaited changes to FUT driving optimism for this year's installment. The 2014 World Cup has spiked interest in football worldwide, and nowhere more so than in the US. The FIFA team capitalised on the summer's matches by announcing special player cards throughout the tournament, a strategy that paid dividends.
"Viewing figures in North America were amazing throughout the World Cup," said Channon. "Four years ago we saw a real lift of engagement in North america as people played the World Cup game and then stuck with FIFA. It's great.
"Anytime football's being played in the real world it helps drive engagement in our game, so it was really big and always will be. We did things with FUT to keep that engagement and people seemed to like that connection between the real world and games."
Keeping it fresh and constantly working to create the game people enjoy playing. In a gaming world where annualisation and franchise-building are now not so much commonplace as necessary, it sounds as though Nick and the rest of the FIFA team are onto something.
FIFA 15 releases for all platforms (apart from Wii U) on September 23 in the US, September 25 in the EU and September 26 in the UK.