Far Cry 5 offers plenty of opportunities to faff about instead of getting on with the cow tipping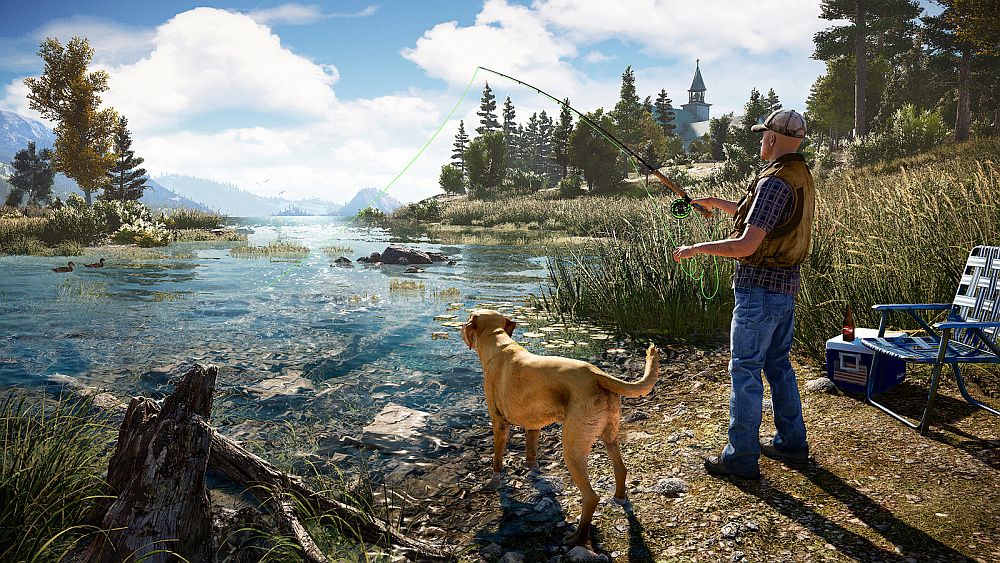 Far Cry 5: a tightly focused sandbox shooter about taking the fight directly to the source and oooooooooooh is that a fishing rod? Excuse me for the next three hours.
Far Cry 5 is going to gamescom 2017, where lucky attendees can go hands on. if you can't make it to Cologne, or you're not sure whether it's worth braving the enormous queues, don't worry: Arekkz is here to help.
The demo build Ubisoft seems to be touring around was also on show at E3 2017, but the publisher wasn't allowing capture at that time, so the only footage we got was tightly controlled. Now it's slackened the reins a little bit and allowed us to get a look at real human people playing through (as well as a new slab of official Far Cry 5 footage).
Well, to be honest: I'm not sure the playstyle in the 13 or so minutes below is really indicative of how you or I might play Far Cry 5, because it does not spend as much time engaging in aimless open world pursuits as the lovely landscape suggests might be enjoyable. I'm sure whatever Far Cry 5's story is about (cow tipping, or something?) it's absolutely fascinating, but I'll be spending the first 12 hours crafting new wallets out of salmon skin before I even start the campaign missions, just like everyone else.
Far Cry 5 releases in February for PC, PS4 and Xbox One. It's the first main series entry since 2014's Far Cry 4, after a bit of wander into spin-off territory with 2016's pre-historic Far Cry Primal.
Bringing Ubisoft's trademark open world FPS to US soil has not been uncontroversial, but we're pretty excited to push over some cows, so whatever.