In Far Cry 4 you play a man fulfilling his mother's dying wish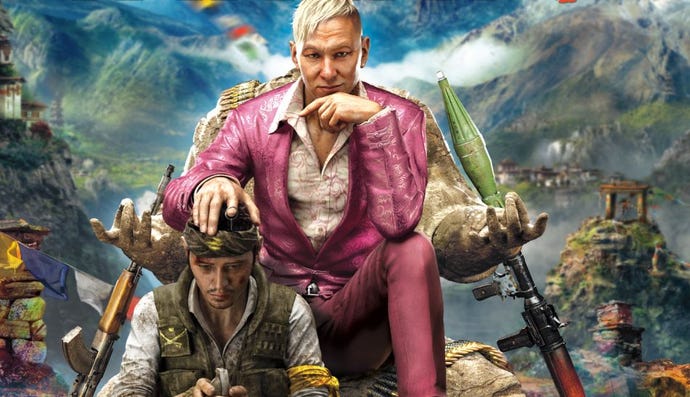 Far Cry 4 story details were accidentally posted on Uplay before being pulled. Granted the details were scant, but details are details.
Here's what was posted on the Uplay pre-order page before it was pulled by Ubisoft:
Hidden in the majestic Himalayas lies Kyrat, a country steeped in tradition and violence. You are Ajay Ghale. Traveling to Kyrat to fulfill your mother's dying wish, you find yourself caught up in a civil war to overthrow the oppressive regime of dictator Pagan Min.
Explore and navigate this vast open world, where danger and unpredictability lurk around every corner. Here, every decision counts, and every second is a story. Welcome to Kyrat.
You can see the cached versions here.
It was also revealed by the game's director (via NeoGAF) that the man in the flashy suit featured in the game's promo-art is not the playable character, and he's "not white".
Considering the man's dictator-ish posturing on the cover, we're assuming for now it's Pagan Min mentioned in the description above.
Far Cry 4 will be available November 18 in the US, November 20 in Europe and November 21 in the UK for PC, PlayStation 3, PS4, Xbox 360 and Xbox One.
Customers who pre-order Far Cry 4 will receive the Limited Edition which includes Hurk's Redemption, a series of three single-player missions featuring Hurk from Far Cry 3's DLC.
The Limited Edition also includes Hurk's signature harpoon gun called "The Impaler". The pre-order is now available at all major retailers.
More information on the open-world game is expected during Ubisoft's June 9 E3 2014 stage presentation.
Thanks: AGB - image, OnlySP via Reddit.