Fallout: NV has Hardcore Mode for those wanting a challenge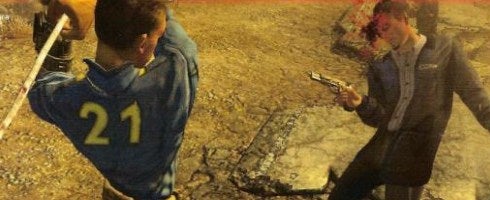 Chris Avellone, lead designer for Fallout: New Vegas, has told VG247 that players wanting a bit of a challenge in the game should look no further than its Hardcore Mode.
Speaking with UK ed Johnny Cullen at a press event in France last week, Avellone said that thanks to feedback on forums, Obsidian was able to give folks who thought Fallout 3 was too easy something to test their mettle.
"We recognized that there were some comments on the forums that Fallout 3 wasn't difficult enough," he said. "We wanted to make sure that if you really wanted, you could go for the full-on difficulty option."
He added:
"So we were like, 'Why don't we make this a special option mode and we give ammo away – which always made sense to us - regardless?' Then there's things like you always having to deal with dehydration, which makes sense even though you have to manage your water supply, stuff like that, and the idea that healing items would not heal instantly.
"Like, if that mechanic was a precedent in Fallout 3 – that game would have been much, much more difficult".
Avellone himself admitted that sometimes while playing the game, if he had not his stimpack handy, he would have had a tougher time of it.
"I mean, personally, there were so many times that shooting a stimpack gave me instant health back, and saved my life so many times.
"If I would have had to wait two seconds, four seconds or six seconds for my health to return to the maximum amount that would have changed those combats completely, and I definitely would have had a tougher time in fights."
Hardcore Mode is available in New Vegas right from the get-go. Avellone mentioned in the demo shown to journalists that once the mode was turned on, it would soon be clear it wouldn't be the Fallout your granddad grew up with.
With the mode turned on, healing will take place over time instead of getting your points back like using a stimpack in Fallout 3. Avellone also said that if you intend to walk through the Mojave desert, you best bring some water with you; if not, you will feel the effects of dehydration.
It was also mentioned in the demo that Hardcore Mode could be turned off at any time once turned on, but once it is switched off, you can't go back to using it. For players who intend to play through to the end with Hardcore Mode, Avellone says there will be a special Achievement for 360 or Games for Windows players, or a Trophy for PS3 users, for completing the game without dropping the difficulty.
Fallout: New Vegas is slated for release this fall on PC, PS3, and Xbox 360.
Johnny's full interview with Avellone here.