Spanking, D&D and Todd Howard on a horse: there's some pretty weird shit in Fallout 4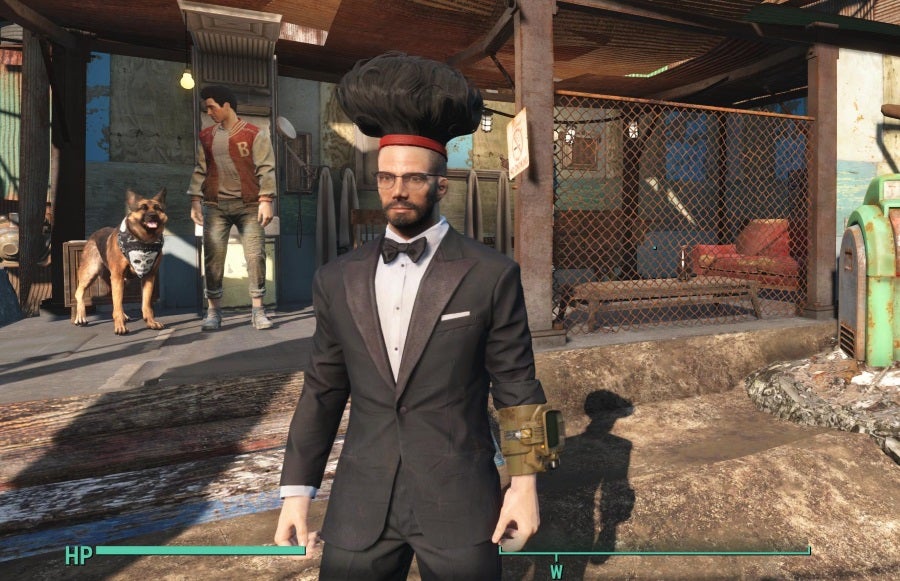 Where were you when the bombs dropped?

In a world where you can have sex with a robot, make friends with a Shakespeare-loving mutant and shoot guns that heal, it takes something special to truly stand out in the atomic wasteland.
But explore Boston's little nooks and crannies and you'll come across a whole load of, frankly, weird shit, from replicants and kinky sex to salty old seadogs and a dead 80s TV show.
Napoleon Howard
First up, here's Fallout 4 designer Todd Howard riding a horse in the style of Napoleon Bonaparte. Because why wouldn't you want to model yourself after a callous military leader and despot who left an entire nation bankrupt? You can find it in the Dugout Inn if you want to build a little shrine around it.
Let's make love and listen to death from above
With the prospect of nuclear annihilation, I guess you'd drop your pants and try to realise as many sexual fantasies as possible before turning to dust. It looks like this couple broke out the paddles and went hell for leather. "Again, harder!"
The Dungeon Master's Guide
Stuck indoors while nuclear winter ravages the outside world? I live in Wales, I can relate. What else is there to do but play games on your computer? Whoever sat at these terminals went deep with the role-playing game. An RPG within an RPG. Meta. You can read the full exchange here.
Where everybody knows your name
Remember all your favourite cheeky characters from hilarious 80s TV sitcom Cheers? Yeah, they're all dead.
How's your luck?
So you got caught cheating on your wife and you come home to find she's yelling at you and has thrown your clothes and cases out on the lawn. This is probably one of the worst days of your life. And then to cap it all the bombs drop, eradicating almost all human life. Can't a dude catch a break?
Should have got a bigger boat
Poor old Quint did have much luck in Fallout 4 either. A reference to classic giant shark movie Jaws, here's what's left of the fisherman and his nemesis. There's even Quint's blue bandana lying on the boat, which you can give to Dogmeat to wear.
The Megaton
Ah, the big decision from Fallout 3: do you save Megaton or give that un-exploded giant atomic bomb in the center of town a little nudge? There's no such decision in Fallout 4 unfortunately, but there is this wonderful hairpiece named after the explosion, which you can get should you find the right magazine and go to the barbers in Diamond City.
Tears in the rain
Another movie reference from the Bethesda team, this one is right at home in a game that pits humans against their synthetic counterparts. Recreating the famous last scene from Blade Runner, here's Deckard and Batty, without the rain and dove. "I've seen things you people wouldn't believe..."
Image credits: death by spanking, D&D terminals, cheating spouse, Megaton haircut, Blade Runner.